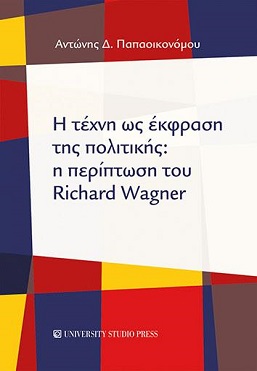 Title:
Art as an expression of politics: The case of Richard Wagner. University Studio Press
Author:
Antonis Papaoikonomou
Subject:
Politics, Art, Music
Publication:
University Studio Press
Language:
Greek
Year of publication:
2022
Pages: 288
This paper explores the formation of the national-socialist narrative and the national-socialist social identity through the musical dramas of Richard Wagner. Focusing on the case of Wagner, the author turns the theoretical interest to the general question concerning the relationship between society or politics, on the one hand, and music, on the other. In particular, he analyses on a philosophical and political level important musical dramas by Wagner, such as the Nuremberg Chief Singers, The Ring of Nibelung and Parsifal.
The composer's strongly anti-Semitic ideology combined with the projection of a racially superior German race were used to the full by the Goebbels' propaganda to strengthen the Nazi regime. At the same time, however, there are many voices of researchers who place Wagner in the Romantic movement of his time, essentially justifying many of his views as a dominant trend of his time. National Socialism simply took advantage of the situation, making a careful selection of elements that served its purpose in order to idealize a common German past and thereby forge a renewed national identity after the defeat of World War I.
Antonis D. Papakonomou is a member of the Special Faculty of the Department of Political Sciences τουΑΠΘ.