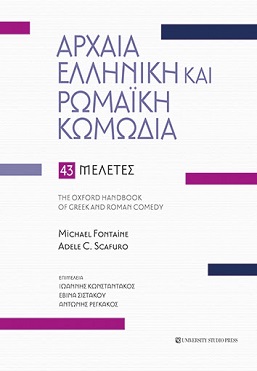 Title: Ancient Greek and Roman comedy. 43 studies
Publications: University Studio Press
Editing: Michael Fontaine, Adele C. Scafuro
Editing of the Greek version: Ioannis Konstantakos, Evina Sistakou, Antonis Regakos Category: literature-studies
Year of publication: 2022
Pages: 648
Dimensions: 21 x 29 cm
The volume ancient Greek and Roman comedy-43 studies is the first comprehensive introduction and at the same time a reference work for the study of ancient comedy. An international team of experts deals with issues related to the tradition of the text and its reception in antiquity, while investigating the main trends and changes in the scientific study of comedy from the 1960s to the present.
The publication includes new data and information that have emerged either from the re-examination of surviving literary texts and material objects, or from new discoveries in the fields of Archaeology, Epigraphy, art history and literary studies. In recent decades literary approaches to ancient drama have multiplied and include neo-historicist, intertextual, political, performance, metatheatric, sociolinguistic, gendered and genre views.
From the birth of comedy in Greece to its end in Rome, from the Hellenistic spread of performances after the death of Menander to the sympotic, artistic, literary and literary uptake of comedy in the late Roman Empire, no subject is neglected. The essays in the handbook offer Hellenists an excellent overview of the early reception and creative reuse of Greek new comedy, latinists a broad perspective on the evolution of Roman comedy, and scholars and students of the classics an excellent source and cutting-edge for future interdisciplinary research.
Michael Fontaine is an Associate Professor of classics at Cornell University.
Adele C. Scafuro is a professor of classics at Brown University.
The curators are professors at the Department of Philology of Ekpa Ioannis M. Konstantakos and respectively of auth Evina Sistakou and Antonis Regakos.