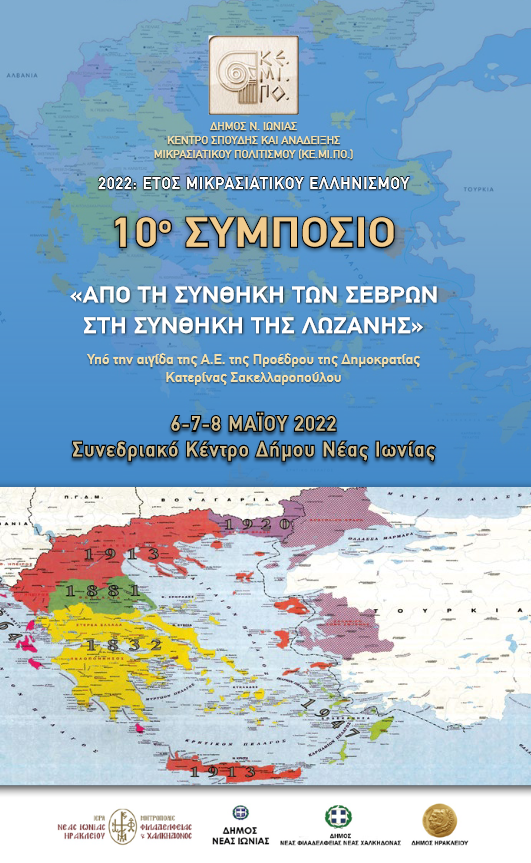 Title: 10th Symposium «From the Treaty of Sevres to the Treaty of Lausanne»
Author: Collaborated Volume
Date of publication: 2023
Publisher: Municipality of Nea Ionia. Centre for the Study and Promotion of Asia Minor Culture
Subject: History
Pages: 296
On the occasion of the 100th anniversary of the Asia Minor Catastrophe, the Centre for the Study and Promotion of Asia Minor Culture of the Municipality of Nea Ionia, a predominantly refugee municipality, organized the 10th symposium on "From the Treaty of Sevres to the Treaty of Lausanne". The symposium is part of a series of symposia regularly organized by the Centre for the Study and Promotion of Asia Minor Culture since 2004.
The themes of the conference cover political, economic, military and educational aspects of the presence and destruction of Asia Minor Hellenism as well as the processes and antagonisms of the Great Powers that led to the signing of the two treaties.
The proceedings of the volume include the texts of historians, academics, writers, professors, who participated with their contributions to the 10th Conference:
Sia Anagnostopoulou, Archangelos Gavriil, Paraskevi Efstathiadou, Antonis Klapsis, Konstantinos Koliopoulos, Elisavet Kontogiorgi, Theodosis Kyriakidis, Yorgos Th. Mavrogordatos, Iakovos Michailides, Irini Sarioglou, Dimitris Stamatopoulos, Fotini Tomai, Konstantinos Yfantis, Athanasios Christou.
The conference was held at the Conference Centre of the Municipality, one of the first carpet factories in Attica, 6-8 May, under the auspices of H.E. President of the Republic Katerina Sakellaropoulou.