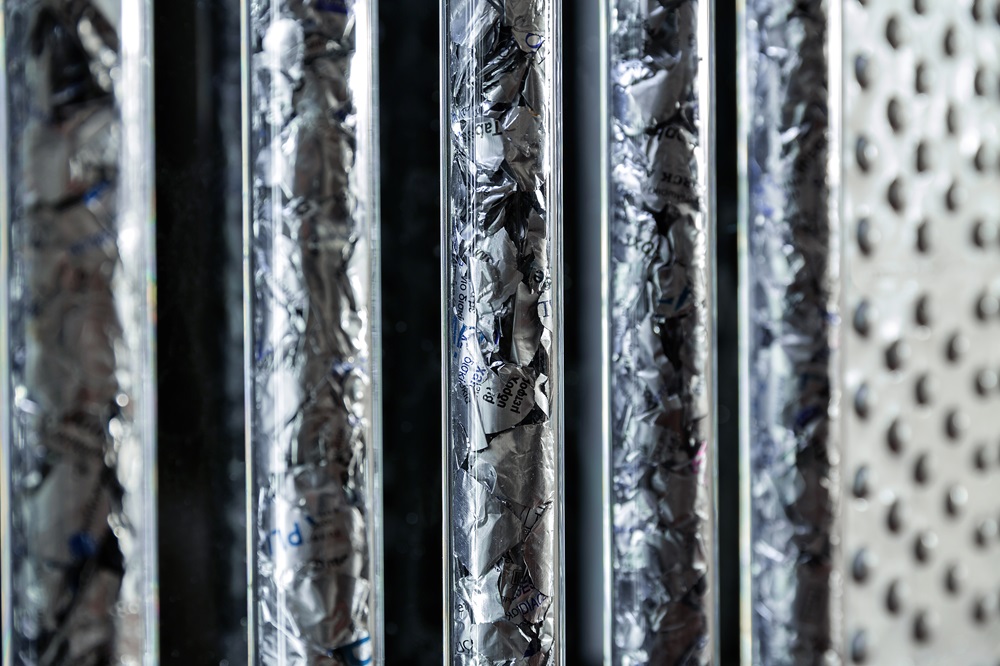 Theorimata, the exhibition / institution of the Association of Greek Art Critics AICA Hellas, member of the International Association of Art Critics AICA International, is presented for the third time and takes place at the Athens School of Fine Arts from 3rd November to 3rd December 2023 at the "Nikos Kessanlis" Exhibition Hall of the Athens School of Fine Arts.
The institution was proposed and named in 2017 by the then President of AICA Hellas Emmanuel Mavrommatis, after many difficult years for the organization. The creation of this institution was intended to be repeated every two years, in the form of an exhibition and to invite AICA Hellas members to propose up to three artists on a specific theme. The selection of artists and works would reflect Greek artistic production and the process of its creation.
The first exhibition was presented in 2018, with curators, critics, art history scholars, and artists conversing, collaborating and intervening in the artistic field around a theme that will be differentiated and shaped according to the characteristics and key issues of each period.
For the exhibition Theorimata 3: BODY. A Field of Competition, 25 curators, art theorists and critics, members of the Greek section of AICA, propose 58 artists who, focusing on the Human/ Non-human/ Post-human Body, will promote the function of art as an alternative educational tool with the potential for dynamic intervention in the social fabric.
The attempt to understand contemporary correlations concerning our perceptions of physicality, through the understanding of the multiple identities that coexist in the public sphere, runs through the exhibition in which installations, constructions, sculptures, paintings, photographs, drawings, videos and actions are presented.
The exhibition is accompanied by a bilingual catalogue (Greek-English) with introductory texts by Artemis Potamianou, Emmanuel Mavrommatis, and Elli Leventaki, the curators' texts on the works of the exhibition, photographs of the works and biographies of the curators and artists.
The artists proposed by art theorists are the following:
Marina Provatidou proposed by Dionysia Giakoumi
Jonah Sachpazis proposed by Gelly Gryntaki
Annie Kaltsidou proposed by Maria D. Kagiadaki
Kostas Stavropoulos proposed by Katerina Kazolea
Sofia Damala, Dimitris Zouroudis, Ioanna Sideris proposed by Artemis Kardoulaki
Charikleia Papapostolou, Tolis Tatolas proposed by Eva Kekou
Antonis Pavlakis proposed by Alexandra Kouroutaki
Konstantinos Kontogeorgos, Eleni Moraiti proposed by Ellie Leventaki
Ersi Venetsanou, Kostas Vrouvas, Evi Kyrmakidou proposed by Emmanuel Mavrommatis
Filippos Tsitsopoulos proposed by Efi Michalarou
Kostis, Angeliki Loi, Manos Pontikakis proposed by Konstantinos Basios
Aspasia Bourcha proposed by Lambrini Benatsi
Yorgos Drivas, Alexandra Petranaki proposed by Maria Ksypolopoulou
Peggy Kliafa, Eleni Lyra, Aimilia Papafilippou proposed by Stratis Pandazis
Nikos Vrouvas, Despoina Meimaroglou, Vivetta Christouli proposed by Bia Papadopoulou
Fotini Poulia, Dimitris Skourogiannis, Marios Fournaris proposed by Niki Papaspyrou
Nikos Giavropoulos, Maria Maragkoudaki, Labrini Boviatsou proposed by Konstantinos V.Proimos
Antonios Panagopoulos proposed by Irini Savvani
Dimitris Anastasiou, Andreas Deventzis, Ilias Kafouros proposed by Athina Schina
Niki Zachari proposed by Julia Sysalova
Katerina Diakomi, Vasiliki Sagkioti, The Snipers/ Aghios Sevastianos: Yorgos Oybak, Akis Batzianas, Dionisis Christofilogiannis proposed by Faye Tzanetoulakou
Dimitrios Antonitsi, Theodoros Zafeiropoulos, Stefania Strouza proposed by Dimitris Trikas
Andreas Savva, Eva Stefani, Indoors Group: Marigo Kassi, Vallie Nomidou, Spyridoula Politi, Mary Christea proposed by Lina Tsikouta
Christina Thalasa, Katerina Cassavetis, Tassos Triandafyllou proposed by Markella-Elpida Tsichla
Babis Venetopoulos, Gioula Papadopoulou proposed by Anna Chatzigiannaki
Conceived by: Emmanuel Mavromatis ,Treasures of  AICA Hellas and Professor Emeritus of the Aristotle University of Thessaloniki
Idea Conception for Theorimata 3: Elli Leventaki, member of AICA Hellas, Art Historian, Art Curator
Organized by
AICA ΕΛΛΑΣ (Artemis Potamianou-President, Faye Tzanetoulakou-General Secretary, Emmanuel Mavrommatis-Treasurer, Kostas Christopoulos-Special Secretary, Katerina Koskina-Counselor) and members Elli Leventaki, Efi Michalarou, Niki Papaspyrou
Exhibition Curated by
Emmanuel Mavrommatis, Faye Tzanetoulakou, Elli Leventaki, Niki Papaspyrou
Art Posting: courtesy of Move Art
With the financial support and the auspices of the Ministry of Culture
Opening Hours: Tuesday– Sunday 17.00 – 21.00