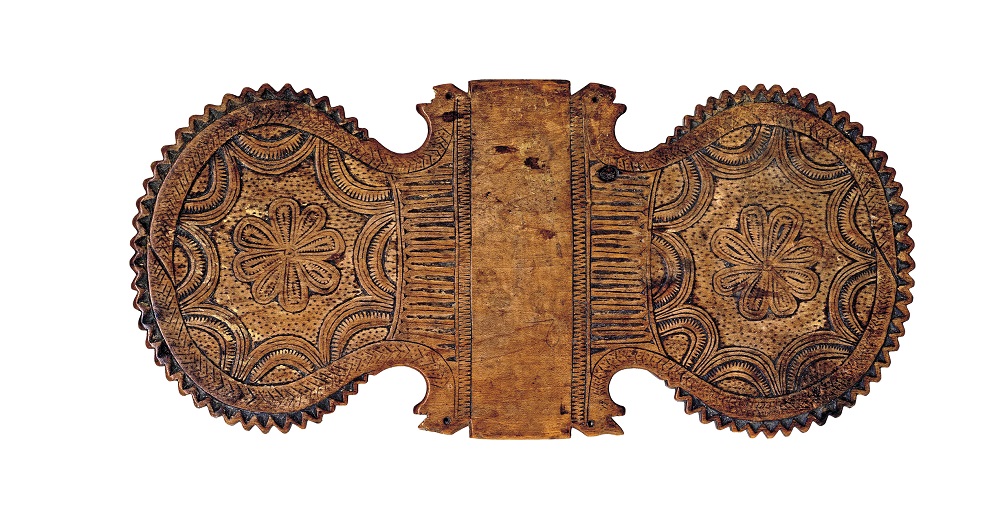 Duration of the exhibition 17 May – 3 September 2023
Opening: Tuesday, 16 May 2023, 20:00
The exhibition presents a large number of traditional woodcarving tools related to spinning, sewing, knitting, embroidery and various small-scale weaving techniques, as well as how they are used. The material in the exhibition includes a set of pastoral woodcarving tools and tools produced in Greek prisons from the late 19th century to around 1950, while the presentation is complemented by similar objects from the wider European area.
Although knitting tools (rokes, flywheels and adrachia) are more studied and known to the general public as masterpieces of woodcarving, there is another category of related tools, known as sock needles, which through their high aesthetics and the variety of woodcarving work that produced them, revealed their complex use, which was associated with the domestic production of handicrafts.
Each category of tools is exhibited according to its use and the technique associated with it, highlighting the richness and ingenuity of the woodcarvers who, through their works, helped women to create everything from simple handicrafts, essential to their daily lives, to masterpieces of craftsmanship.
Finally, with the selection of some well-known craftsmen and artists who still practice these techniques nowadays, the exhibition aims to give a positive and optimistic message for the survival of applied arts in modern times.
The exhibition is based on the research presented in Flavia Nessi-Yazizzoglou's book, TALES OF TOOLS. The Untold Narrative of Wooden Handiwork Implements from Greece, which will also serve as the exhibition catalogue.
Exhibition Credits:
Curated by : Flavia Nessi-Giazitzoglou, Tina Vasilakopoulou
Architectural design: Eleonora Karavanis
Graphic design: Dimitra Vasilakou, Aliki Kakoulidou
Stage design: Kyriaki Karachaliou
Animation – video: Giorgos Karagiorgos, Giorgos Kontos
Artists-craftsmen
AFI Collective (Judith Allen-Estathiou, Inger Carlsson, Maria Gregoriou, Despina Pantazopoulou, Yannis Papadopoulos, Eva Heiladaki)
Angeliki Giannakidou, founder & president of the Ethnological Museum of Thrace
Georgia Gremouti, textile artist
Despina Karachaliou, composting technician
Maro Kornilaki, jewellery designer
M2P, pattern designers
Melissanthi Spei, fashion artist & researcher
Origin of works:
National Historical Museum, Athens
Centre for the Research of Greek Folklore of the Academy of Athens
Folklore Museum and Archive of the Faculty of Philosophy, Aristotle University of Thessaloniki, Greece
Folklore Museum of Didymoteichos
Museum of European and Mediterranean Cultures (Mucem), Marseille
Museum of Greek Art and Tradition "Angeliki Hadjimichali" of the Municipality of Athens
Benaki Museum
Museum of Modern Greek Culture, Athens
Private collections
PARALLEL EVENTS
The aim of the exhibition is for the presentation of wood-carved weaving tools to be an occasion for discussion on the survival of applied arts related to yarn in the modern era.
With this in mind, a series of presentations of some of the basic techniques used by the tools presented in the exhibition to create spinning compositions is organized.
Programme of presentations:
25 May 2023, 18:00, Benaki Museum of Hellenic Culture Amphitheatre
Flavia Nessi Giazitzoglou, Tina Vasilakopoulou, curators of the exhibition
Finger knitting, creating pompons, tassels, cords
15 June 2023, 18:00, Benaki Museum of Hellenic Culture Amphitheatre
Maria Grigoriou, artist, founding member of the AFI collective
Weaving with cards / "chapari"
6 July 2023, 18:00, Benaki Museum Amphitheatre of Hellenic Culture
Despina Karachaliou, composting techniques
Compodetics
Free entrance. Online reservation required.
GUIDANCE
The curators of the exhibition, Flavia Nessi-Giazitzoglou and Tina Vasilakopoulou, will conduct guided tours for the public on the following dates:
10/06, 17/06, 17/06, 24/06, 08/07 & 15/07/2023, at 12:00.