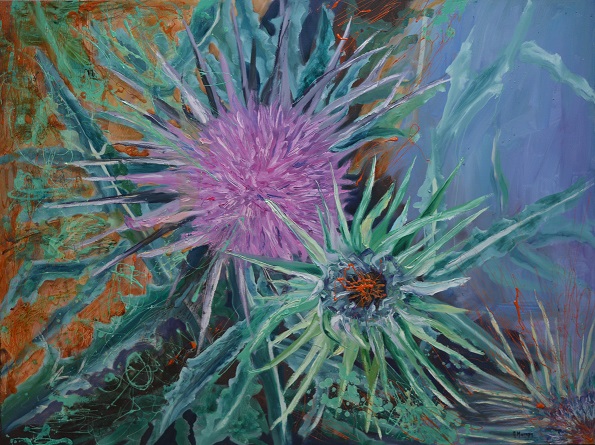 "The Blossoms of Good" is the title of the solo exhibition of works by the painter Penis Manavi, which will be hosted at the "STOART KORAI" Art Space, from 2 to 30 June 2022.
With a degree in Physics, Peni Manavi graduated in 2004 with honors from the Athens School of Fine Arts with a degree in Physics, under the supervision of Yannis Psychopedis. In addition to her solo exhibitions, she has participated in numerous group exhibitions both in Greece and abroad, while her works are in public and private collections in Greece, England, Germany, France and the USA. She has always been interested in the strange and intense colour associations one encounters when studying biodiversity, the abundance of colours and shapes in nature.
"With her often intricate and layered compositions and "Flowers of Good", Penny Manavi invites the viewer on a journey through colours and images of lost paradises. With the promise of water or a dream that is ultimately not fulfilled. Because that is what it is all about", will be noted, among others, by Mr. Manos Stefanidis, Art Historian and Critic, Professor Emeritus of the National and Kapodistrian University of Athens.
"Firmly serving the depiction of nature, Penis Manavi celebrates creationˑ bright flowers, the wondrous seabed, the colourful, speckled wings of butterflies, all are ideal subjects for her painting", Art Historian Venia Pastaka will say for her part and adds that "for the visual artist, detail often becomes her main subject, creating the illusion of the abstract, which however contains great detail".