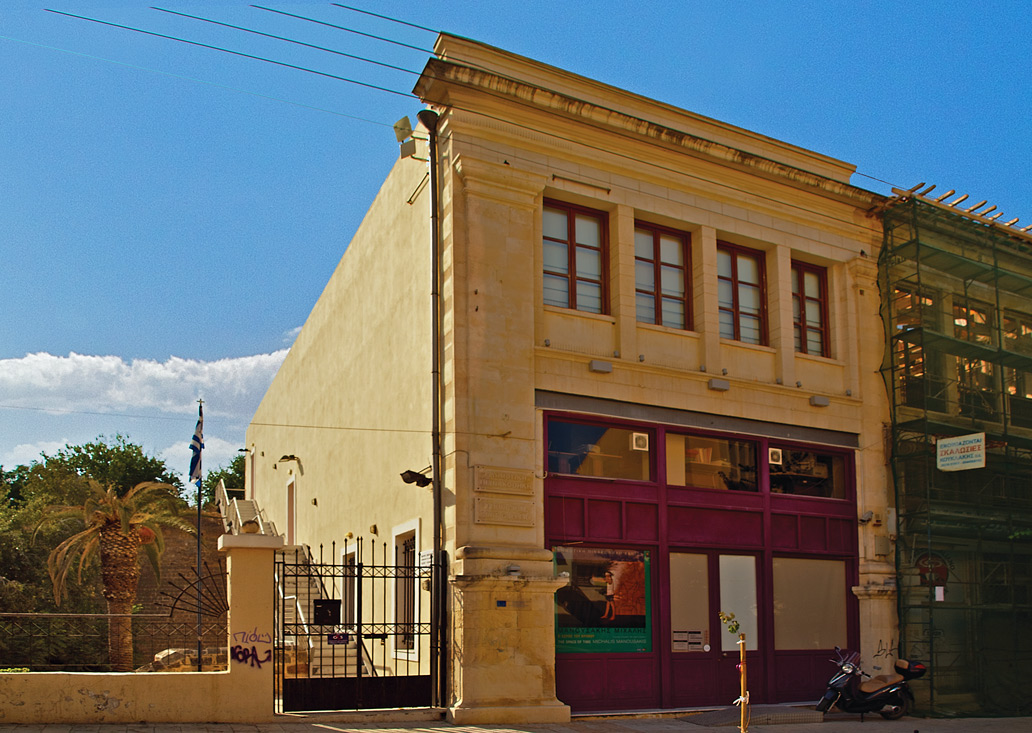 The exhibition of 104 paintings by 64 contemporary Greek artists from the collection of Antonis and AziaHadjiioannou, entitled "The Passion of the Visible", organised by the Municipal Gallery of Chania and curated by art historian Elizabeth Plessas, will conclude on 22 September with a large turnout and excellent comments from visitors.
The rich collection of the Hatzioannou couple, which numbers more than 1,200 works, returns to the Municipal Gallery of Chania, where it was first presented 15 years ago to celebrate a milestone: the 40th anniversary of its birth and to close one cycle in the best possible way, ready to open another.
For the sixth consecutive presentation of part of the Hadjiyannou collection, it was chosen to emphasize new acquisitions and works that had not been exhibited in Chania in 2007, without, however, excluding from the new event certain pillar works.
In correspondence with the three levels of the Municipal Gallery of Chania, the exhibition is structured around a number of large sections, which attempt to highlight the main aesthetic axes of the collection.
From the first section (The challenge of the gaze: Enigma and innocence), to the second (The obsessions of the gaze: Pattern and painting), to the third (The exaggeration of the gaze: The passion of the visible), a three-part presentation is gradually escalated, moving between the painting of the gaze and the painting of the mind.
In the context of the exhibition's completion, the Municipal Gallery of Chania is organizing two special guided tours for the public, who will want to learn in depth the secrets of figurative painting from two of the most important representatives of the contemporary Greek art scene, as well as from the collectors themselves.
The second will take place next Thursday 15 September at 20.30 where the painter and vice president of the Municipal Gallery of Chania, Dimitris Andreadakis will guide visitors with his own view .
The event will be accompanied by a bilingual (Greek-English), fully illustrated catalogue, edited by ElisavetPlessa and designed by ErifiliArapoglou, with texts by the collectors Antonis and AziaHadjiyannou, the academic and painter AlekosLevidis, the chairman of the National Library's Ephorate, Stavros Zoumboulakis and the curator. The architectural design of the exhibition was undertaken by Stavros Papagiannis/Stage Design Office.
Participating artists:
Io Angeli / Nikos
Ananidas/ Dimitris
Asariotaki/ Stathis
Vlahakis / SavvasGeorgiadis / Vicky Georgiopoulou / Maria Giannakaki / Theo Daskalakis / StefanosDaskalakis / NikiEleftheriadis / IriniIliopoulou / Dimitris Katsigiannis / TheophilosKatsipanos / Konstantinos Kerestetzis / Kiki Kolymbari / Leda Kontogiannopoulou / Spyros Koursaris / Michalis Madinis / ThanasisMakris / NektariosMamais / Michalis Manousakis / TasosManzavinos / KalliroiMarouda / YannisMigadis / Louisa Missiou / TasosMisouras / Nikos Moschos / Panagiotis Beldekos / Emmanuel Bitsakis / LambriniBoviatsou / ThanasisPanagiotou / Elena Papadimitriou / AchilleasPapakostas / VassilisPapanikolaou / Kostas Papanikolaou / Kostas Papatriandafyllopoulos / Andreas Patrakis / VassilisPerros / AchilleasPistonis / Vangelis Renas / StefanosRokos / George Rorris / PavlosSamios / Eduard Sakayan / VassilisSelimas / Nikos Siskos / AntonisStaveris / Marina Stellatou / Philip Tarlowos / Dimitris Tzamouranis / Anna Maria Tsakali / AntonisTsakiris / PanosFeidakis / Maria Filopoulou / Maria Hatziandreou / MandalinaPsoma
INFO
"The passion of the visible: Works from the Collection of Antonis and AziaHadjioannou" Duration: 28 May to 22 September 2022
Municipal Gallery of Chania
98-102 Halidon Street
Tel: +30 28210 92294 and +30 28210 92419 Website: www.pinakothiki-chania.gr
Facebook & Instagram: @MunicipalArtGalleryChania
Facebook, Facebook, Facebook, Facebook, Facebook, Facebook, Facebook, Facebook, Facebook:
– Monday to Saturday 10:00 to 14:00 and 19:00 to 22:00
– Sunday closed