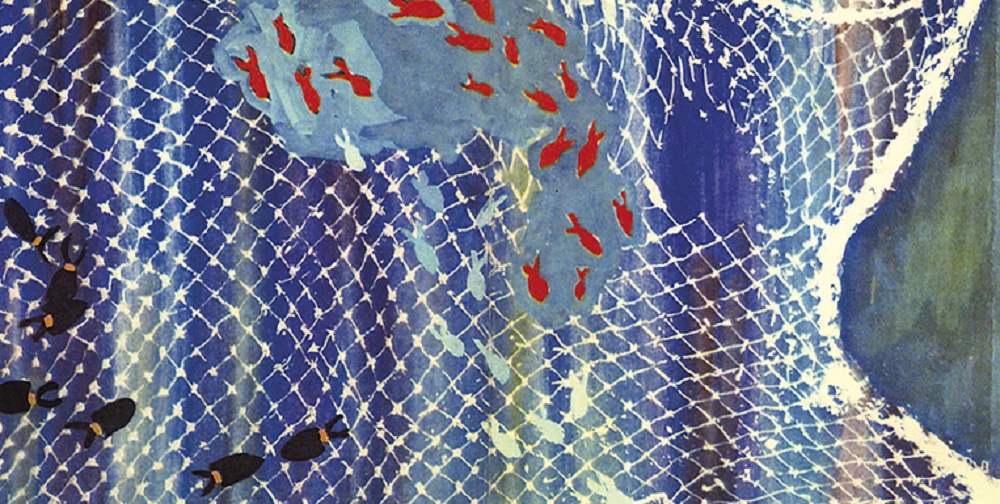 After the simultaneous presentation of the work of a couple of artists, Paris Precas and Meropi Stefanatou-Precsa, Angelos Vlassis and Maria Ziaka, Edward Sakayan and Anna Maria Tsakalis, the Teloglion Fine Arts Foundation returns to this tradition with Michalis Katzourakis and Agni Megareos Katzourakis.
From Wednesday 4 October, Michalis and Agni Katzourakis, an exceptional artistic couple in life and work, who combined application (graphic design) with 'pure' art in a context of cooperation of a uniquely high level, education, culture, quality, humour, laying the foundations for a completely unusual atmosphere of creativity in the workplace, will be presented. More than 170 works, paintings, sculptures and posters will be exhibited on the ground floor of the Foundation, while large-scale sculptures will be set up in the courtyard.
"Artistic personalities, noble personalities of rare quality, Michalis and Agni Katzourakis, fine bearers of unadulterated modesty, know from very early on how to express themselves without the unnecessary and meaningless, With the entirety of their artistic presentation, they succeeded in offering aesthetic emotion and in transforming their artistic creations in a purely personal code into eternal beauty, into an everlasting vision of life", writes Mary Michaelidou, Honorary Director General of the Ministry of Culture in the publication of the exhibition.
"Two different trees – but one idea: nature, mother earth – unite the two artists. Two people, companions in life for seventy years, thus join hands and become one flesh," adds Christopher Marinos, art historian and curator.
The Director General of the Teloglion Foundation, says of the two artists:"Michalis, a pioneer of geometric art, who appeared in Greece in the 1960s, is distinguished for his steady and consistent presence in the Greek and international scene since the mid-1950s with his multifaceted work (painting, wall paintings, sculptures).
After his major retrospective exhibition at the Benaki Museum in 2015, we find Michalis Katzourakis at the Teloglion, returning to older themes and experimenting with new freshness in some materials: the mirror, broken bottles, neon lights, leds, typographic clamps, metal blinds and tubes with light, ondule paper, now reappear in new relationships and combinations. "Everyone sees different things," he says of the endless variety of materials.
Agni entered the field of graphic design early on and devoted herself to it, self-taught, as she says, learning on the field. She became involved in illustrating children's books and has a great track record in poster design with excellent targeting of the message, with simplicity, imagination and witty humour. Her paintings are an outpouring that express her anxieties, fears as time passes, anxiety about decay and death, while childhood traumas resurface that are exacerbated by contemporary tragedies, disasters, and the refugee crisis.
Both Michalis and Agni are distinguished for the consistency of their reflections in their applied graphic design work, which is absolutely linked and should not be separated from his artistic production.
The simultaneous coexistence of their work, with major thematic and morphological differences (geometricity, poetry of abstraction and hidden emotionalism of Michalis -Agni's soul paths with intense inner charge), leads the viewer to perceive affinities and differentiations between them, especially the way that common experiences and anxieties are transmuted into artistic expression and creation. Their work as a whole offers an introduction to qualities and cultural values that we need today more than ever."
The preparation of the exhibition was done by the artists themselves.
First tour of the exhibition: Sunday 8 October at 11:00. Reservations are required by phone at 2310247111 (during opening hours).
5€ (regular), 2,5€ (discounted)
Free entrance: journalists, people with disabilities and children under 6 years old.
* Full exemption does not apply to guided tours (https://www.teloglion.gr/episkepsi/)
The bilingual version of the exhibition will be sold at the shop inside the Foundation, at Mikro Teloglion (32 K. Del 32) and at the eshop.
Duration of exhibition: until Wednesday 10 January 2024.
Exhibition opening hours: Tuesday, Thursday and Friday 9:00-14:00, Wednesday 9:00-14:00 & 17:00-21:00, Saturday and Sunday 10:00-18:00.