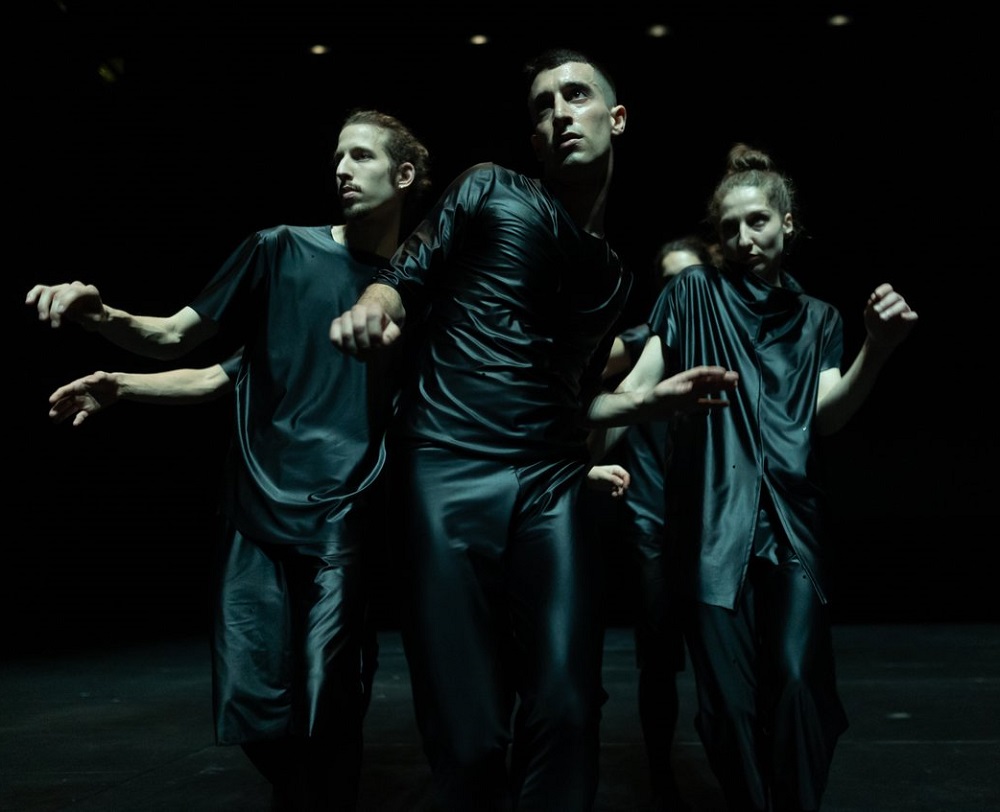 Opening of the Friends of the Roof pre-sale: Wednesday 14/09, 17:00
Opening of the General Public pre-sale: Thursday 15/09, 17:00
Those of us who saw it last March agreed: This show must be repeated. The Greek choreographer-apocalyptic and his latest work is back. Dancing like a glacier.
"A name circulates, praised for its boldness and minimalist but stunning virtuosity, for its performers. A revelation. He's Greek." This is what the Belgian press noted last year. Similar praise followed in every European city where Larsen C was presented. Shortly before travelling abroad again, Christos Papadopoulos' latest work, an international co-production of the Onassis Cultural Centre, is making a stop for a second season where its rehearsals and the beginning of its creation began: in Athens and the Onassis Cultural Centre from 6 to 9 October 2022.
Larsen C: A work of art on the move inspired by the slowness of the melting of the glaciers in order to speak of the fierceness of life. "Glacier" or "ice shelf". This is the scientific name of the huge, immobile, 10,000-year-old Larsen C water body in Antarctica. Larsen C, twice the size of Wales, moves so slowly that it cannot be detected by the human senses. It's as if the pulse of its movement is absorbed by space and time. In Christos Papadopoulos' homonymous choreography, human bodies resonate to the same perpetual rhythm, in a dreamlike sequence where they progressively appear as eerie as the polar landscape. Christos Papadopoulos again becomes an observer of the movement of the minimum which, in its interiority and its repetition, produces life. Larsen C is a party-forum in homage to the silent transition of bodies. It is "a metaphor" comments the choreographer himself, "of life that, irresistible, goes on".
Larsen C premiered on September 28, 2021, at the Jean Vilar Theatre in Vitrière-sur-Seine (in collaboration with La Briqueterie). That autumn, it continued to conquer other CDCN (National Choreographic Development Centres) stages in France: La Manumafacture in Bordeaux, POLE-SUD in Strasbourg (which collaborates with the Roof as part of the Grand Luxe network). To date, Larsen C has been presented in 12 European cities – including Rome, Madrid, Barcelona, Liege and Brussels. Its journey through Europe includes major stops until autumn 2024. The Athens premiere of Larsen C took place on the Main Stage of the Stegis, for five sold-out evenings, from 30 March to 3 April 2022. Following the great success, this will be the second cycle of the play's presentation in the city…
Larsen C follows the creation of ION (2018), again commissioned and produced by the Stage, co-produced by Théâtre de la Ville and Le Lieu Unique. ION also toured extensively in Europe.
Christos Papadopoulos' international tour will take him this winter to Germany and France, to the Berlin-based company Dance On and the Lyon Opera Ballet, respectively. It will be the first time that the distinguished creator will present a choreography outside his own company.
In his 2018 conversation with Younji Ku, the artistic director of Nick Knight's renowned Show Studio, Christos Papadopoulos cited images of nature as his source of inspiration (https://www.onassis.org/el/video/discussing-ion). "My main reference and inspiration is what I would call 'creativity' in nature. It is the periodicity of repetitive patterns in nature, which are synchronized because they operate within a system that ensures survival. The kinesiological patterns and spatial formations of birds and fish reflect this effort. It is not an aesthetic choice, but a vital function that all members of the group co-construct. Thus, then, we can look for collectivities and individualities in nature and, by extension, in society."
Credits
Conception & Choreography.
The dancers are: Antonis Vais, Hara Kotsali, Georgios Kotsifakis, Sotiria Koutsopetrou, Maria Breyannis, Tasos Nikas, Ioanna Paraskevopoulou
Music & Sound Composition. George Poulos
Stage Design: Cleo Boboti
Lighting Design: Eliza Alexandropoulou
Costumes: Angelos Mentis
Dramaturgy: Alexandros Mistriotis
Assistant Choreographer: Martha Pasakopoulou
Assistant Stage Designer: Philanthi Bougatsou
Production Organization: Rena Andreadaki, Zoe Moushi
Tour Lighting Managers: Alexandros Mavridis, Evina Vasilakopoulou
Technical Direction of the Tour: Angeliki Vasilopoulou-Kampitsi, Marilena Kalaitzantonaki, Stefania-Elektra Pantavu
Tour Organization: Konstantina Papadopoulou
International Distribution: Key Performance
A play by Christos Papadopoulos // Leo and Wolf
Production: The Onassis Cultural Centre
With the support of Fondation d'entreprise Hermès in the framework of the New Settings Program
The Larsen C takes place under the auspices of the Ministry of Culture and Sport Co-production A-CDCN (Les Hivernales – CDCN d'Avignon, La Manufacture – CDCN Nouvelle -Aquitaine Bordeaux – La Rochelle – CDCN Nouvelle -Aquitaine Bordeaux – La Rochelle), L'échangeur – CDCN Hauts-de-France, Le Dancing CDCN Dijon Bourgogne – Franche-Comté, Chorège I CDCN Falaise Normandie, Le Pacifique – CDCN Grenoble – Auvergne – Rhône-Alpes, Touka Danses – CDCN Guyane, Atelier de Paris / CDCN, Le Gymnase CDCN Roubaix – Hauts-de-France, POLE-SUD CDCN / Strasbourg, La Place de la Danse – CDCN Toulouse / Occitanie, La Maison CDCN Uzès Gard Occitanie, La Briqueterie CDCN du Val-de – Marne) (France), Théâtre de la Ville, Paris (France), Les Halles de Schaerbeek, Brussels (Belgium), Julidans, Amsterdam (Netherlands), Romaeuropa Festival (Italy), Théâtre Jean Vilar de Vitry-sur-Seine (France), Festival Aperto / Fondazione I Teatri
– Reggio Emilia (Italy), Festival de Otoño de la Comunidad de Madrid (Spain)
In collaboration with Département du Valde – Marne, as part of Creation Residency Aid (France), Lavanderia a Vapore choreographic residencies projects (Italy)
With the support of NEON Culture and Development Agency (Greece)
The tour is supported by the "Extroversion" programme of the Onassis Cultural Foundation