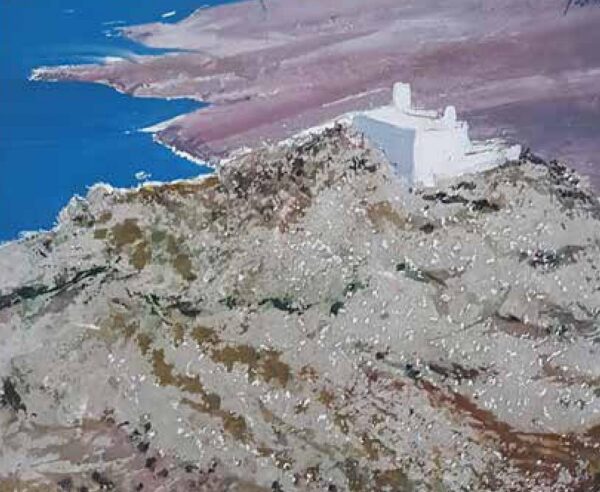 Exhibition curator : Irini Savani, Art Historian
Following the excellent reception of the exhibition of the renowned and Athens Academy Award-winning painter Petros Zoumboulakis at the Municipal Gallery of Mykonos "Maria Iglesi", the exhibition travels to Tinos, at the Tinian Cultural Foundation.
The artist presents his recent visual art series "The Aegean gave you the beautiful journey". The reference of the title of the exhibition to the well-known verse of the poet Konstantinos Cavafy ("Ithaca") marks the artist's poetic approach to the depiction of Aegean islands such as Mykonos and Tinos.
The set of works is the culmination of the artist's multi-year research on the "Eternal Landscape". As he says: "Landscape has always been the source of my inspiration. I admire its variety and diversity. Its seas and peninsulas, its dry stone walls and meadows, its sandy beaches, its cliffs and valleys seen 'from the air' are an evolution of my Perpetual Landscape, which has occupied me for many years.
P. Zoumboulakis uses an almost cinematic narrative, with shots of nature, either distant, seen from above or close up. Each of his works functions as an autonomous expression, but at the same time is part of a perpetual visual universe, with no beginning and no end. Thus, he invites the viewer to work interactively and use his imagination to fill in the "empty" elements of the variable visual composition.
The exhibition is also accompanied by portraits of Greek poets who praised the sea (O. Elytis, N. Kavvadias, etc.), while the sound installation of waves, wind and rain creates a multi-sensory experience for the viewer.
Of particular importance is the visual dialogue between the painter and Chalepas through the portrait "Giannoulis Chalepas" (2017) by the former and the work "Amphitrite" by the iconic Tinian sculptor, a collection of F. Giannakopoulos.
Curated by Irini Savani, Art Historian
Tinian Culture Foundation
Opening date : Monday, 08/08/2022, Time: 20.30
Exhibition Duration: 08/08 – 10/10/2022,
Opening hours: Monday, Wednesday, Thursday: 09:00-14:00
Friday, Saturday & Sunday: 9.00-14.00 & 19.00-21.00