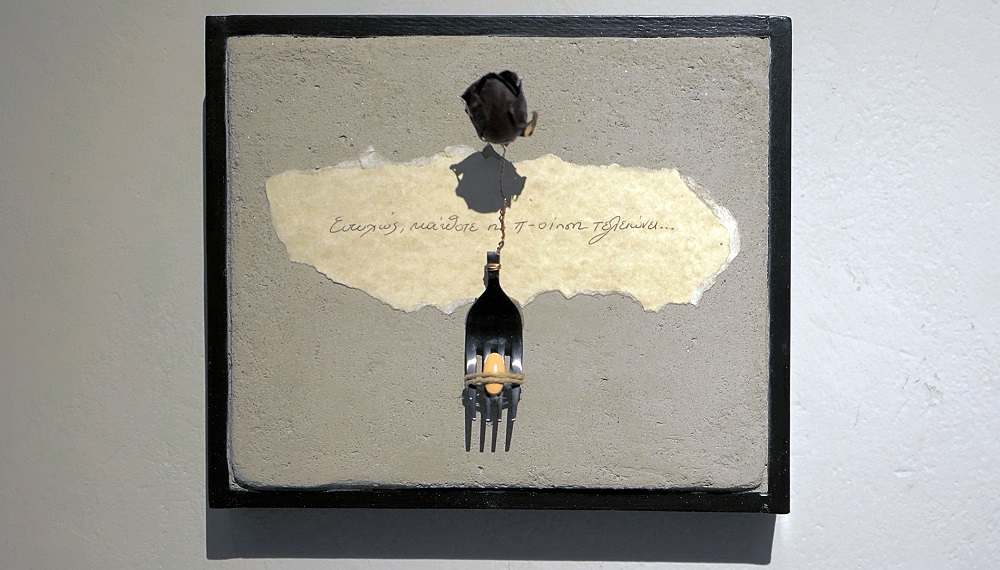 ENIA Gallery presents in its new space on Sunday, November 13, the sixth solo exhibition of Marios Fournaris entitled "Fortunately, once poetry ends".
The architectural configuration and floor plan of the new exhibition space is of paramount importance in the Constitution of the exhibition. The approximately forty works are presented as parts of a composition – installation, developments of the conceptual and artistic pursuits of the artist.
The process of composition is the core of the artistic work of Marios Fournaris. The relationship of materials and the connection between different, varied objects of everyday life structure and define each work morphologically. Each sculptural composition is the development of a spontaneous creative production and sometimes a problematic one on everyday, social, political issues. His compositions are a play of symbolisms, balances and contrasts.
His artistic creation emphasizes on trivial, trivial, everyday objects and is philosophically based on the concepts of history, memory, time, nature, collectivity, humanity, poverty. The human being, his rights and the environment in the face of merciless and uncontrolled economic growth and its speculative obsessive policies are some of the fundamental issues that concern the artist and he comments critically through his works.
Marios Fournaris studies in depth the history and history of art and raises again, in his present day, the question of the existence of an art with a social character.
Exhibition curated by: Niki Papaspyrou, art historian
The exhibition shall be accompanied by a brochure available to the public and a catalogue of 100 pages in a limited number of copies for sale.
Admission to the exhibition is free to the public.
Exhibition opening: Sunday 13 November 2022 at 19:00
Exhibition duration: November 13, 2022 to March 11, 2023 (December 17, 2022 to January 12, 2023 the exhibition will remain closed)
Opening Hours:Thursday:12: 00 – 20: 00
Friday: 12: 00.– 20:00
Saturday: 12:00 – 16: 00
(Sunday-Wednesday: Closed)