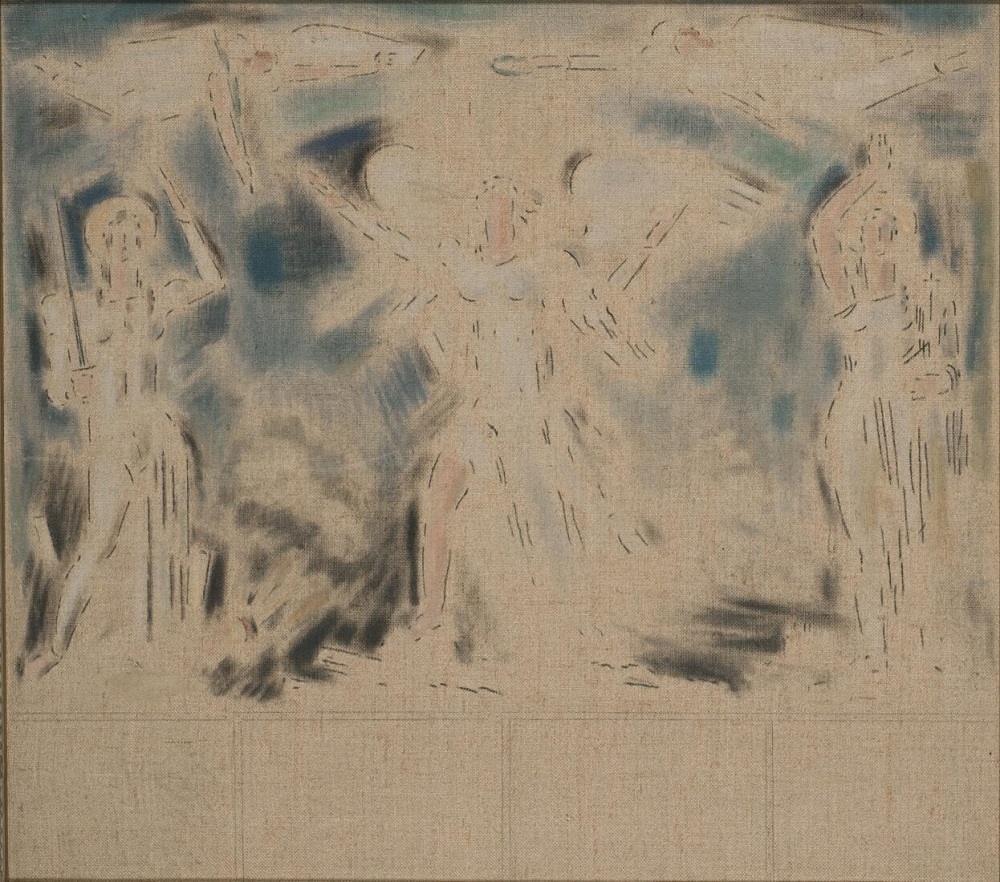 Exceptional works of art with a prominent place in the visual history of our country are included in the auction of 19th – 20th century Modern Greek Paintings & Sculpture organized by VERGOS Auctions, which will take place on Wednesday 30 November 2022 at 6:00 pm at Zappeion.
Nikolaos Gyzis (1842 – 1901), one of the most prominent 19th century Greek painters of the so-called "Munich School", painted one of his most emblematic works, "The Tama", in 1875. The work, which is being offered for sale for the first time, was realized after a short trip to Greece by Gyzis and in December 1875 passed into the hands of the English art dealer Wallis. Until today it was part of a private collection in Athens.  The painter made three variations of the same subject (1874, 1875, 1886), which testifies to his love of depicting dramatic everyday moments and, in particular, his emotion at the disappointment of love. It should be noted that a later variant of the work belongs to the collection of the National Gallery.
The 'Allegorical Composition – Victory' by Konstantinos Parthenis (1878-1967) is another masterpiece of modern Greek painting which is among the works to be auctioned. This work belongs to the artist's family and is part of the allegorical compositions made by Parthenis in the 1950s. In the recent catalogue of the National Gallery on the occasion of the current exhibition, which will run until 28 November, "Konstantinos Parthenis (1878-1967), The Ideal Greece of his Painting", the frost with four rectangular scenes and the relevant sketch are published as an independent work. A smaller version of the auctioned work, accompanied by numerous related drafts, is included in the permanent collection of the National Gallery.
These leading works are accompanied by a series of works by leading Greek artists, including. Sp Vasiliou, P. Vyzantinos, G. Gaitis, A. Geralis, Gikas (Hadjikyriakos), D. Diamantopoulos, N. Engonopoulos, Theophilos (Hadjimichael), M. Theofylaktopoulos, Ch. Karas, N. Kessanlis, C. N. Lazongas, K. Maleas, T. Manjavinos, G. Moralis, C. Mavroidis, Bost, H. Botsoglou, C. Bouzianis, D. Mytaras, Sp. Papaloukas, Paul (Dionysopoulos), G. Rorris, E. Sakayan, P. Samios, S. Sorogas, G. Spyropoulos, P. Tetsis, G. P. G. Tsingos, V. Fotopoulos, G. Christoforou, Chrysa (Vardea), G. Psychopedis.
Finally, Modern Greek sculpture is well represented in the auction with works by G. Halepa, Th. Papagiannis, Takis (Vasilakis), Chr. Kapralou, G. Lappas, G. Pappas, G. Zongolopoulos, E. Vernardakis.
The 145 works of modern Greek painting and sculpture will be exhibited in a hall of the Zappeion with free admission for the public, while the house offers the possibility of group tours to students and pupils.
Exhibition open to the public – Opening hours
Sunday 27 November, 12:00 p.m. – 9:00 p.m.
Monday 28 November, 10:00 am – 9:00 pm
Tuesday 29 November, 10:00 am – 9:00 pm