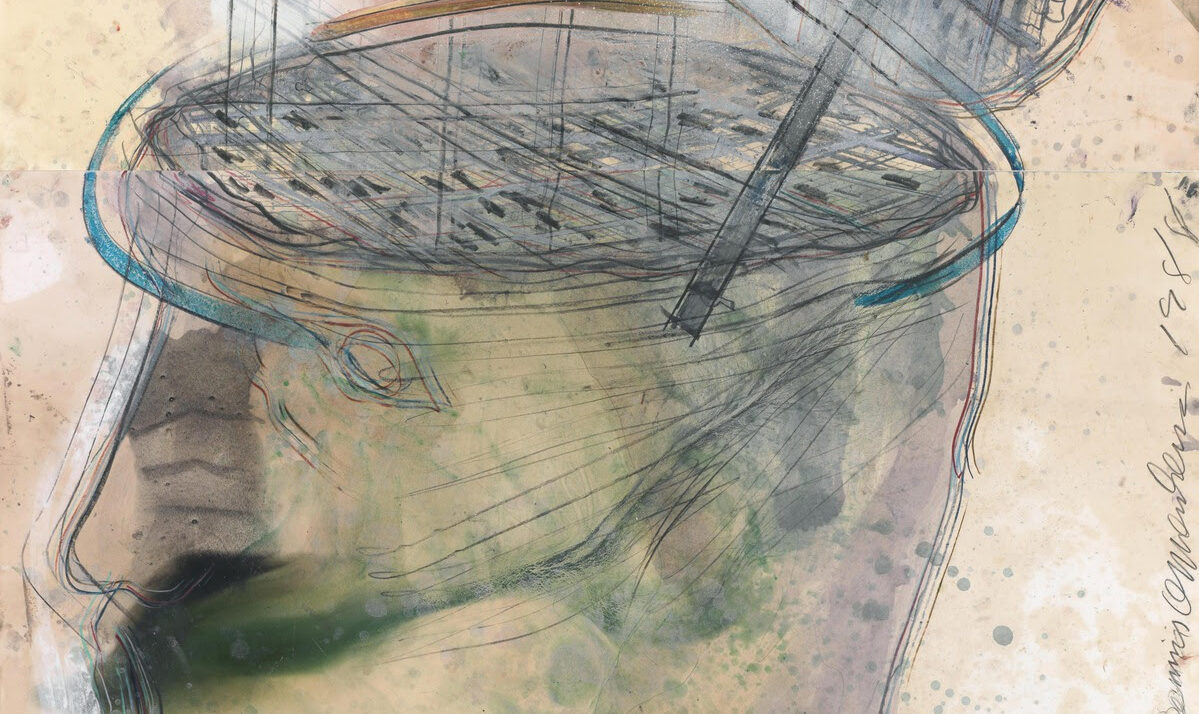 Roma Gallery presents 11 large-scale wall-mounted artworks by the great American artist,
from 5 May to 4 June 2022, in an exhibition curated by Dimitris Trikas.
A towering figure in American conceptual art and beyond, Dennis Oppenheim was born in 1938 in Electric City, Washington. From 1966 until his death in 2011, he lived and worked in New York. During these four decades, Dennis Oppenheim's art enlisted all available techniques and existing art forms – from writing, performance, video, and photography to drawing, sculpture, and installation.
Oppenheim's fascinating journey began with body art and land art in the epic mid-Sixties, arriving at a sarcastic and subversive commentary on contemporary life in the Eighties and Nineties, using toys – symbols of childhood innocence – and utilitarian objects that take on a new meaning in his hands. They build a soaring palace of subtle – and therefore all the more frightening – menace, which effectively undermines the joints and core of a prevalent, systemic consumerist complacency and a narcissistic individualism that sells illusions of security, prosperity and gratuitous pleasure.
William Burroughs once said, with his unmistakable sarcasm: 'No one owns life, but anyone who can pick up a frying pan owns death.' Oppenheim takes innocent signifiers of everyday life and twists them into meanings of death, sickness, horror – or simply agonizing doubt. The dialectic relationship between form and content triggers a new conversation, charges with new meaning the signifier-signified relationship.
In the unsettling Virus (1989), for instance, small cast plaster figures of Mickey Mouse mounted on aluminum rods, suggest – rather than alluding to the popular amusement park or evoking a happy tune from The Sound of Music – the structural model of the molecules of a threatening virus. How prophetic, indeed!
In Thought… he evokes a landscape of danger (war?) by constructing a cluster of bones (Ezekiel's "dry bones"?) that end in double-edged blades, resembling "fingers of fear" that threaten thought, therefore life itself.
Study for Second Generation features the ghost of a car lunging from the striped belly of a zebra. The terms "second generation" and "third generation" relate to the reading of objects and animals as beings transmitted from elsewhere, a suggestion of unreality reinforced by an Alice-in-Wonderland scale that makes household items exaggeratedly too big and larger objects too small. Scale is reversed even as meaning is reversed. The world turns unfamiliar, upended; instead of pleasure, playing produces discomfort, a sense of threat. The forms themselves are readily identifiable, but their abstracted surfaces render them generic and somewhat totemic.
Evoking nature and life, animals become a Trojan horse in whose belly lurks the scourge of technology and the phantasmagoria of consumption. Many years ago, with a simple yet ingenious gesture, Marcel Duchamp's Fountain not only pushed the boundaries of art but also undermined the centuries-old perception of the Dasein of Art. In other words, he sparked the still ongoing debate about the ontology of Art.
With Study for Waffle Maker, Oppenheim picks up where Duchamp left off, and challenges the ideal of the Homo Sapiens. He constructs a larger-than-life man's head reminiscent of a toilet bowl, opening horizontally at the height of the brain, in a way that the overall image evokes a toilet bowl with an open lid. In a revelation that intensifies discomfort and provocation, the artist puts a waffle in place of the brain. This is the culmination of sarcasm and the rejection of contemporary culture, in an iconography to represent the dumbing down and dehumanisation of the human mind by consumerist culture.
Oppenheim constantly raises painful questions; clearly, he is not interested in providing easy answers. Not afraid to open the door to unknown conclusions, he achieves a careful balance between cool, theoretical aesthetic issues and the ambitious desire to bring the experience of art into our everyday reality. His transformations of the insignificant into objects fraught with meaning and stature reflect a universe in which all things are possible, for the energy of which everything is composed is fleetingly stable, impersonally fickle, and only briefly ours.
The ground turns out to be like shifting sand; certainties are undermined; Being and Seeming conflict, and the collision of nature and technology prophesies the dystopia of our future.
Oppenheim's wall-mounted art foreshadows the great artist's later groundbreaking, sharp sculpture and fascinating constructions; nevertheless, they possess a vibrant autonomy of their own. They are self-illuminated, self-sufficient artworks characterised by powerful design, deliberate colour staining of the surfaces in the studio, and adventurous thinking captured on their surfaces.
"Dennis Oppenheim – Works 1981–1989: Towards a Prophetic Sculpture"
 Curated by Dimitris Trikas
Exhibition duration: 5-5-2022 – 4-6-2022 Opening: Thursday, 5-5-2022, 17:00
Opening hours: Sunday closed – Wednesday, Saturday 10:00 – 16:00, Tuesday, Thursday, Friday 10:00 – 20:00