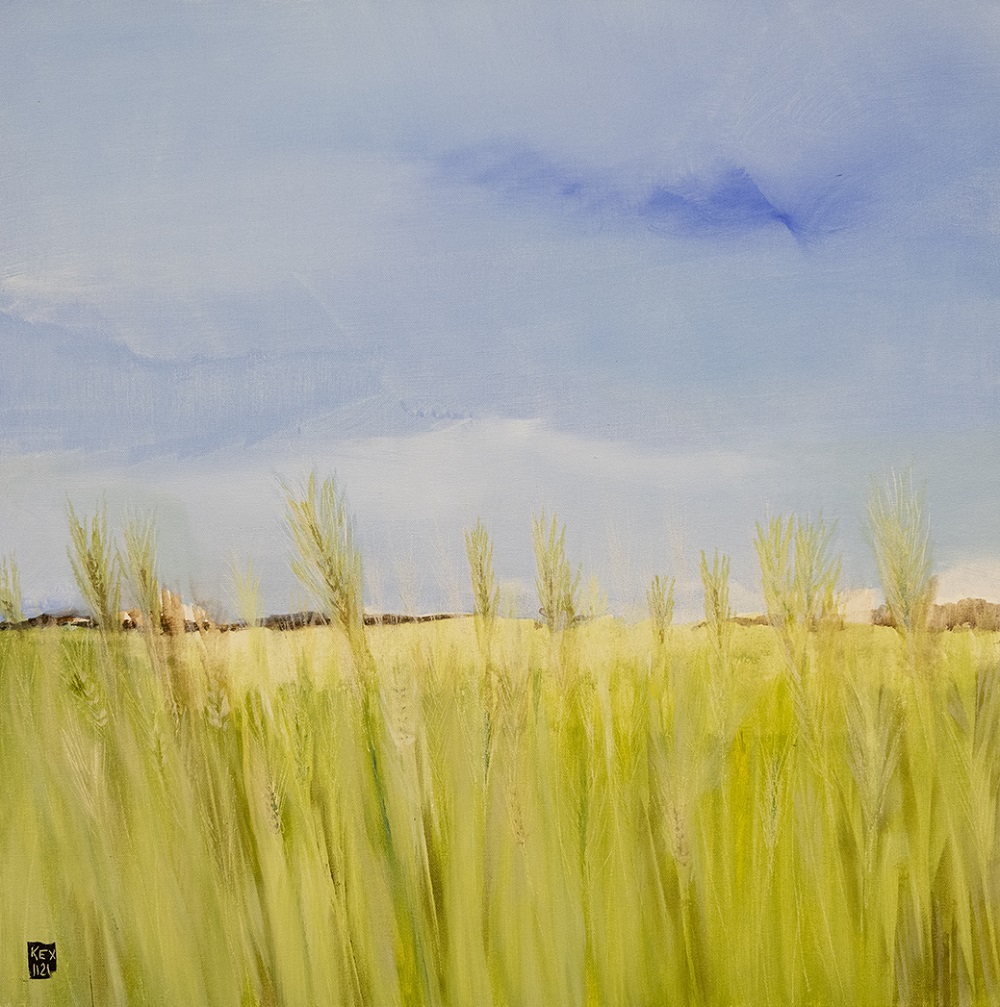 The Zoumboulakis Gallery invites you to the new solo exhibition "Into the Light" by Christos Kechayoglou. Approaching ever more intensely abstraction, in his sixth solo exhibition at the gallery, Kechayoglou paints the light itself. His paintings, worked in Athens and Andros, seek to convey the light of the Cyclades, "with its perpetual transformations on the vastness of the sea and the sky".
Joseph Conrad in his book "The Shadow Line" (ed. Xenophon Komninos, Indictus, 2000) writes: "I looked ahead, and in the quiet strip of super-bright, faint orange light I saw the land outlined flat, like a blade cut in black paper, and floating, as if on the water, light as a cork. But the rising sun transformed it into a dark dimness, an uncertain mass of shadow that flickered in the warm blinding light."
Led by the light, Kechayoglou uniquely captures the atmosphere created during the changing hours, in the sea and in the sky. Their images contain something almost metaphysical, seeming to be on the verge of the existent and the imaginary while intensely conveying the psychic dimension of the observer.
Short artist's CV:
Born in Thessaloniki in 1960. He studied civil engineering at the Polytechnic of Thessaloniki, where he also attended the painting course of Nikos Sachinis. Afterwards he studied film directing in Athens and finally did postgraduate studies in philosophy of art at the Sorbonne University in Paris, studying the relationship between film and painting.
He has directed dozens of films and video works that have been screened at the Thessaloniki Festival and other major festivals in Europe, as well as in museums and art galleries.
He has presented his painting, in Greece and abroad, in 41 solo and over a hundred group exhibitions. In 2014, the Cyclades Gallery in collaboration with Zoumboulakis Gallery presented a major retrospective exhibition of his work in Syros. On the occasion of the exhibition, his book "with eyes looking inwards" was published by Kritiki Publications.
His work is presented in dozens of books, catalogues, music albums and covers of many important publishing houses. His works can be found in galleries, galleries, museums and major collections in Greece and abroad. He is a permanent collaborator of the Zoumboulakis Gallery. The exhibition "Into the Light" is his sixth solo exhibition at Zoumboulakis Gallery.
Opening: Thursday, 10 November 18.00-21.00
Duration November 10 – December 3, 2022
Opening hours: Tues., Thurs. Fr. 11.00 -20.00
Wed. Sat. 11.00 -15.00
Sunday & Monday closed