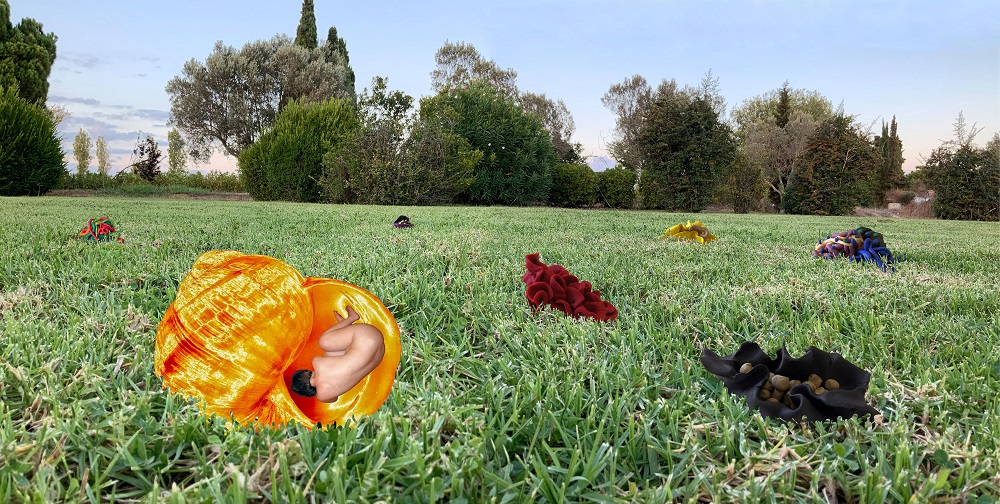 CHEAPART has grated us the indispensable Pavlov's Reflex in regards to Art, a genuine inheritance that can never perish. CHEAPART 2022 | Desire for Art opens from 11 – 23 December refreshed, empowered, in a new location. 91+ artists, creators, curators – 10 days of art – artworks and projects, performances, screenings, talks and presentations spread over 5 floors and 1000 sqm. of exhibition space within the emblematic 1920's building on 2 Rethymnou & Vasileos Irakleiou street, next to the National Archeological Museum, with the support of Zoia.
The Athenian public will be welcomed with new entities of artwork by artists, Stefanos Alafouzos, Christos Alatsakis, Dorothy Amenta, Anmslynx, Sotirios Antoniadis, Sophia Argyrou / Maria Gyftopoulou, Anthia Mega Chavre, Papamali Christiana, Aggeliki Chrysou, Phaedra Crespi, Eleni Dimopoulou, Elizabeth Dionyssopoulou, Nikolas Dorizas, Makis Fioros, Georgios Fytas, Evie Kaplani, Nicholas Karathanasis, Eleni Kastrinogianni, Stella Kechagioglou, Dimitris Kiriakos, Nina Kotamanidou, Giannis Koutroulis, Ioulia Ladogianni, Elli Lampadaridou, Lars* Kollros / Mudesto F. / Carrot Root, Tasos Liakopoulos, Myrto Liostou, Ioulia Makri, Ntia Manesi, Erietta Markadonatou, Valentini Mavrodoglou, Helen Mesadou, Vasiliki Nikolaidi, Marcello Nyktas, Despoina Pantazi, Eleni Papadopoulou, Jenny Petropoulou, Leftheris Plakidas, Ioannis Polyzos, Alexandra Sarah, Tania Siopi, Vassiliki Sofra, Giuseppe Tiberini, Eleni Tsimidou, Eleni Tsoni, Monika Maria Vamvoura, Anastasia Voutsa, Konstans Zafeiri, Maria Zygomala.
CHEAPART creates opportunity for organizations to share their creative vision with the public, and curators to discuss their future plans and agenda.
Aias Christofis curates the participation of artists James C. Lane, Georgia Pilali and Marina Stavrou, Antigoni Kapsali curates the participation of artists Alexandra Dalaka, Demetra Exarchou, Sofia Kyriakou, Athanasia Papatzelou, Theodora Tsiatsiou and Vivi Tsiogka, Pow Wow Art Space curates the participation of Valbona Çanaku, Vasiliki Pantazi, Eleutheria Rapanaki, Mima Razelou, Eirini Roumpi, Mary Roussioti, Socratis Sandman Sapounas and Grigoria Vryttia, and Dimitris Athanitis curates photographers, Toula Akrivou and Karol Jarek.
A special tribute to 10 CHEAPART personalities from 1995 until today, who have been part of the recent exhibitions, Nikos Artemis, Eirini Diadou, Elio Samaras, Nikos Giavropoulos, Babis Karalis, Christos Kehagioglou, Nikos Kryonidis, Fiona Mouzakitis, Natassa Poulantza, Andreas Voussouras and Yorgos Lintzeris present their current work and the course of their development since their early presentations at CHEAPART.
The auditorium and various locations within the building host a creative hub for performances, discussions, presentations and screenings by artists, curators, culture and arts professionals, writers and the public, with Filippos Tsitsopoulos, George-Icaros Babassakis, Nikos Giavropoulos, Dimitris Athanitis, Lars* Kollros, Alexandros Atlidakis (Underathens), Stratos Sterianos, and more.
On the ground floor there will be a bar for participants and the public by Lambros Lambropoulos Suzie Q Bar.
Event Program
Wednesday and Thursday, December 14 and 15
Alexandros Atlidakis, Underathens, Music performances
Friday, December 16
Filippos Tsitsopoulos "Time is an onslaught", performance- duration: 30 min.
Friday, December 16, 20:00
Nikos Giavropoulos, "Six Recollections"
The artist's retrospective with 6 video works from 1999 until today, presentation and screening.
Saturday, December 17, 20:00
George-Icaros Babassakis, radio performance, duration 33 min. 33 sec.
Philippos Tsitsopoulos prepares eggs and bacon for Kostas Tsolis, Chloe and Efrosyne paint the Alamut Fort with watercolors, William Burroughs smiles from the Warehouses in the Sky, and Icaros reads them stories of Love and Philokalia (Beauty).
Wednesday, December 21, 18:00 – 21:00
Dimitris Athanitis "No Sympathy for The Devil"
Screening (Best performance, Thessaloniki International Festival: Lena Kitsopoulou).
Direction, Senario, Production: Dimitris Athanitis
Lars* Kollros «Festival der Demokratie // Festival of Democracy»
Screening of Documentary, duration 78 min. 
Lars* Kollros and Sascha Alexandra Zaitseva accompanied two weeks of protests with their cameras, when the leaders of the EU and the 19 most developed and emerging economies of the world met at Hamburg/Germany on July 7 & 8 of 2017.
Director: Lars* Kollros, Artistic Consulting: Sascha Alexandra Zaitseva.
Stratos Sterianos, Thekla Gaiti, «Those who search for the sea», performance
CHEAPART 2022 | Desire for Art participates in Gallery Walk from December 15 – 16, organized by Athens Culture Net of the City of Athens and the Hellenic Art Galleries Association PSAT.
CHEAPART 2022 | Desire for Art
Curated, coordinated by:
Georg Georgakopoulos
Fotini Kapiris
Artist's coordinator: Anna Androulaki
Opening: Sunday, December 11, 2022, 14:00 – 22:00
Duration: December 11 – 23, 2022, 14:00 – 21:00 daily and weekends
2 Rethymnou & Vasileos Irakleiou str., Athens 106 82