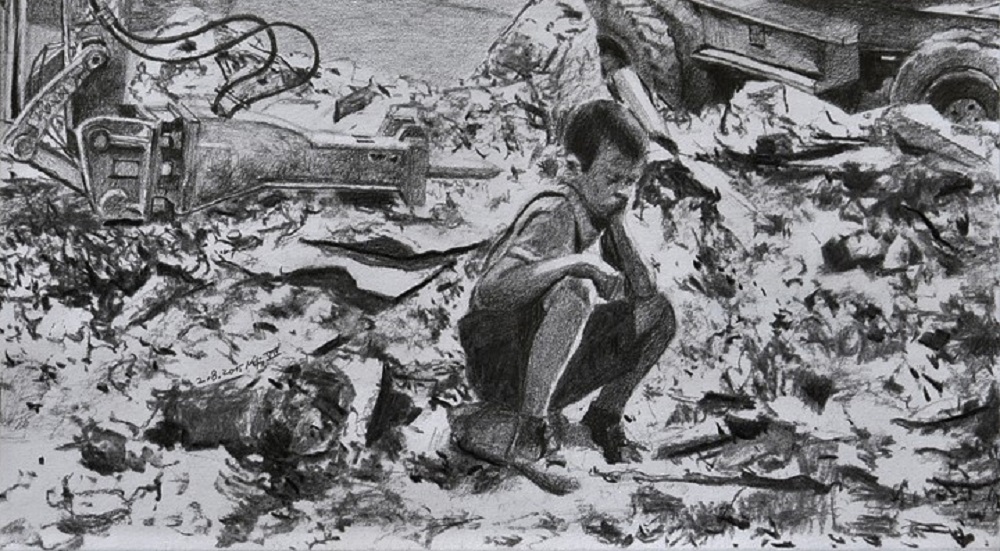 On Friday, October 20th, at the "Astrolavos Art Galleries-Dexameni" , the new solo exhibition of paintings by Nikolas Klironomos, entitled: "Another landscape" / "Excavators -urban record " was inaugurated.
In this new series of works, the renowned artist Nikolas Klironomos is inspired by a very special issue that we see every day, both in the cities and in the countryside, and it is none other than images of landscapes with the imposing construction machines, the Excavators, in a leading role. The Excavator, with its particular, highly interesting, artistically, form, exists in each work as a dynamic entity that sometimes causes awe, captivating the viewer's gaze as he or she wanders from one work to another, revealing different landscapes, urban or rural, each with its own particularity, its own unexpected interest and showing a transforming world. The world of yesterday, of today and of tomorrow that is potentially being created.
The realistic representation with which the artist depicts his subject intertwines with his dynamic expressionist writing. Some of the works are highly immersive due to their monumental dimensions combined with the intense perspective depictions of the city, the particular colour palette of each work and the eye-glasses which in several of the works are in relief.
Dr. Thodoris Koutsogiannis, Art Historian, who introduces the exhibition, says about this new section of the artist's work: "In his new work, Nikolas Klironomos, using, literally and figuratively, the excavation machinery as a vehicle, manages to create a completely artistic and even poetic scenery. He manages to exploit the dynamic form of the excavator in such a way that this lifeless, cold, or even frightening machine is transformed into a driving force of the performance and ultimately into a captivating "presence". With the excavator as a vehicle, then, he proceeds to a process of "dissecting" the urban landscape. It ultimately leads to a virtual excavation revealing of the hidden stratigraphy of the city, in order to "discover" itself and visualize for us the roots and structural elements of the built backdrop on which the theatre of everyday life is played out. He therefore embarks on a quasi-descent in order to interpret essentially the inner – and therefore more real – side of things. Ultimately, it does not present us with a destructive action of demolition and deconstruction, but, on the contrary, proposes a process necessary for reconstruction, both literally and – even more so – metaphorically, on an immaterial, psychological and spiritual level. The dynamic drawing, the explosive palette, the inventive composition – elements that consistently characterize his work, but now here they reach even greater maturity and mastery – make Nikolas Kleronomou's Excavators an extremely interesting visual composition as a whole, inviting us to an in-depth pictorial wanderings."
Wanderings in the past and in the present. In the old and the new. In life that moves on, is restructured, changes, runs forward but always keeps a piece of the history of man's action and his works.
Exhibition Duration: through Saturday 2 December 2023, in  «Astrolavos Art Galleries- Dexameni»
Xanthippou 11, Kolonaki, tel: 210 7294342, 3, www.astrolavos.gr, Fb: Astrolavos Art Galleries, opening hours: Tuesday-Friday: 12.00–16.00 και 17.00–20.00, Saturday 11.00 – 15.00