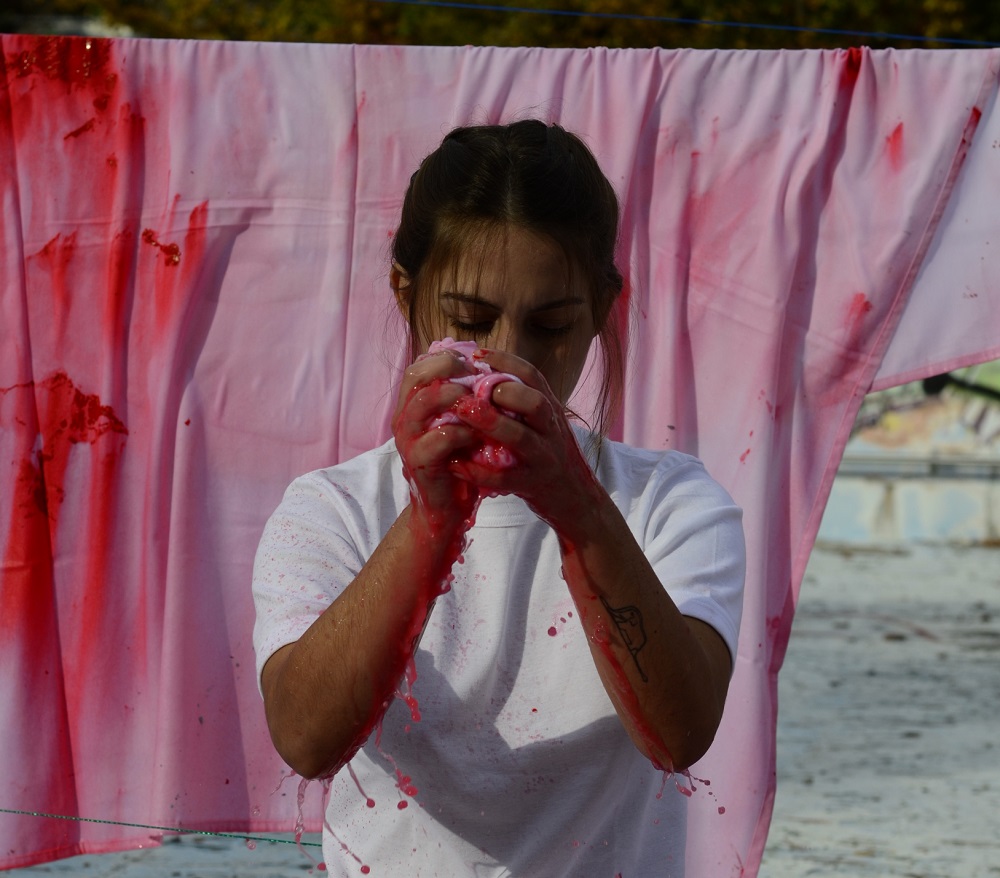 A thought, a word, a picture
he feels the caress of the air eternally.
Speaks, sings with the rustle
She dances to the rhythm of the winds
but it stands constant perpetually
and still, for years seeks
he hears, he feels, he acquires
The BRAGGART Contemporary Art Gallery presents a visual installation at the JOIST Innovation Park in Larissa, on November 25, 2022, 18:00 – 22: 00, International Day for the elimination of Violence Against Women. We invite you to honor women, mothers, young, middle-aged, elderly, who no one heard them, are here and with one voice together to raise awareness of all of us, through art to raise our voice and body, to stop the abuse of women here. HERE HEAR ME, HERE LISTEN TO ME
One dress, one more, many last year more this year. Eleven women contemporary artists, each creating her own dress, are inspired by a femicide anonymous or branded, integrating their artistic work, on the dress / body of these women who were hurt, raped, lost, as a tribute. Painting, collage, weaving, mixed technique, Audiovisual Media, texts, choosing different materials each of them, and applying them, in the dresses that will present and frame a table set for dinner of these women.
At the same time, video projection, Performance and recitation of poems with music will be presented. Interaction of the visual installation is the singer, composer, lyricist and poet NOMIK. He was born and raised in Thessaloniki. In 2017, he released his first solo English-language album, dedicated to women titled "I ain't gonna be a king", as well as his first poetry collection in a bilingual version, titled "The Return of succession".
The installation here HEAR me is a commentary on the play, Dinner / The Dinner Party by American feminist artist Judy Chicago 1974/1979.  With the dinner, a work of Feminist Art, artist Judi Chicago wanted to honor women .
Artists participate:
Zoe Antipas, Evita Voudouri, Eleni Gatsiou, Maria Diamantidou,
Maria Zisopoulou, Iulitta Karamavrou, Christina Savvaki
Marina Koutsospyrou, Georgia Mandalia, Christina Badeka, Mariella Bilitsa,
SOLO LIVE: NOMIK
Guest: NASIA KARATSIRAKI / ARTIST-PERFORMANCE " but he LOVES me"
Organized by: BRAGGART Gallery www.braggart.gr
Phones: 6908622813, 2492022075 / free entrance
Opening: November 25, 18:00 – 22: 00
Place of presentation: JOIST Innovation Park Valtetsiou and Tripolaios, Larissa
Poem: Eleni Gatsiou
Graphic design: Yannis Petrou / korax
Poster Project: Evita Voudouri
Sponsor: KATSAROS DISTILLERY