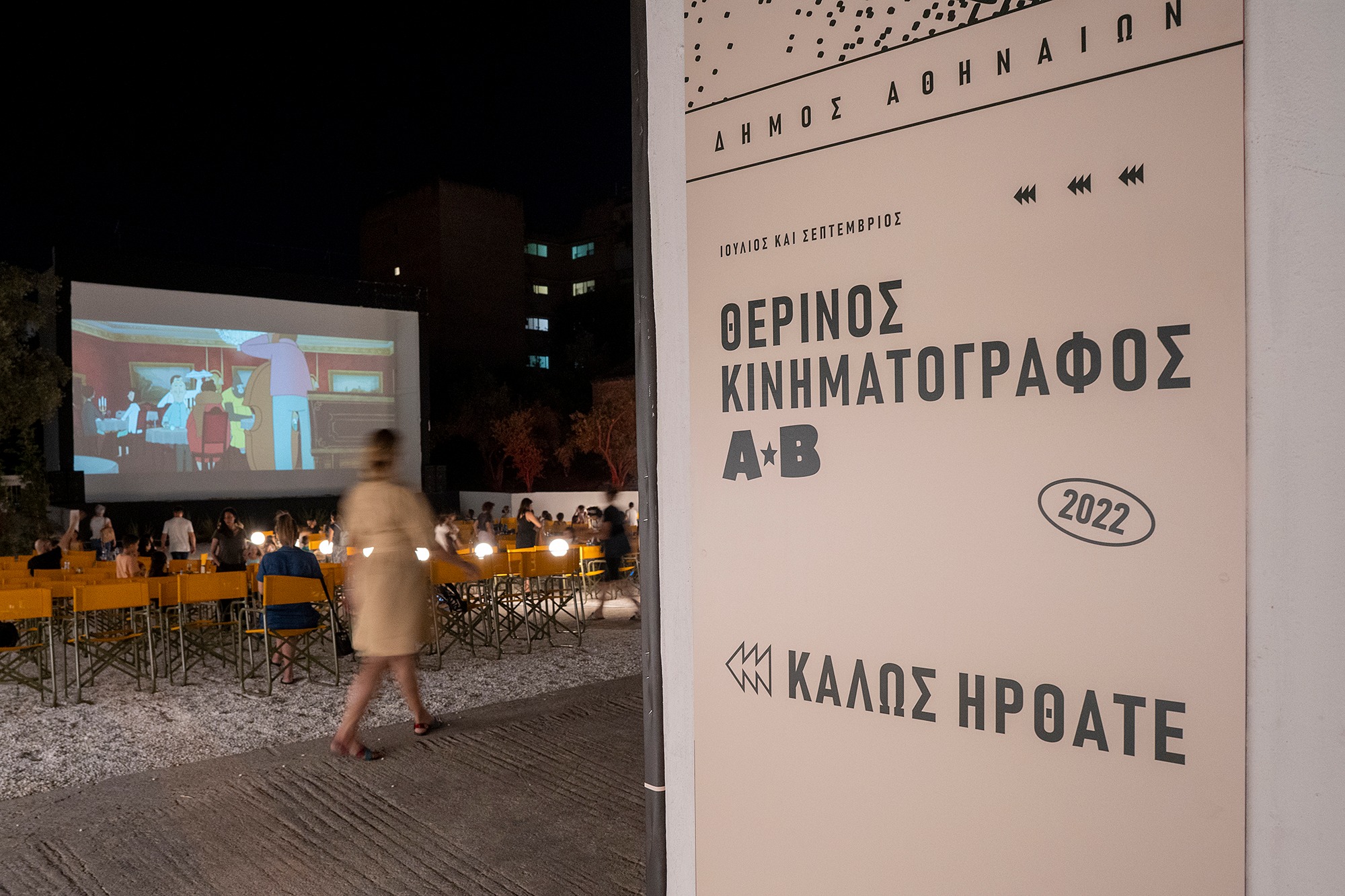 The Municipality of Athens keeps the lights of one of the most historic cinemas of Athens on in the framework of Culture is Athens, and offers again this year, from September 3 to 17, 12 wonderful nights for cinephiles in the Ano Patissia neighborhood. AB* – completely renewed by the Municipality of Athens in July 2021 – was re-invented to the Athenian public and operated this summer purely as a cinema, with thousands of Athenians returning to its screenings.
12 nights with 11 special proposals curated by Technopolis of the Municipality of Athens, in collaboration with the Athens International Children's Film Festival, the Industrial Museum of Fotairion, Trianon Cinema, Cinobo and In-edit Greece.
Unique tributes and re-releases of favourite films and an open-air art workshop for children.
The start of the autumn programme will be dedicated to our little ones, with the first weekend screening of the film Daisy Kouoka, The Scariest Animal in the World, from the Athens Children and Teenagers International Film Festival, which brings to our screen the animal that has been declared the happiest in the world, and its struggles! The third screening of the programme, also dedicated to children, is the first feature film for director Enrico Casarossa (Oscar and BAFTA nominee for Best Animated Feature) and Pixar production, Luca. This will be preceded by a children's workshop, Our Cinema, by the Industrial Museum of Photogas.
The baton will be passed to the Triennial and Cinema in the Round Moons, with Eiffel, a 2021 production already loved by audiences, In the Cuckoo's Nest, an unsurpassed film and performance by the one and only Jack Nicholson, and Little Nicholas and the Hunt for Hidden Treasure, a favourite of young and old alike arriving on our screens! Cinobo comes to remind us of the particularly charming world of Jim Jarmusch and, under the umbrella of Coffee & Cigarettes, presents three of the director's most beloved films: In the Trap of the Law, The Dead Man and Coffee and Cigarettes.
The program is completed with In-Edit Greece and three documentaries that will take us on a musical journey, "closing" the summer in the best possible way!!! These are the excellent Summer of Soul (…or, when the revolution could not be televised), Moby Doc and Max Richter.
This year, the AB Summer Cinema regains its natural function and gives us the first taste of what is to come in the coming years. The culture and its people will always find a way, and we can make movie dates at the AB again, just like before!