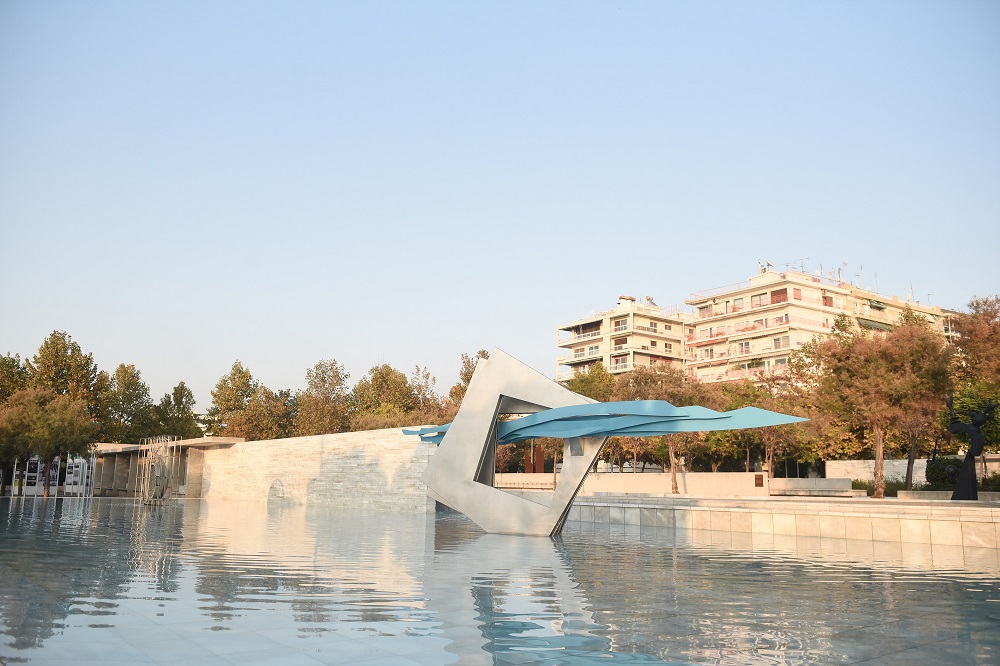 In a modern cultural monument, as pointed out by the mayor of Thessaloniki Konstantinos Zervas, the sculpture "sea horizon" is highlighted, which was placed in the Garden of the sculptures of Nea Paralia.
The unveiling of the new sculpture took place today (08/11) in the afternoon, in the presence of the mayor of Thessaloniki Konstantinos Zervas, the creator of the project, Professor Emeritus of the school of Fine Arts of auth George Tsaras, and the donor Stavros Andreadis.
"To this beautiful part of our city we add another piece of beauty, another outdoor sculpture, which I am sure will become another landmark, "said Thessaloniki Mayor Konstantinos Zervas, noting that"public art meets the public in their daily life, which is why it is such an important matter."
Referring to Mr. Tsara, the mayor of Thessaloniki spoke of an artist "who has given a special identity to our city with many of his artistic masterpieces".
Mr. Zervas, moreover, expressed his thanks to Stavros Andreadis for his new offer to the city, speaking about a man who with his cultivation and sensitivity supports modern artistic creations, which leave so strong the imprint of aesthetics in the public space.
George Tsaras
Speaking about his work, George Tsaras noted that one of its main meanings is coexistence.
"I wish the' sea horizon 'to evoke aesthetically, to like and, I wish, to bring thoughts and reflection", said Mr. Tsaras, expressing his thanks to the donor Stavros Andreadis but also to the mayor of Thessaloniki Konstantinos Zervas for hosting the project in the city.
Stavros Andreadis
For a" beautiful day for Thessaloniki, as it is added to the city, to the public space, another work of Art", spoke Stavros Andreadis, who called on the citizens to love the public space, as they love their home. "The good quality of public space and its civilized use improves the standard of life of each of us," Mr. Andreadis observed.
The "sea horizon" has been placed in the small lake in the Garden of the sculptures of Nea Paralia, next to the three circles of George Zongolopoulos. The project consists of two inclined squares of stainless steel in asymmetrical placement. The squares are crossed by the" horizon", 17 meters long.