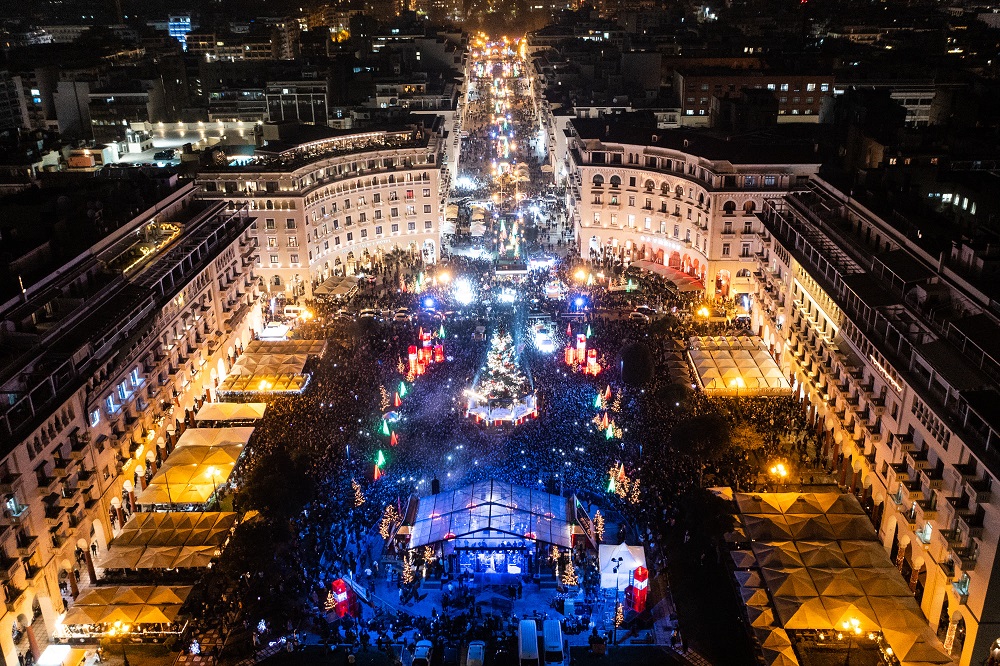 Thessaloniki was flooded with light, hope and optimism, as tonight (07/12) Mayor Konstantinos Zervas lit the Christmas tree in Aristotelous Square, triggering the start of the celebrations in the city. The lighting of the Christmas tree took place in the midst of an impressive fireworks show, while it was accompanied by a concert with the popular singer Petros Iakovidis.
"We are illuminating the city and sending a message of joy, optimism, hope and solidarity. Fill your hearts with these values and transmit them to the people who are next to you", is the message sent by the mayor of Thessaloniki Konstantinos Zervas, the moment he pressed the button, to illuminate the imposing Christmas Tree of Aristotelous Square but also the overall decoration that conveys the festive atmosphere in the city this Christmas.
Mr. Zervas had by his side representatives of City bodies and companies that shared and supported through donations the vision of the municipality of Thessaloniki, so that this Christmas the city will be brighter and more festive than ever. At the same time, the municipality of Thessaloniki, responding to the challenges posed by the energy crisis, made sure that this year the energy consumption for the festive lighting of the city is lower by 58% compared to last year.
Impressive scenery
The festive scene that was set up in the Square and on the axis of Aristotelous enchanted young and old. The central Christmas tree that adorns the festive Aristotelous Square traveled to Thessaloniki by Taxiarchis of Halkidiki. It is 18 meters high and is illuminated with about 50,000 LED lamps.
In total, the axis of Aristotelous up to the height of Filippou is illuminated with 500.000 lamps of low energy consumption with an animated light show, while the festive decoration is complemented by the approximately 250 fir trees that have been placed from the beach to the Ancient Agora square.
In fact, solar panels were installed on the roofs of the two central houses that were erected in Aristotelous Square, which contribute to the energy supply of the Square and reduce energy consumption even more.
In the Ancient Agora square, moreover, near the Statue of Venizelos, the Christmas market that has been set up for the holiday season began its operation.
Fireworks and concert
The moment the mayor of Thessaloniki lit the Christmas tree in Aristotelous Square, an impressive fireworks show began, lasting five minutes, which illuminated the sky of Thessaloniki.
A special atmosphere was created by the Philharmonic Orchestra of the municipality of Thessaloniki with its Christmas melodies. The event for the illumination of the Christmas tree culminated with a unique concert by Petros Iakovidis, who sang all his great hits. The concert was held with the support of the new city radio PALMOS 96.5.
The event was presented by the well-known presenter and businessman Tasos Sofroniou.