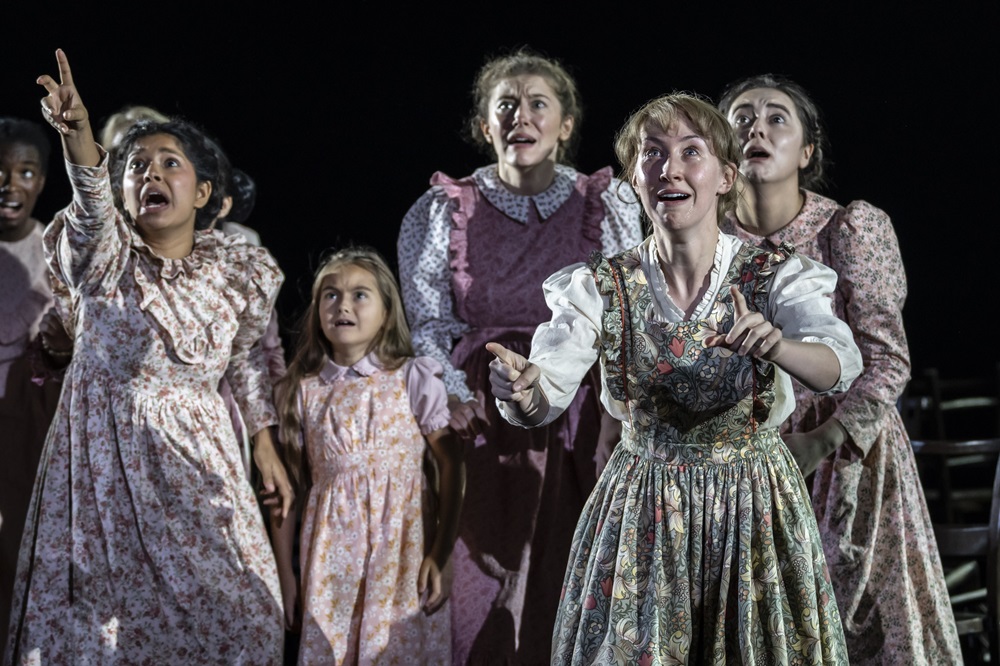 "The Crucible", Arthur Miller's gripping theatrical political allegory, is part of the National Theatre Live (NTL) satellite series, which has been seen by over 11.5 million viewers around the world since 2009.
Lyndsey Turner (Hamlet) directs the new contemporary production of the American author's masterpiece, with sets by Tony Award-winning Es Devlin (The Lehman Trilogy), starring Erin Doherty (The Crown) and Brendan Cowell (Yerma). "The Crucible" is based on actual events that occurred in Salem, Massachusetts in 1692, which resulted in the execution by hanging of twenty innocent people.
The performance is broadcast on film from the Olivier Stage of the National Theatre of London, with Greek subtitles (edited by Despina Papagiannopoulou), in Alexandra Trianti Hall.
In "The Crucible", a group of young women in Salem, where they have grown up without the right to speak, suddenly discover that their words have incredible power. Vendettas and accusations follow one another, and fear spreads through the community as anyone can now find themselves in the dock.
Director Lyndsey Turner
Set Design Es Devlin
Costume Design Catherine Fay
Lighting Desing Tim Lutkin
Sound Design Tingying Dong, Paul Arditti
Music Composition- Orchestration Caroline Shaw
Orchestration  Osnat Schmool
Choreography  Bret Yount
Key coordinator of intimacy scenes Ita O'Brien
Key coordinator of intimacy scenes Louise Kempton
The Actors
Tituba Sophia Brown
Reverend Parris  Nick Fletcher
Betty Parris  Evie Marner
Abigail Williams  Erin Doherty
Susanna Walcott  Gracie McGonigal
Ann Putnam / Sarah Good  Zoë Aldrich
Thomas Putnam  Alastair Parker
Mercy Lewis  Anushka Chakravarti
Mary Warren  Rachelle Diedericks
John Proctor  Brendan Cowell
Rebecca Nurse  Tilly Tremayne
Giles Corey   Karl Johnson
Reverend Hale  Fisayo Akinade
Elisabeth Proctor  Eileen Walsh
Francis Nurse  Colin Haigh
Ezekiel Cheever  Nathan Amzi
Herrik  Raphael Bushay
Matthew Hopkins  David Ahmad
Martha Corey Stephanie Beattie
Judge Hathorn  Henry Everett
Danforth Matthew Marsh
With the participation of: Halle Brown, Grace Cooper Milton, Ηero Douglas, Aoife Haakenson, Martin Johnston, Joy Tan, Ami Tredrea