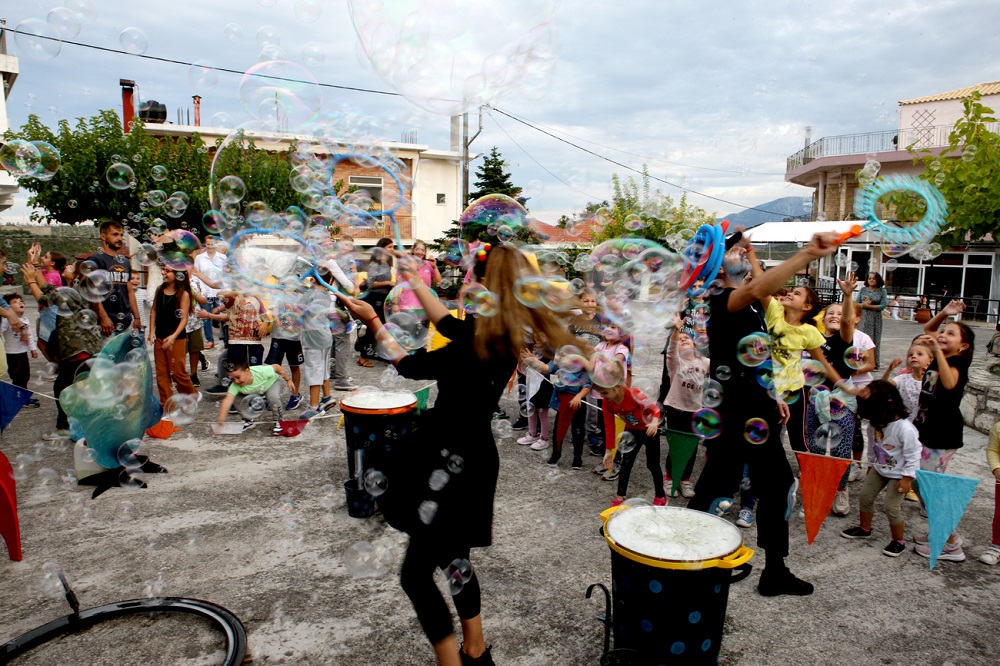 The programme of the Aikaterini Laskaridis Foundation ANA-PNOI, for the support of the areas affected by the August 2021 fires, was once again close to the residents of North Evia and especially to the children.
On 26 and 27 September, a team of the Aikaterini Laskaridis Foundation visited the Municipality of Limni-Mantoudiou-St. Anna and the municipality of Istieas-Edipsos. Responding to requests recorded during the continuous visits to the region, 11 tons of fodder were offered to meet the increased needs of the farmers. Loggers and foresters received chainsaws and other useful tools to prepare for the difficult winter days. In addition, new logistical equipment was delivered to schools in these areas. Particular care was taken to provide support to students from the Kokkinonimilia region, who are studying far from their home town.
The Aikaterini Laskaridis Foundation, as previously announced, organised two major celebrations with educational and recreational activities, offering the children of the municipalities moments of joy and carefree moments. On Monday 26 September, a celebration was held in the central square of Kehries, with activities by La petite marguerite, Dreamwalk and Imaginary Rooms, and ended with songs by the Burger Project. Similarly, on Tuesday 27 September, the children of the areas of the municipality of Istiaiaia-Aidipsos also had fun in the central square of Istiaiaia. These actions were the continuation of the very large donation of material and technical equipment, which ANA-PNoi offered to the schools of North Evia, while in the near future the Foundation will carry out free educational programs in all schools of North Evia and Arch. Olympia.
A few words about the programme ANA-PNOI
ANA-PNOI was created in 2021 immediately after the devastating fires of August, on the initiative of the President of the Aikaterini Laskaridis Foundation, Mr. Panos Laskaridis, and a unanimous decision of the Foundation's Board of Directors.
A donation of 1.100.000 € was allocated to the ANA-PNOI program, with the sole aim of supporting the reconstruction, reconstruction and regeneration efforts of the affected areas of Ancient Olympia and B. Evia. This is where it got its name ANA-PNOI (BREATH).
For more information about the ANA-PNOI project, visit ana-pnoi.laskaridisfoundation.org