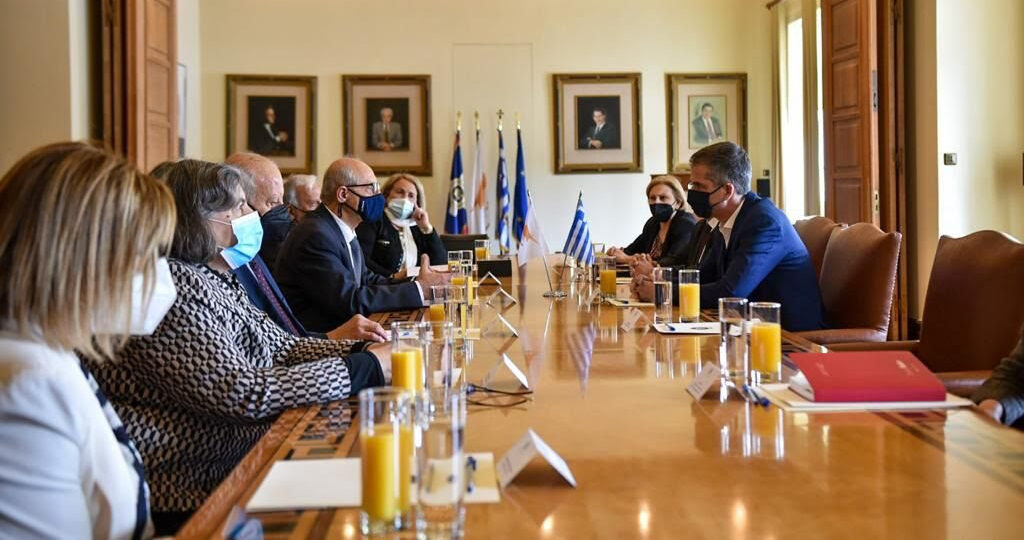 The strong and indissoluble ties with Cyprus, as well as the long-standing support and solidarity of the Municipality of Athens with the Greek Cypriot community, were confirmed by the Mayor of Athens, Kostas Bakoyannis, during the meeting he had at the Town Hall of Athens with a delegation of Mayors from the Occupied Municipalities of Cyprus.
During the meeting, Mr. Bakoyannis informed the President of the Committee, Dr. PetrosKareklas, as well as the other members of the Committee that the procedures for the construction of the Memorial to the Fallen and Missing of the Cyprus Tragedy in Athens are starting, following the acceptance of a proposal by the Ambassador of Cyprus, Mr. Kyriakos Kenevezos.
The meeting was attended by Drs. PetrosKareklas – Mayor of Kythrea and President of the Committee of Occupied Municipalities, Victor Hatziavraam – Mayor of Morphou, EleniMylonasHatzimichael – Mayor of Occupied Acanthios, ZinaLysandrouPanagidi – Mayor of Lefkonoikou – Famagusta District, NeoptolemosKotsapas – Mayor of Lapithos, Maria MustakaKourouyiannis – Deputy Mayor of Kyrenia, while Mr. TakisVrailas, an educational worker from the "House of Cyprus".
The Mayors from the occupied municipalities of Cyprus expressed their gratitude in a touching way for the decision of the Mayor of Athens to erect the Monument in Athens, while during the meeting they referred to their personal experiences and spoke about the losses that their own families have experienced.
The members of the delegation also pointed out to MrBakoyannis that the Monument to be erected in the Greek capital will pay due tribute to the 800 or so missing persons and their families, who so many years later are still searching for answers. They also stressed that the erection of the Monument will be a reference point for future generations in Cyprus and Greece.
For his part, the Mayor of Athens stressed that no one should forget those who resisted the invaders with self-sacrifice and expressed his gratitude to all those who gave their lives for freedom, underlining at the same time the need to strengthen national historical memory.