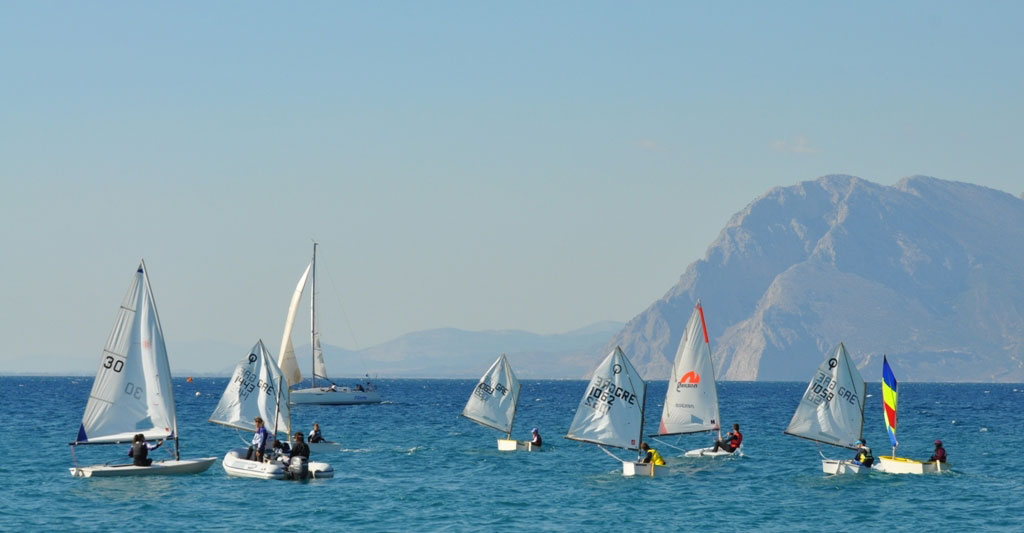 With the bronze cup in the Hansa 303 single-seaters of Alexandros Galiatsatos, at the Panhellenic Championship for athletes with disabilities, the 4th place of Nikos Kakavoulas and the 16th place of Michalis Marangos (in his first experience with racing) among 19 athletes from all over Greece, the large team of the Patras Sailing Club consisting of 14 people among them athletes, volunteers and coaches returns from the international race "32nd Athens International Sailing Week", which was successfully organized by the Hellenic Sailing Federation at its facilities, in the Falirikos bay, from 1 to 9 November. 591 athletes from 13 countries participated in the races and more than 700 boats took part in all categories. The participating countries were India, Japan, Bulgaria, Bulgaria, Hungary, Lithuania, Cyprus, Serbia, Sweden, Turkey, Israel, Israel, Romania, N. Macedonia and of course Greece.
In the very competitive category of Double Hansa 303 two-seaters in which an athlete with a disability participates together with another athlete, the team of Patras took the 4th, 5th and 6th place respectively in 16 teams, 4th place Alexandros Galiatsatos – Aristotelis Kouloumpis – Kalogeropoulos, 5th place Nikos Kakavoulas – Ioanna Deuteraiou and 6th place Michalis Marangos – Dimitra Papachristou.
The team of the Patras Sailing Club struggled in the weather conditions of the weak wind that prevailed, while the late integration of the third boat in the team just two months before the race affected the result, which in any case was important for the work done at the club's facilities.
This year the Patras Sailing Club made a joint mission with the Mesollogi Yacht Club with the athlete Ioannis Stavrou of the Mesollogi Yacht Club who took the 7th place in the single-seaters, a very good performance among 19 athletes. The race was attended by 19 athletes in singles and 32 athletes in doubles from 10 groups from all over Greece.
Congratulations to all the athletes who competed, the head of the disabled division and leader of the Patras Sailing Club, Anna – Maria Stavridis, the coach Dimitra Arvanitis and of course to the volunteers who support the work of the team.
Congratulations to our Club's athlete Ioannis Argyros, member of the optimist racing team, who distinguished himself by taking 10th place in his category and 30th among 250 boats from various countries, thus certifying his competitive rise.
Major Donor of the "Sailing Development Program for the Disabled" Stavros Niarchos Foundation (SNF).