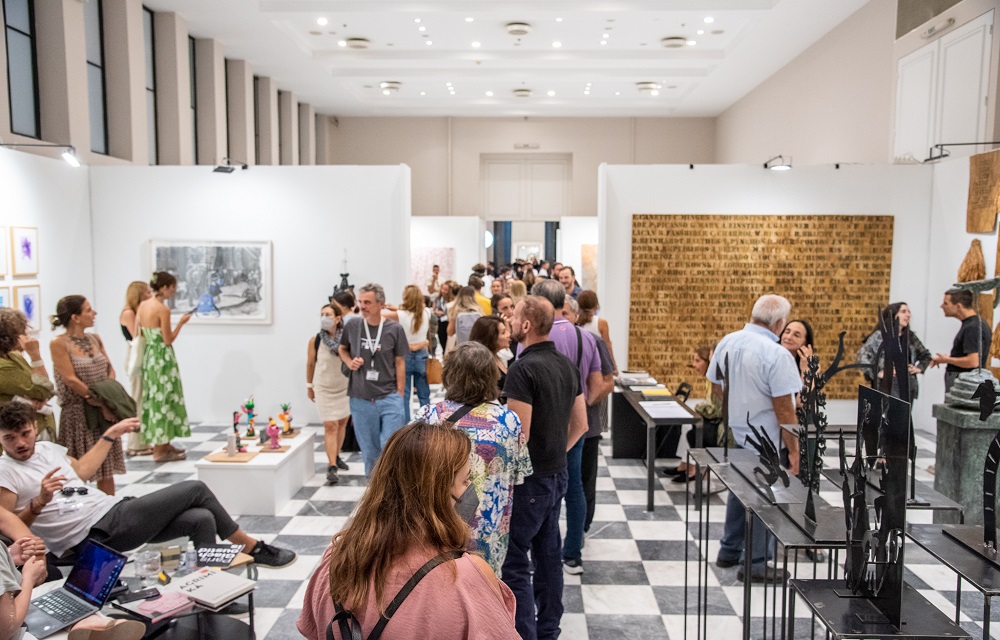 Renewed, with a different structure and new staff, Art Athina 2023 is preparing to celebrate its 30th birthday. The largest annual art event in Greece will take place from Thursday 14 to Sunday 17 September 2023 at Zappeion Megaron and is under the auspices of Her Excellency the President of the Republic, Katerina Sakellaropoulou.
The Athenian fair, which is also one of the oldest in Europe, is organized by the Hellenic Art Galleries Association. In this year's anniversary edition, it will host a total of 67 art spaces from Greece and nine countries abroad. It includes, among other things, a rich program of parallel events, tributes, debates and educational activities.
At the heart of this year's special event are the broader collaboration of a group of young dynamic curators and at the same time the dialogue of art galleries from Greece and abroad. The aim is for the Zappeion Megaron to act as a meeting point and osmosis for the proposals submitted by the visual artists, whether represented by the domestic galleries, or by those who will travel to Athens from Germany, France, the Netherlands, Cyprus , Britain, Switzerland, Poland and Romania.
The central exhibition program is consistently framed by a wide set of activities, among which are: the Projects where the independent art spaces are presented curated by Olympia Tzortzis, the Talks, discussions, with renowned guests, around four different thematic axes curated by Danai Yiannoglou , the section dedicated to Video edited by Akis Kokkinos, which aims to bring the public into contact with innovative visual material, as well as the one that focuses on performance art, in Performance, edited by Panos Giannikopoulos with works and proposals that will be presented for the first time to the public of the Athenian fair. Constantly present again this year is the Kids' Educational Program designed by the non-profit international social organization of Contemporary Art and Culture, ΚROMA, for children over the age of six, teenagers and their companions, which familiarizes young people with art and helps to create the new generation of art lovers.
Of particular interest to design lovers will be two separate entries at this year's Art Athina 2023. The first is Mare Studio's exhibition "In Conversation with a Chair", in which the chair – an ordinary utilitarian object – is transformed into an exhibit and takes us on a journey through Greek tradition, design and craftsmanship, summarizing over 100 years of history, with the signature of Greek creators.
The second Zappeion Garden x Blue Cycle project will be hosted in the "secret" garden of Zappeion Megaros. Blue Cycle is the only Greek social blue and circular economy company that holistically addresses the goal of protecting the marine environment. As part of Art Athina, Blue Cycle will create a complete garden project with furniture and objects that bear its visual and environmentally positive imprint.
A specially designed space will be dedicated to the anniversary album for the 30 years of Art Athina published by the Hellenic Art Galleries Association edited by Yiannis Asdrachas. Visitors will have the opportunity to discover important moments, historical officials, artists, personalities of the visual and political life who were "present" during these three decades when the Athenian fair marked its own special and particularly important course at the booth that will be designed Stavros Papagiannis.
For the second year, the institution of the Art Athina award for a new artist continues, which aims to strengthen artistic creation, in collaboration with MOMus-Alex Mylonas Museum, one of the five Museums of the Metropolitan Organization of Museums of Fine Arts of Thessaloniki (MOMus).
Artists up to 45 years old, who live and work in Greece and are recommended by the gallery that represents them, where they have held at least one solo exhibition, can participate.
The art galleries participating in Art Athina 2023:
a.antonopoulou.art, agathikartalos, ALIBI GALLERY,  ALKINOIS, Allouche Benias Gallery, alma gallery,ARGO GALLERY, Art Appel Gallery, Art Zone 42 Gallery, ARTFORUM Gallery, Artshot – Sophia Gaitani, Arusha Gallery /Scotland, ASTROLAVOS art galleries, Athens Art Gallery, Batagianni Gallery, CAN Christina Androulidaki gallery, CITRONNE Gallery, Claas Reiss / London, UK, Crux Galerie, Dio Horia,  ekfrasi-yiannagrammatopoulou, Eleftheria Tseliou Gallery, ELENI KORONEOU GALLERY, Enari Gallery / The Netherlands, ENIA GALLERY, EPsilon Art Gallery, Ewa Opalka Gallery / Razem Pamoja Foundation / Poland, Fabienne Levy / Switzerland, FRANCOISE HEITSCH  / Germany, Gallery "7, Gallery ArtPrisma, Gallery Ersi, Gallery LTECGallery/MAMA CONTEMPORARY /Cyprus, Genesis gallery, GRAMMA EPSILON GALLERΥ, IAGA Contemporary Art / Romania, igni, Ileana Tounta Contemporary Art Center, Kalfayan Galleries, Kappatos Gallery, KORAI PROJECT SPACE, Lola Nikolaou Gallery,Mare studio, Marginalia Gallery /Cyprus, Michael Janssen Berlin  / Germany,  Mihalarias Art, MISC, NIL GALLERY / France, Nitra Gallery, One Minute Space, pal project / France, PAPATZIKOU GALLERY, PeritechnonKarteris, Rebecca Camhi gallery, Rodeo, ROMA GALLERY, Sealed Earth Gallery, Sianti Gallery, Skoufa Gallery, Space52, Technohoros art gallery, THE BREEDER, The Edit Gallery / Cyprus, Thermia Project, Wilhelmina's/Hydra , Luxembourg, XIPPAS / France, Switzerland, Uruguay, zina athanassiadou gallery
The renewed Art Athina 2023 team consists of Antonis Kourkoulos – general coordinator, Marina Fokidi – artistic director consultant, Olympia Tzortzi – curator of Projects, Danae Giannoglou – curator of Talks, Panos Giannikopoulos – curator of the Performance section and Akis Kokkinos – curator of Video section.
The visual identity of the anniversary Art Athina 2023 and its catalog are signed for the seventh year by the multi-awarded g designstudio team.
The Athenian fair is organized by the Hellenic Art Galleries Association, produced by the BeBest company. The event is in the process of being included in the Regional Program "Attica" 2021-2027
For more information http://www. aavirtual. gr