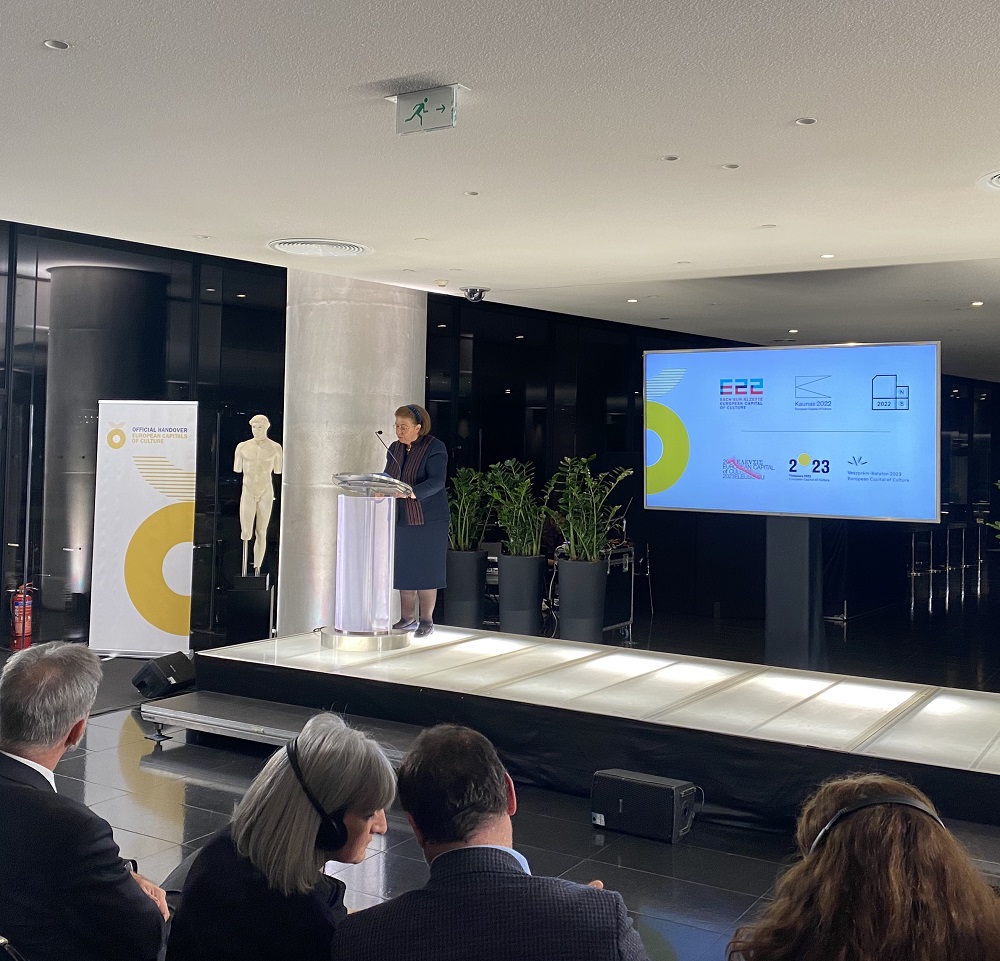 Eleusis, with Timisoara of Romania and Vesprem of Hungary, received yesterday afternoon the baton of the title of European capital of Culture 2023, in a ceremony held at the Acropolis Museum, in the presence of the Minister of Culture and Sports Lina Mendoni and the vice-president of the European Commission Margaritis Schinas. The event took place in Athens for the first time since 1985, the year the institution was established, at the initiative of Melina Mercouri. More than 60 cities have since received the title.
As Lina Mendoni stressed in her speech, " 2023 Eleusis is a unique opportunity for international promotion of modern Greek and at the same time European culture, in a city that is full of Masterpiece monuments, ancient memories and historical writings of the Greek, therefore of the European cultural heritage. Eleusis is a place of social development, innovation and collectivity. The Eleusinian Mysteries and the work of Aeschylus, which was uniquely, secretly and inextricably linked with his birthplace, the holy city, constitute a unique framework of history for the modern institution of the European capital of Culture, an institution that was born here in Athens and we are proud of it. Athens has always symbolized democracy, the humanist values of the Western world. The values of freedom, peace and creation are depicted in an ideal way in the frieze of the Parthenon, in these sculptures that remain dismembered between Athens and London. I hope not for much longer.
The cultural capital reflects the richness and diversity of the cultures that developed in the Old Continent.  It reinforces the European citizen's sense of belonging to a common cultural place. For Greece, The Cultural Capital "2023 Eleusis" returns to the native land".
European Commission Vice-President Margaritis Schinas noted that"one of Europe's most ambitious and flagship initiatives, the European capital of culture represents the inexhaustible wealth and diversity of European culture that unites us: the principles of freedom, peace and Human Rights."
The event was attended by representatives of all the cities taking on the title of European Capital, as well as the outgoing Capitals, Es-sur-Alzette from Luxembourg, Kaunas from Lithuania and Novi Sad from Serbia.