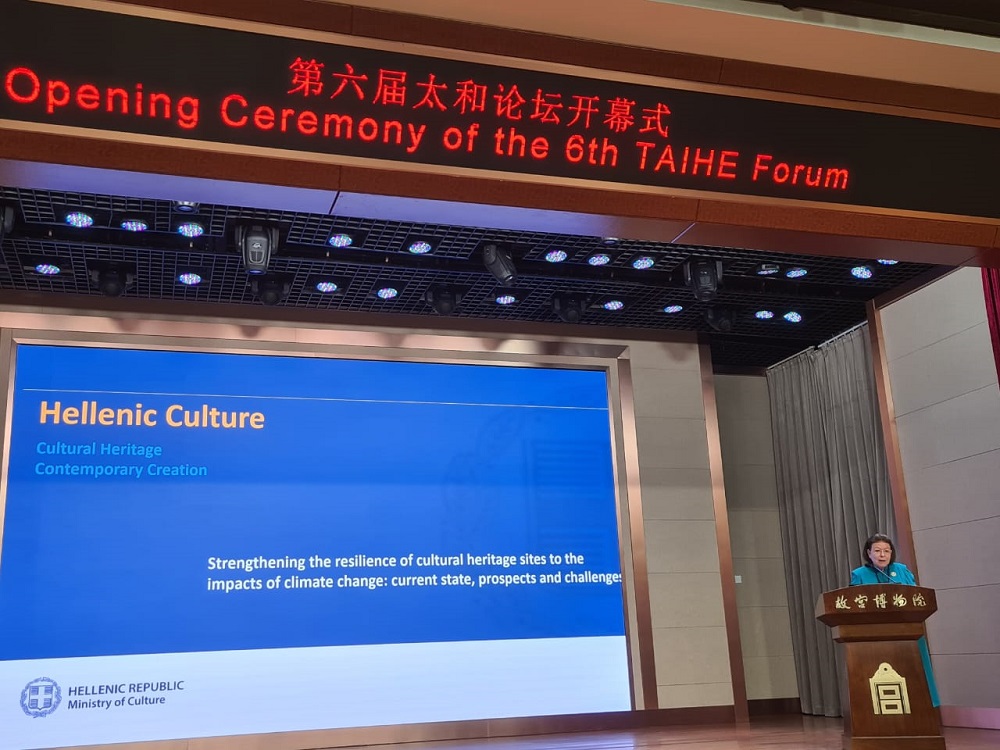 Minister of Culture Lina Mendoni was the keynote speaker at the 6th Taihe Forum in Beijing, on "International dialogue, cooperation and exchange of views for the protection of cultural heritage". The 6th World Taihe Forum was held at the Palace Museum in the Forbidden City, with the participation of experts from universities and research institutions from around the world, and representatives of international organizations.
Lina Mendoni was received by the Minister of Culture and Tourism of the People's Republic of China Hu Heping and the Director General of the Museum Dr Wang Xudong. In their talks, the two Ministers confirmed the long-standing and close cooperation between Greece and China, underlining their common will to work towards strengthening cultural exchanges and good practices at international level. They referred to the need to exchange know-how on the conservation and restoration of monuments, while reaffirming the commitment and common line of the two countries for the repatriation of cultural goods.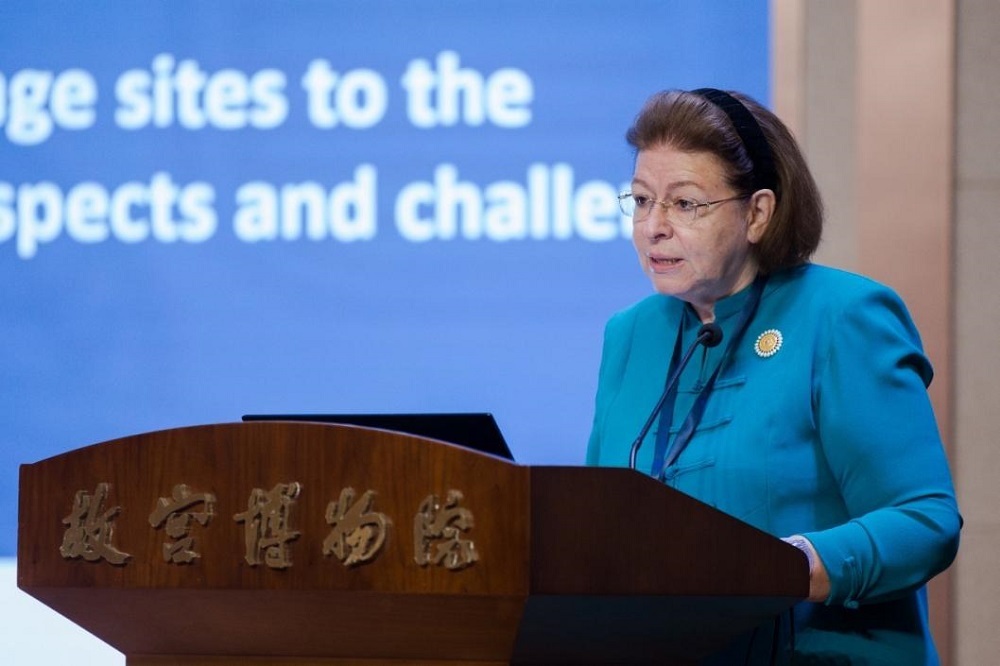 In her speech, entitled: "Strengthening the resilience of cultural heritage monuments to the impact of climate change: The present situation, perspectives and challenges", Lina Mendoni thanked the organizers for the highly honoured invitation, noting that the Forum represents "a great opportunity for important and productive discussions and for further promoting international cooperation towards the development of a roadmap for coordinated and effective future action".
The Minister of Culture stressed that "climate change directly and indirectly threatens all forms of cultural heritage, whether inscribed World Heritage Sites or intangible cultural heritage. Cultural heritage is at risk both from the occurrence of extreme climatic events, which are increasing in frequency, intensity and duration and are expected to escalate dramatically in the future, and from gradual climate change which causes deterioration and stress on materials, requiring climate-adapted restoration and conservation methods. Heritage resilience and climate adaptation actions need to invest in new forms of knowledge, using both traditional and new technologies."
Concluding her speech, the Minister of Culture reiterated "the need for close international cooperation and the constant exchange of know-how for the protection of tangible and intangible cultural heritage". She referred to "some key recommendations to support efforts to safeguard cultural heritage from the impacts of climate change", such as "the adoption, as soon as possible, of the precautionary approach to minimise risks, the integration of cultural heritage into the National Adaptation Plans (NAPs) being developed, within the United Nations Framework Convention on Climate Change (UNFCCC), the refinement of the criteria for defining ecosystems, not only on the basis of the scientific aspects of natural heritage – in relation to the concentration, continuity and integrity of cultural heritage; the promotion of knowledge exchange, capacity building of the professional and educational community, the promotion of synergies with existing international policies and the raising of public awareness at all levels of their cultural heritage.