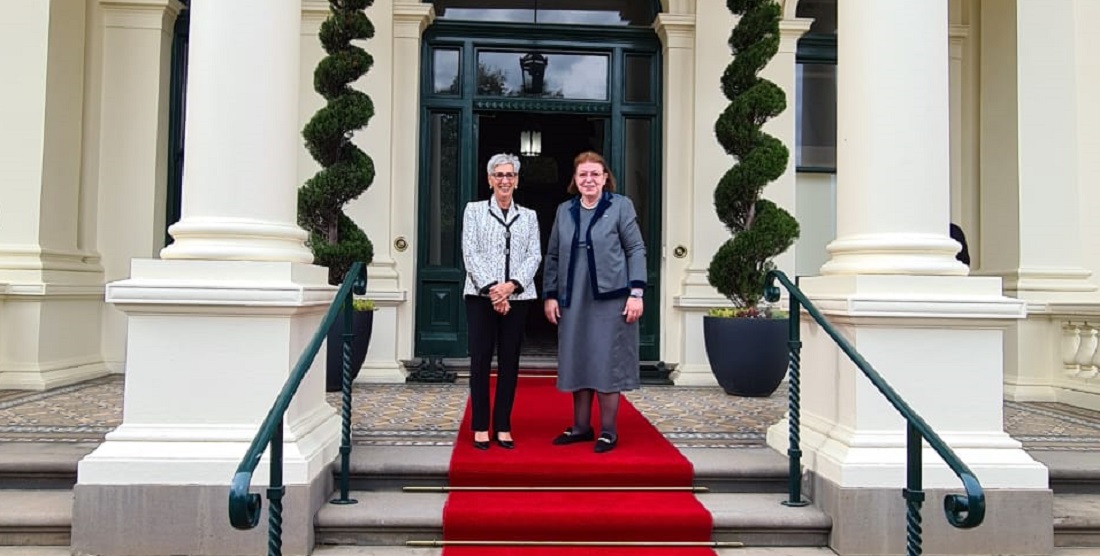 Minister of Culture and Sport Lina Mendoni met with the Governor of Victoria Linda Dessau at the Governor's Office, on the last day of her official visit to Australia. Linda Dessau, who is the Queen of the United Kingdom's representative in the State, welcomed Lina Mendoni and they discussed the priorities of her Portfolio, the political contacts the Minister had in Australia and the dynamics of the Greek community in Melbourne and the State of Victoria.
At La Trobe University, Lina Mendoni held a working meeting with Vice-Chancellor John Dewar, with professors of the Department of Hellenic Studies, as well as with representatives of the Greek community, who actively and substantially support the field of Sport, in which the University is showing an ever-increasing dynamic by creating state-of-the-art facilities. The Minister The Minister also toured the AG Trendall Centre for Ancient Mediterranean Studies specialising in ancient Greek ceramics and iconography.
This was followed by a visit to the University campus, where the Dardalis Archive, which contains 180,000 documents, photographs and artefacts from the presence of Greeks in Australia from the early 19th century onwards, is housed in special rooms. The University, by the end of 2022, is to complete the construction of new modern infrastructure on campus at Bundoora to house and display this valuable Archive, in order to make it accessible to researchers and the public. As the Minister said, "For 40 years, La Trobe University, with its curriculum and the Dardalis Archive, has been one of the institutions that have been showcasing Greek culture, in partnership with Melbourne's strong Greek community. Greeks have maintained close ties with their homeland through language and culture. The Archive is an important testimony to the history of the Diaspora in Australia."
Finally, the Minister of Culture and Sport met with former Victorian Health Minister Jenny Mikakou, whose proposal, accepted by Lina Mendoni in the summer of 2019, led to the "Open Horizons" exhibition at the Melbourne Museum. Lina Mendoni and Jenny Mikakou discussed how this successful collaboration can be developed, with more extroversion and promotion of Greek culture in Australia.