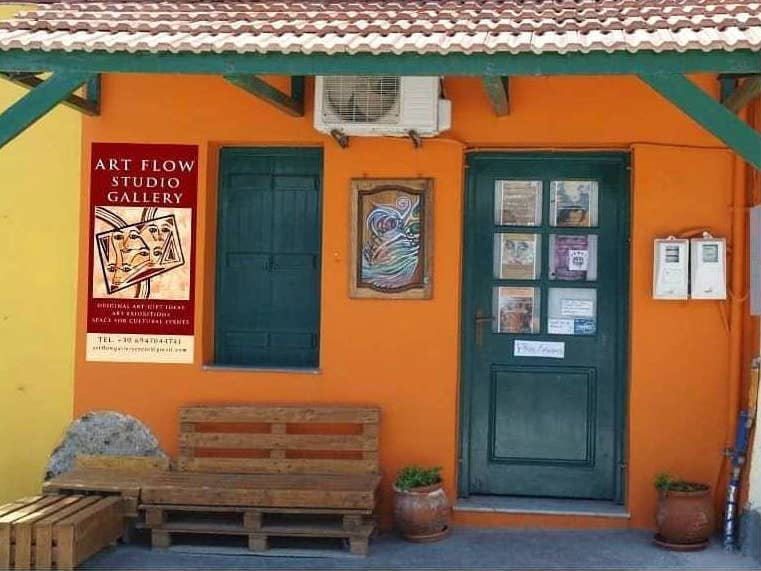 The Municipality of Kandanos-Selinou, cultural department , in collaboration with Art Flow Studio Gallery of Paleochora , are pleased to announce the 26 finalists selected artists who will exhibit in the art gallery.
Art contest topic of the year "Light and darkness – φως και σκοτάδι"
We live in a world made of, or revealed by, light and shadow.
We presume that light and darkness are opposite polarities, yet when they meet, they fit together perfectly, generating harmony not friction. Each is complementary to the other.
" To see a candle's light, one must take it into a dark place."
The contrast of white and black (light and darkness, day and night) has a long tradition of metaphorical/metaphysical usage, traceable to the ancient Near East, and explicitly in the Table of Opposites of Pythagoras.
We see, through art and nature, that the qualities of light and darkness always generate and embody a communion of opposition.
They replace one another in mutual transformation.
Each polarity always implies or necessitates the presence of its' opposite. Black/White,
Foreground/Background, Yin/Yang, Good/Evil.
The artistic theme will be explored in diverse aspects: – A Chromatic Exploration with "chiaroscuro" effects.
– The balance and pattern of light and shade
– Mood and feelings that light and dark suggest to you .
– Using light and dark to explore simply a face, a landscape , a still life or whatever can be
represented through light, darkness or a balance between them.
– Explore how darkness and light can express your ideas and beliefs. – Experiments into ambiguous foreground/background perception.
All finalists will now have their work exhibited at the Art Flow Studio Gallery in Paleochora from 14 to 22 May and the public will have the opportunity to see how local and international artists have responded to the artistic theme of this year.
Visitors will also be invited to submit a personal favorite vote and the selected artist will receive a special certificate .
Come and join the event, to celebrate art, in a period that needs art more than ever.
Refreshments and musical entertainment during the opening and closing night.
Opening Night of Finalists exhibition 14th May 2022 at 18,30
Closing Night & Prize Presentation by The Mayor of Paleochora 22th May 2022 at 18,30
1st prize – € 500
2nd Prize – Art Exhibition one week
3rd Prize – One week art exhibition
FINALIST ARTISTS
Larissa Abtova – Latvia
Lydia Beckler – Ethiopia – UK
Frances Bryant Scott – Canada
Maria Chatzipavli – Greece
Romain Chauvet – France
Rolf Dahlstrom – Sweden
Maria Daskalaki – Greece
Jayne Dexter – UK
Ariadni Doulaveri – Greece
Geta Doulaveri – Romania
Paul Dumora – France
Silvia Forrer – Switzerland
Sarah Ann Green – UK
Eveline Jo Oswald – Switzerland
Stephen Jones – UK
Michelle Kergoat – France
Nikos Manessis – Greece
Lenny Metaxa – Greece
Eirini Orphanou – Greece
Dimitra Papageorgiou – Greece
Vasilis Patsourakis – Greece
Katerina Sklaveniti – Greece
Nikos Toutountzis – Greece
Mark Tristram – UK
Halina Truszczynska – Poland
Simon Wakefield – UK