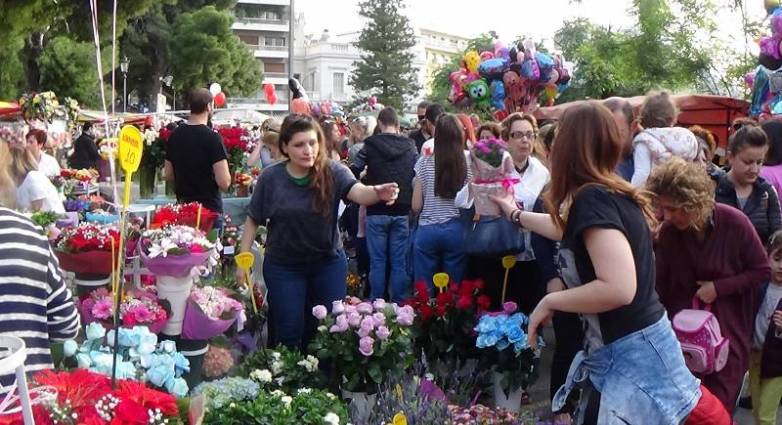 Dancing, music, singing and flowers are the weekend's messages of Labour Day and spring. The reference points of the events organized by the Cultural Organization are the squares of Omonia and YpsilonAlonia, where the traditional stalls will be set up.
The events begin on Saturday 30 April at 6.30 in the afternoon with the parade of dance groups. The bands will start from the National Resistance Square with songs and dances, they will cross the pedestrian street of RigasFeraiou and through DimitriouGounari they will end up at Ypsila Alonia.
From 7.30 in the evening the square will be "filled" with sounds, colours of costumes, dances and songs, as 28 dance groups of the city's clubs and the Dance Department of the Cultural Organization, with more than 500 dancers of all ages will present traditional dances.
In Omonia Square the events will start at 8.00 in the evening with dance performances by dance groups of the city.
On Sunday 1 May at 11.30 in the morning, the Cultural Organization in cooperation with the
Labour Centre of Patras, in the context of the strike mobilization, organizes a concert with patriotic artists and musicians. The choir "ANTHIO" and the dance department of the Cultural Organization will participate in the event, which will present choreographies.
The following dance groups are participating in the dance meeting this year:
1 PANMIKRASIATIKOS (choreographies)
MILLS – BEGOULAKI (Aegean)
AGIOS PANTELEIMONAS ( IPIROS )
KEFALONITES (Kefalonia)
PANGALAVRYTINOS (Macedonia)
AgiosVassilis (Cyclades)
ROES (Eastern Rumelia)
ANO SYCHENA (Peloponnese)
FAROS PODION (Pontus)
ANAGENISI (Kythera)
SARAVVALI (Grevena)
MORAITES EN CHORO (Rebetika)
Dafnoula (Serres)
DIMOU PATRAS (Romelia)
TEKNES EN CHORO – KATSIKIS (polite)
ABELOKIPI (Thrace)
TERPSI (Ionian Islands)
ERYKINI – AFRODITI (Peloponnese)
ROMANOS (Asia Minor)
ALISOS (Rumelia)
ANYA (Peloponnese)
LEYKA (Aegean Islands)
SHELTER OF CULTURE OF AGHIOS IOANNIS (AGIOS IOANNIS) LAVRA (Aegean Sea)
LAKO MUSICIAN. WORKSHOP (Metaxades)
LAHOP (Pontus)
AHAIKO WORKSHOP (Peloponnese)
AKRITES OF THE AEGEAN (Lesvos)
GATE OF CULTURE (Asia Minor)