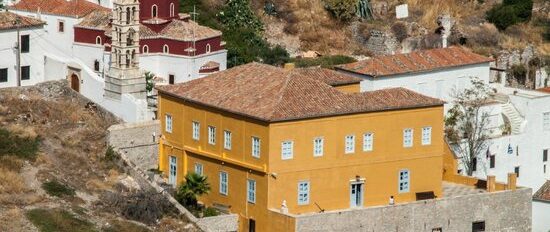 Craft Workshop: "Open your chests. Bring your embroidery! Make your new outfit!"
On the occasion of the celebration of International Museum Day (18 May), the National Historical Museum (NHM) in cooperation with the Public Benefit Enterprise of the Municipality of Hydra (KEDY), organizes on the weekend of 13 and 14 May a crafting workshop entitled "Open the trunks" at the Historical House LazarosKountouriotis, annex of the Museum (NHM) in Hydra.
The workshop aims to rescue and utilize old and newer crafts (embroidery, lace, woven fabrics, etc.), which the participants are invited to "pull out of their trunks" and use in modern creations.
On the first day, the designer Magdalene Drouboula, "MAGDALENED", will present techniques for the conservation and cleaning of handicrafts, followed by a discussion on the ways to use them. On the second day, a workshop will be held to showcase the handiwork, adapted to contemporary garments.
The activity is part of the multifaceted activity of the EIM in Hydra, which is constantly aimed at the promotion and promotion of the history and cultural heritage of the island, through the operation of its two branches, the Historical House LazarosKountouriotis and the House & Atelier Tetsis.
Historical House LazarosKountouriotis, Hydra
Saturday 13/5/2023, 18.00-20.00
Sunday 14/5/2023, 11.00-13.00