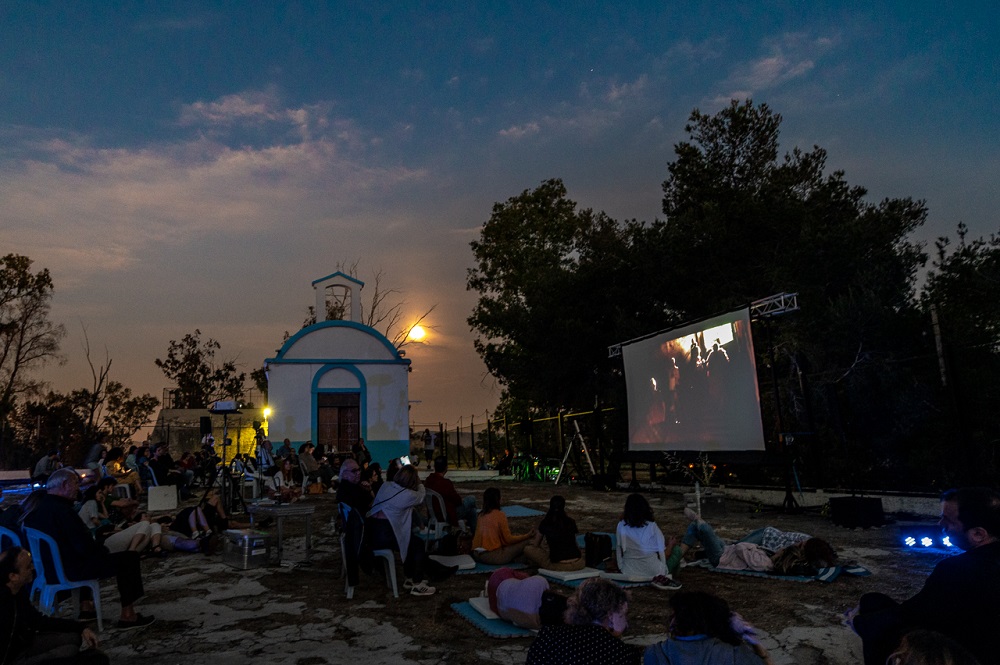 Complex art action
Concert | Documentary Screening | Sculpture Installation
| Sound performance | Discussion
Editing: Giannis Leontaris
9 October at 19.00
Agios Nikolaos courtyard, Archaeological site
Mystery_62 Nights of Sloth – Speeches on Time returns on Sunday 9 October in the imposing courtyard of St. Nicholas, in the Archaeological Site of Elefsina, always under the light of the full moon. An action of the 2023 European Capital of Culture Elefyssis, which comes to initiate the public in the art of slowness, reducing the frantic pace of a world that moves too fast. Free admission by pre-booking a seat.
The fourth edition of this original lecture series of the 2023 European Capital of Culture Elefsis includes a series of events, under the artistic curatorship of Yannis Leontaris: the concert by international composer Mihaly Vig, composer of the music for Bela Tarr's films, the screening of the documentary "Orders of Time and Motion. Lee on the management of time in cinema by the Hungarian director, an ephemeral thematic sculptural installation by students of the Department of Visual and Applied Arts of Florina, curated by Professor Angeliki Avgitidou, and the sound performance The Voice of the Snail, inspired by the novel by Luis Sepulveda The story of a snail that discovered the importance of slowness, directed by Marilena Katranidou. The evening will conclude with a discussion on The unexpressed Time / The Music of the Universe between Stratos Theodosiou, Professor Emeritus of the University of Athens and President of the Hellenic Physicists' Union, and Dimitris Anagnostou, director and PhD researcher of Bela Tarr's work. Yannis Leontaris moderates.
The Nights of Sloth to date
The Night of Sloth (Nuit de lenteur) was presented in 2018 for the first time in Elefsina, in collaboration with the French Institute of Greece, as part of an annual event of French Institutes from around the world dedicated to the exchange and circulation of ideas. The 2023 Elefsis European Capital of Culture is developing the action by titling Mystery_62 Nights of Slowness – Speeches on Time, and presenting twice a year, under the light of the full moon, a series of original speeches on the concept of time, with distinguished guests and a variety of cultural events. The first event took place in June 2021 and included speeches by director Sulla Tzoumerka and film critic Alexandros Papageorgiou, with the participation of composer Yannis Vesleme. The second took place in October of the same year with guests director Patrick Bokanowski and composer Michele Bokanowski. The third version, in May 2022, featured walking tours of the city, a film screening, a music performance and a discussion between architect Stavros Stavridis and philosophy professor Stefanos Rozanis, moderated by Yannis Leontaris.
Opening time: 19.00
Venue: Agios Nikolaos courtyard, Elefsina Archaeological Site