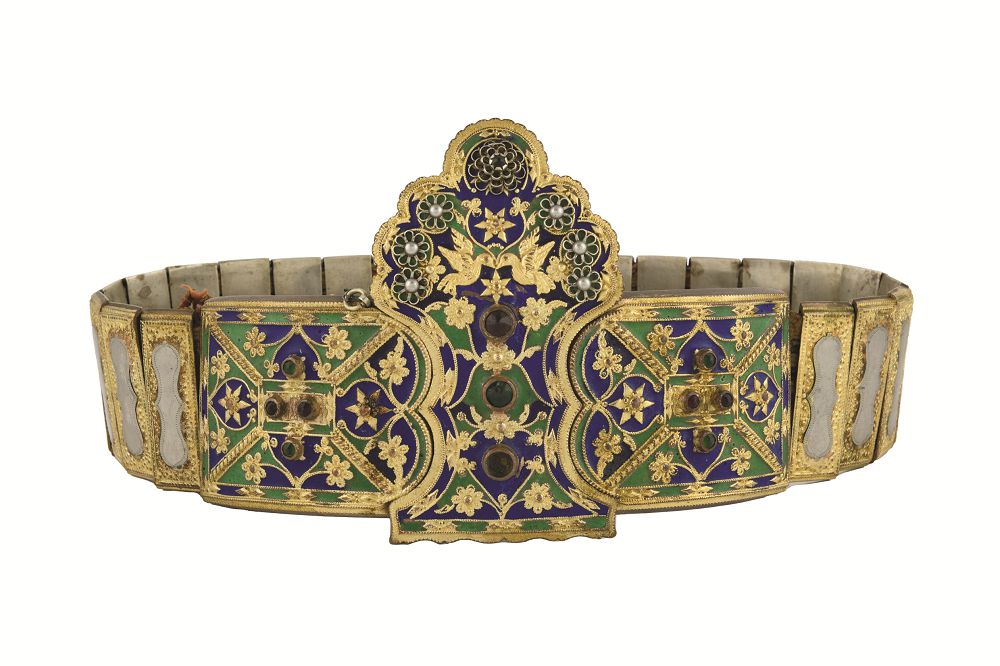 "With silverware and gold extraordinarily carved*"
 *from the poem by Konstantinos Cavafy: "Waiting for the Barbarians"
Exhibition duration: 17 June-29 October 2023
Through a selection of jewelry from all over Greece, the exhibition aims to present a panorama of Greek silversmithing, whose works, with their material substance and aesthetic quality, reflect the particular historical, economic, and social conditions that determined their formation and use.
Headdress jewelry, earrings, and ribbons adorning the forehead, jewelry hugging the neck or covering the chest, huge buckles resting on the abdomen, and chain jewelry decorating the apron and back ornaments, Greek jewelry creates a complex system of adornment that beautifies and impresses.
It is a concept of decoration that owes much to the social organization of the Greek communities of the 18th-19th century, in which marriage was a focal point in social and family life. The decoration of the bride reflected the economic status and social class of the two families and was a serious financial investment aimed at gaining status.
The predominant materials were gold and pearls in island Greece and silver, copper, and various mixtures in mainland Greece, materials which the craftsmen often gilded, decorated with semi-precious stones and colored glass, or painted with savati. Perforated, or worked with fine wire and embellished with fine pearls and enamel, the jewelry of the islands is distinguished for its delicate workmanship and precious materials. Forged, cast, pierced, or wired, the jewelry of mainland Greece is massive and complex and is complemented by various types of chains and coins.
With the same care that women's jewelry is crafted, utilitarian utensils also come from the hands of silversmiths: snuff boxes, canteens, canteens, and amulets, or weapons, part of men's everyday life.