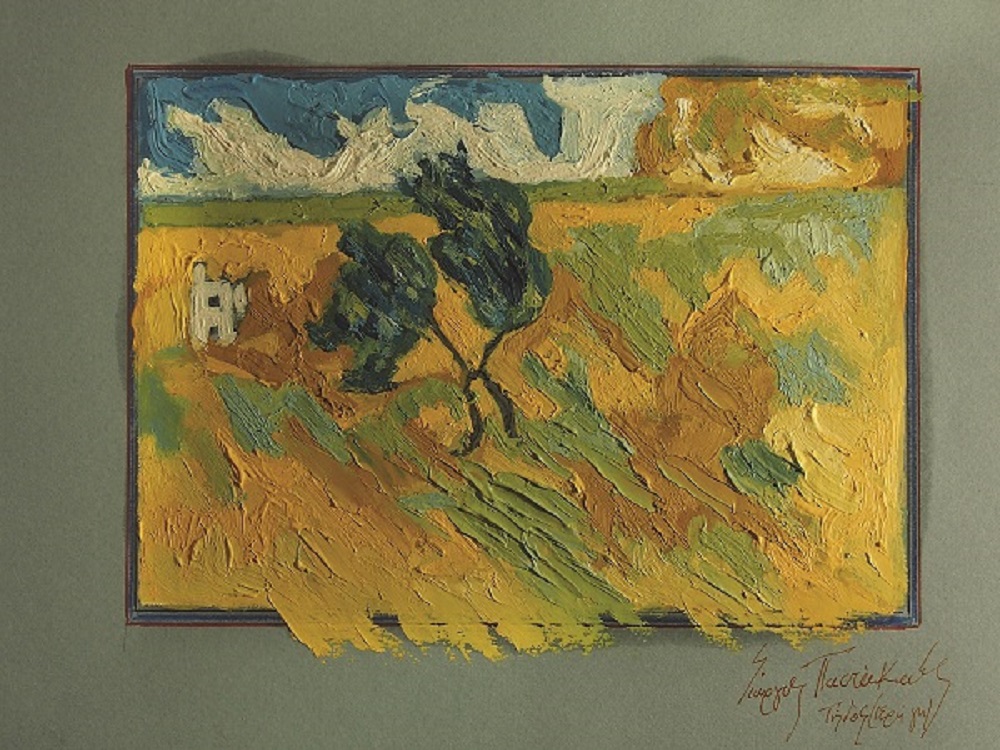 "Sacred Land" is the title of George Pastakas' latest exhibition that deals with the landscapes of Tinos Island and will be aired on July 17th at 7:00 pm in the Cultural and Educational Center of the Municipality of Tinos (Moschouleios School), in Tinos town.
On the occasion of the festive year for the 200th anniversary of the Finding of the icon of the Annunciation, a painting series was created that praises the Tinian landscape. As stated in the text of the exhibition, "it deals with all these elements that led the island to radiate an irresistible charm to the people of the arts. Its rocky, marble-filled grounds, the strong wind that creates images in constant motion, the effect of light during the different hours of the day that changes the shadows are included in a visual ensemble the mysterious and prayerful element that characterizes the nature of Tinos.
The distinctive, expressionist touch of the artist, which often escapes from the frame of the work, captures the island's unique physiognomy and its special aura. Soft color tones succeed the most intense yellows and blues creating a colorful painting universe. The exhibition is completed with selected artworks from two previous series of works done for the island. These are works of art from the series The Wounds of Stone that deal with the quarries of the island and the Tinian Vespers that explore the religious element within the Tinian landscape.
These works were previously exhibited at the Museum of Marble Crafts of the Piraeus Bank Group Cultural Foundation, the Hellenic-French Association, and the Michael Cacoyannis Foundation with enormous success. In Sacred Land, the visual composition is presented complete, highlighting the Tinian horizon as a prime example of the Cycladic topography. A tribute to a beloved land which constantly gives birth to ideas and evolves".
The duration of the exhibition will be from July 17th to August 6th and will be held at the Cultural and Educational Center of the Municipality of Tinos (Moschouleios School), in Tinos town.
Visiting Hours: Daily 11:00-14:00 and 18:00-22:00.
Free Entrance.