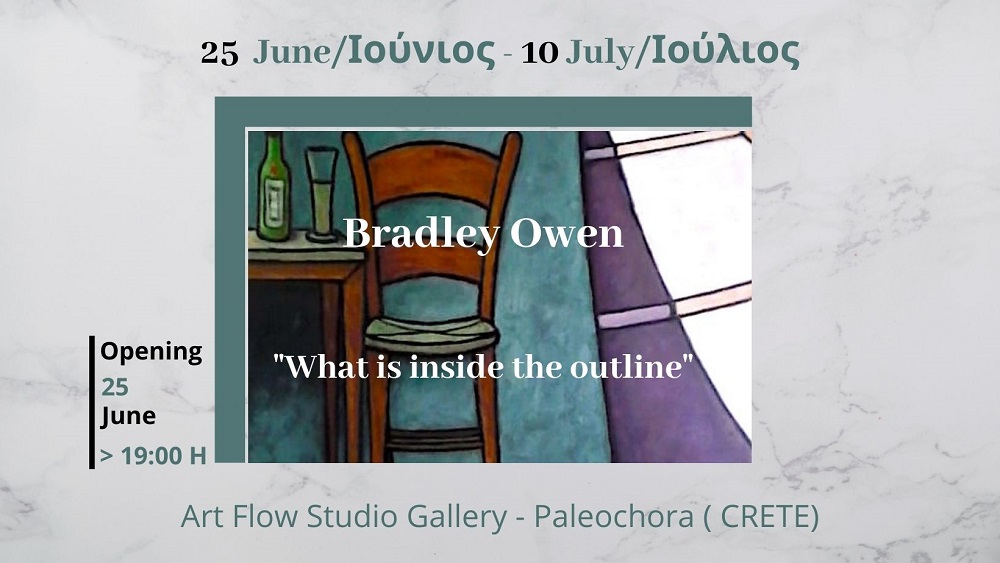 Bradley Owen " What is inside the outline"
Where: Art Flow Studio Gallery – Paleochora – Crete
When: June 25 till 10 July Time: (Tuesday – Sunday) from 19:00 to 23:00  morning by appointment
Vernissage 25 June at 19:00 refreshments and live music
" What is inside the outline "
Portraits, scenes of everyday life, representations of places dear to him: these are the subjects of Bradley Owen's paintings.
If we ask him how he sees things, how he perceives the world, he would respond by creating pictorial works with strong outlines and formal essence, that contain bright colors inserted in often defined spaces.
Through wide and dark brushstrokes that enclose vivid and brilliant blurred colors, Bradely tries to guide the viewer's gaze towards a very specific path: that of being able to experience the essentiality of the subject giving life to the different emotions.
The artist's mode of expression tends to freedom and the images are often drawn from the immediate surrounding environment, mainly inspired by the island of Crete and its inhabitants.
Born in Vancouver, Canada 1957, Bradley Studied philosophy at the Simon Fraser University and on graduating in 1987, moved to the island of Crete where he lived for five years. Whilst living in Brussels Bradley began painting and ,moving to London in 1998, first exhibited his work at the Gagliardi Gallery in Kings Road, Chelsea.
Today he still lives in Crete; His paintings are regularly exhibited in London and can be found in private collections in Luxembourg, Belgium, UK, the United States, Canada and Greece.