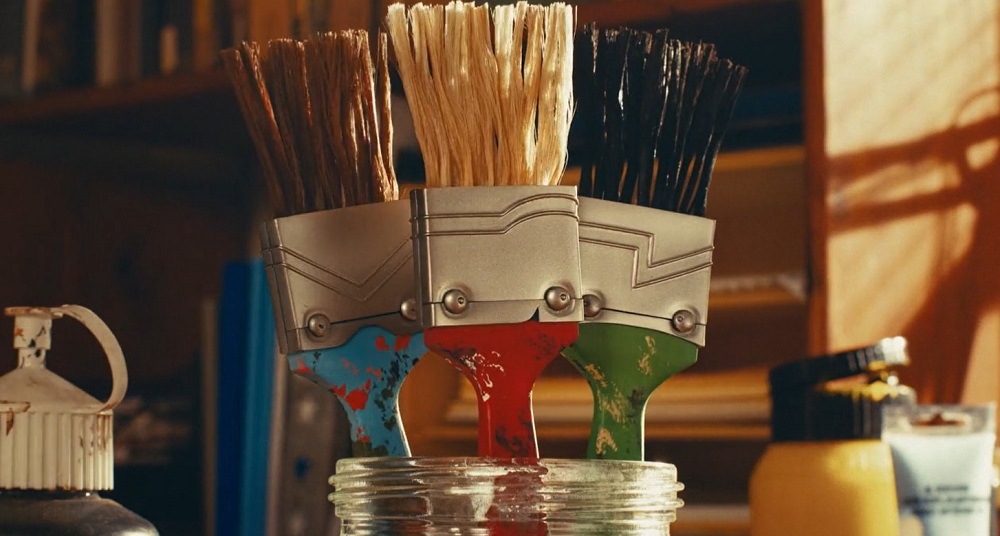 Petit Plan: Americana, first presented by the Hellenic American Union in 2021, returns for a second year, on October 19-21, 2022, with screenings of American short films. This year, 3 successful American Festivals are curating the program and presenting at the Marseille Street Theatre, films that have been distinguished and stood out in their competition section.
Thus, Petit Plan: Americana II will screen independent short films aimed at adults, teenagers and children. The Miami Short Film Festival presents a program of young filmmakers, the Children's Film Festival Seattle presents a rich program of screenings for children, and Frameline: San Francisco International LGBTQ+ Film Festival presents a queer short film program about diversity and equality.
The purpose of Petit Plan: Americana, is to showcase the contemporary face of US cinema, beyond the major studios and already established filmmakers. These are films that focus on contemporary social issues and aim to highlight equality, social justice, multiculturalism, family, freedom, love and diversity. In other words, values that today's reality must share and transmit through the immediacy and magic of the big screen. A few words about the programme:
– Wednesday 19 October, 19:30: Films from the Miami Short Film Festival. The festival was founded in 2002 to promote short films and young filmmakers.
– Thursday, October 20, at 7:30 p.m.: Films from Frameline: San Francisco International LGBTQ+ Film Festival: The first festival was held in 1977 and has become one of the largest queer film festivals in the world with 60,000 visitors annually.
– Friday, October 21, 6:30pm: Films from the Children's Film Festival Seattle. Founded in 2005, the festival has since grown into the largest children's film festival on the West Coast of the U.S. with thousands of screenings, school programs and educational activities
All films are shown with subtitles in Greek.
Screening Dates October 19- 20- 21, 2022
Address Hellenic American Union Theatre, 22 Massalias Street, 10680, Athens, Greece
Entrance Entrance free. To book a priority seat, go to the site of Hellenic American Union
Information Cultural Directorate (210 3680052), [email protected], www.hau.gr
Programme
Wednesday 19/10/2022, 19:30 – The film program will be presented by Sultana Koumoutsis, Artistic Director of Psarokokalo International Short Film Festival
– Feeling Through (Doug Roland, 18′)
The first film starring a blind and deaf actor. Terik, is a teenager seeking refuge from the streets of New York City. He meets Artie, a deaf and dumb man who needs help to get home. From this meeting will begin a journey that will change Terik forever. – 10 Years (Ryan Firpo, 14′)
A couple has a serious conversation about marriage and monogamy during their 10-year wedding anniversary in Las Vegas.
– Life on Mars (Troian Bellisario, 12′)
In her 9th month of pregnancy, a woman is asked to look after a friend's children and realizes how much her life is about to change, whether she wants it to or not.
– The Mechanical Dancer (Jenna Jaillet, 13′)
In a run-down neighborhood there is a small theater owned by an eccentric old man. The extravaganza of The Mechanical Ballerina is truly remarkable. Through a curious cast of characters we see a series of crimes unfold before us.
– A.M.A. (Peter Ebanks, 15′)
A car that can drive itself is faced with a major moral dilemma.
– Eat the Rainbow (Brian Benson, 20′)
A musical tale about a strange but kindly man named Bayani who moves into a conservative suburban neighborhood and disrupts its homogeneity.
– Divorce: The Greatest Hits (Michael Medico, 15′)
Karen's marriage should have ended years ago. When she finally gets up the courage to talk to her husband to see if they can work things out, things only get worse. The divorce is only the beginning…
– Pearl (Patrick Osborne, 6′)
From the Oscar-winning director comes a film about the lyrical road trip of a father and his daughter. – Twinsburg (Joe Garrity, 16′)
Jerry joins his twin brother Paul for a weekend at the world's largest gathering of twins.
Thursday 20/10/2022, 19:30 – The film programme will be presented by representatives of Athens Pride, OrlandoLGBT+ and Positively Different Film Festival
– The Infamous T (Melissa Koch, 30′)
Homeless, abused and forced to drop out of school, 18-year-old Jonathan may be ready for a big change. After a lifetime of being homeless and living in shelters with his mother and siblings, Jonathon wants to go to a new home, a new family, and live the hope that is offered to him.
Director Melissa Koch examines the complexities of race, class, and the family we are born into and the family we choose in this award-winning documentary.
– Happy Birthday, Marsha! (Torumaline & Sasha Wortzel, 14′)
A film about iconic trans artist and activist, Marsha "Don't Care" Johnson and the hours just before she launched the 1969 Stonewall Riot in New York City.
– Were You Gay in High School? (Niki Ang, 13′)
Two queer women recall their high school days, where they hadn't accepted their differences and their true selves. – Flex (Matt Porter & Charles Gould, 16′)
Charles explores the grey areas of his sexuality after an unexpected breakup. Writer Charles Gould, of the Netflix series "Bonding," stars.
Friday 21/10/2022, 18:30 – The programme will be presented by Koula Panagou, educational programme manager of the Children's Rights Network
– Bristles (Quentin Haberham, 2′)
When the prettiest brush in the jar dries up, she'll do her best to paint again.
– Kenya's Symphony (Carlos Douglas, Jr., 5′)
Kenya is a daring 5-year-old girl. When her mother drags her to a musical symphony, the magic of the orchestra stirs the girl's hidden passion for music.
– Bellysaurus (Philip Watts, 8′)
A little dinosaur dreams of becoming big and scary. When faced with danger, he will learn that what matters is … what we have inside us.
– Bench (Rich Webber, 2′)
A film that tells us about the importance of sharing.
– Wash Day (Jaida Salmon, 2′)
This film shows us the routine that a black girl follows as she washes and fixes her hair. – Polar Bear Bears Boredom (Koji Yamamura, 7′)
The life of a polar bear who is incredibly bored unlike other sea animals.
– Music and crowns/Sounds Between the Crowns (Filip Diviak, 15′)
The royal guard destroys a musician's instrument and he is driven out of the city. All because he dared to look at the queen.
– Beautiful Morning (Masa Avramovic, 3′)
A girl who enjoys the morning more than the morning itself! A tender story about friendship.
– Kayak (Antoine Rossi, 6′)
A father's journey with his baby on a quiet river turns into an exciting adventure. – Elevator Alone (Anastasia Papadopoulou, 4′)
Inspired by everyday life, we watch the change in people's behaviour …when they are alone. – The Girls of the Wind (Heloise Ferlay, 3′)
Seeking independence, a young girl receives a visit from the Daughters of the Wind. They will give her the hope and the will she has been looking for to grow up.
–Elevator Alone (Anastasia Papadopoulou, 4')
Inspired by everyday life, we observe the change in the world's behaviour ..when he is alone
-The Girls of the Wind (Heloise Ferlay, 3')
Seeking independence, a young girl will receive a visit from the Daughters of the Wind. These will give her the hope and the will that he was looking for to mature.