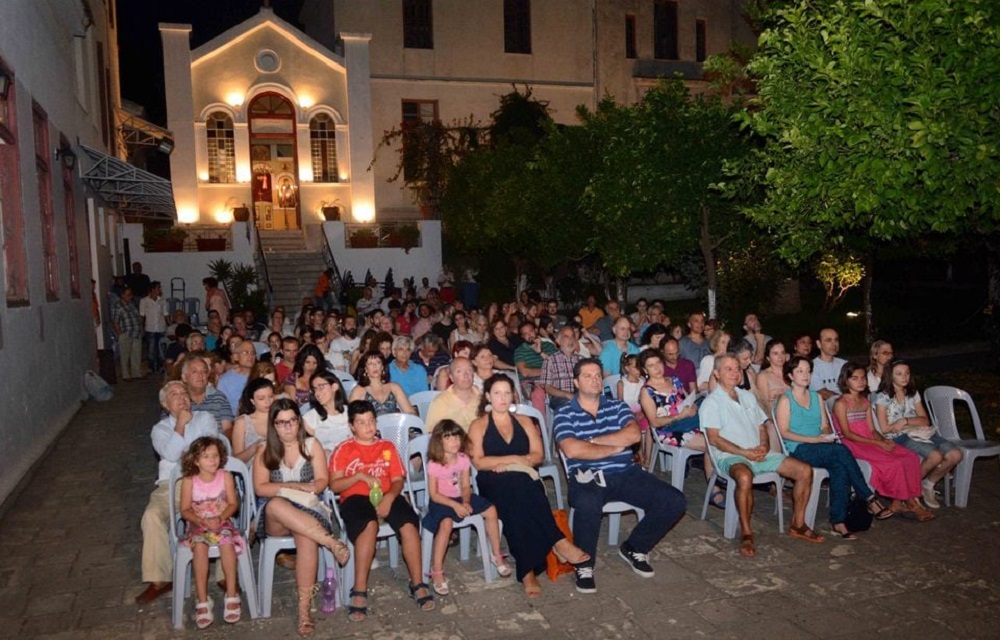 With the screening of the film "L'ombra del giorno" by Giuseppe Piccioni, the Municipal Cinema's three-day dedication to Contemporary Italian Cinema begins on Tuesday, September 19, at 8.30 pm in the atrium of the Old Municipal Hospital. The tribute is held in collaboration with Istituto Italiano di Cultura di Atene.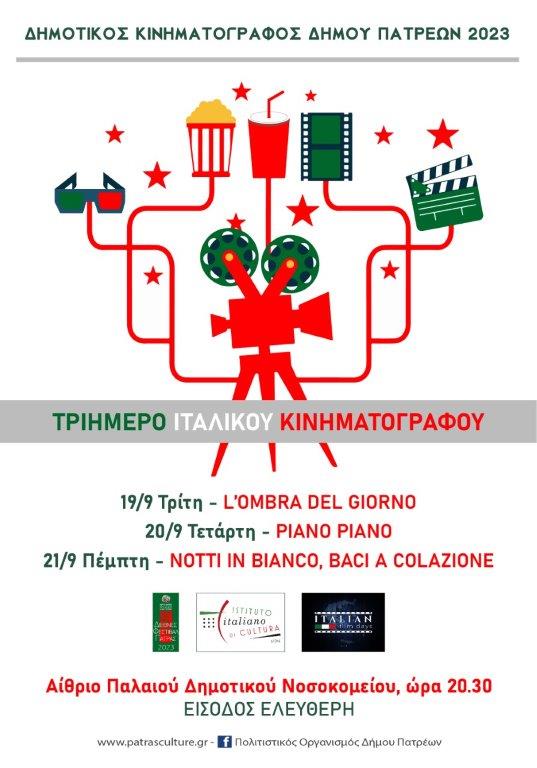 The movie "L'ombra del giorno" is a 2022 production directed by Giuseppe Piccioni. Luciano is the owner of a restaurant overlooking the town's main square, a veteran of the Great War from which he suffered a permanently injured leg and the bitter knowledge that he can kill if necessary. He uncomplainingly sympathizes with the ruling fascist party, counts among his acquaintances a local priest and watches the parades of young Italian women from the window of his busy shop. One day Anna appears in front of these windows, a young woman who offers to do any job, and Luciano hires her as a waitress. It soon becomes clear that Anna has special qualities: she is educated, competent and full of initiative. And a feeling begins to develop between the two that goes beyond the appreciation of an employer or the gratitude of a new employee.
Cast: Riccardo Scamarcio, Benedetta Porcaroli, Valeria Bilello
The rest of the screenings
*Wednesday 20.09.2023 – «Piano piano»
On the second day, the film "Piano piano" directed by Nicola Prosatore will be screened. In 1987, in Naples the local soccer team wins the championship and the city lives in ecstatic euphoria. The residents of a suburb live the last few months in their area before some urban planning changes destroy their microcosm forever. Anna is 13 years old and in a hurry to become an adult. In addition, she is burdened with all her mother's expectations of a life that she never lived. The meeting with her peer, Pepino, and Marioulo will bring her to the limits of this microcosm and the thin line that separates childhood from the future.
Cast: Dominique Donnarumma, Giuseppe Pirozzi, Antonia Truppo. A 2022 production
*Thursday 21.09.2023 – «Notti in bianco, baci a colazione»
"Notti in bianco, baci a colazione" is a 2021 film directed by Francesco Mandelli, film adaptation of Matteo Bussola's book of the same name published in 2016. Matteo is a cartoonist, and Paola is a writer. The two have three daughters, are trying to be good parents and trying to pursue their careers. Until one day, Matteo's old friend Sara arrives with a great job offer.
Cast: Alessio Vassallo, Ilaria Spada, Giordano De Plano, Tess Masazza, Tess Masazza, Enzo Garinei, Francesco Mandelli
ADMISSION FREE – STARTING AT 20.30