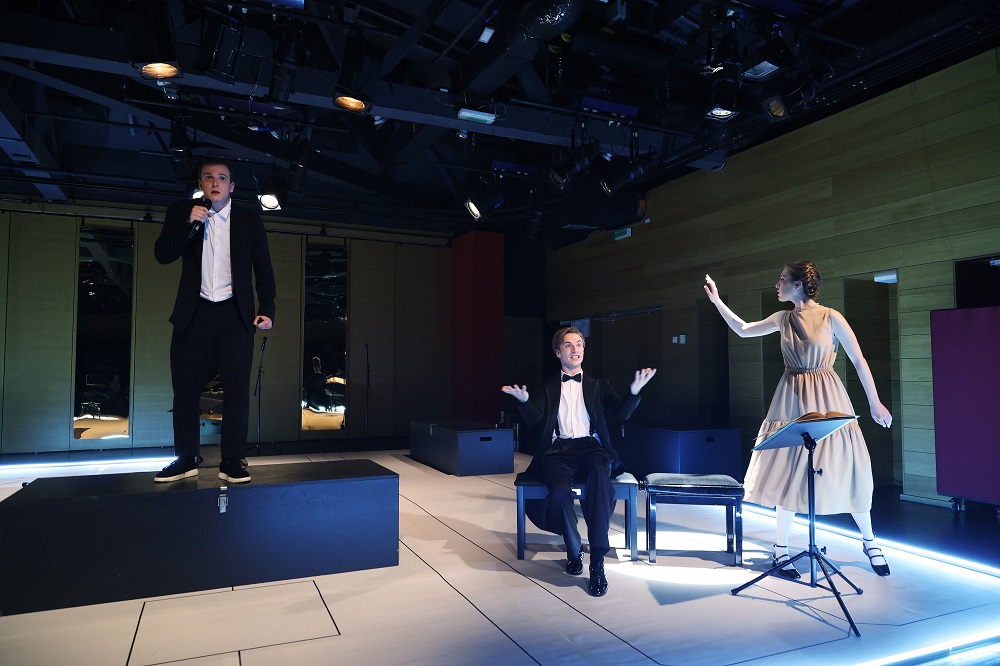 On Monday 2 October at 21.00, at the Avlaia Theatre, the audience of Thessaloniki will have the pleasure to enjoy a performance that will leave no one unmoved.
"The Loser" is Nataša Radulović's first directorial venture at the Yugoslav Drama Theatre. It tells the story of three young men who live and breathe through art, to the point of eventually losing touch with themselves.
In Gubitnic (The Loser), Radulovic combines the work of Pushkin, Mozart and Salieri with Thomas Bernhard's The Loser, a novel about three young pianists who aspire to become the next Mozart. These three young pianists, Glenn Gould (Teodor Vinčić) Wertheimer (Joakim Tasić) and Noah (Stojša Oljačić) represent three archetypes of artists, although they are very different from each other. The first is a hard worker but can never become a genius, and therefore decides to stop playing altogether; the second is more talented but does not belong to the geniuses, which leads him into a spiral of madness. Finally, there is the third, the real genius, who persists in hard work, managing to become quite famous.
The work of the artists is rendered as a dance full of vitality, which gradually changes and is led to a form of painful exercises. The performance ends with Wertheimer, Glenn and Noah conducting the audience together. This dance scene ties the story together beautifully and adds a poetic question mark to the story of toxic jealousy and the search for perfection.
CAST AND CREW
Dramaturge and Direction: Nataša Radulović 
Stage Design: Jasmina Holbus
Costume Design: Marija Marković Milojev
Composer: Ana Krstajić
Choreographer: Marta Bjelica
Speech Coach:  Biljana Todorović
Organizer:Ana Matić
Stage Manager & Prompter:Daša Velimirović
Light Engineer: Dragan Arsenić
Sound Designer: Kosta Petrović
Owner of the performing rights for The Loser by Thomas Bernhard: Suhrkamp Verlag AG
Photo Credits:Nebojša Babić
Translated by :Zlatko Krasni / Ivan S. Šajković
THE ACTORS
Glenn Gould: TEODOR VINČIĆ
Wertheimer: JOAKIM TASIĆ
Noa: STOJŠA OLJAČIĆ
Marry/ Mozzart:LENKA PETROVIĆ
TICKET ZONES
Κανονικό Εισιτήριο: 15 €
ΑΜΕΑ, Φοιτητικό, Άνω των 65: 12 €
***There will be supertitles in Greek.