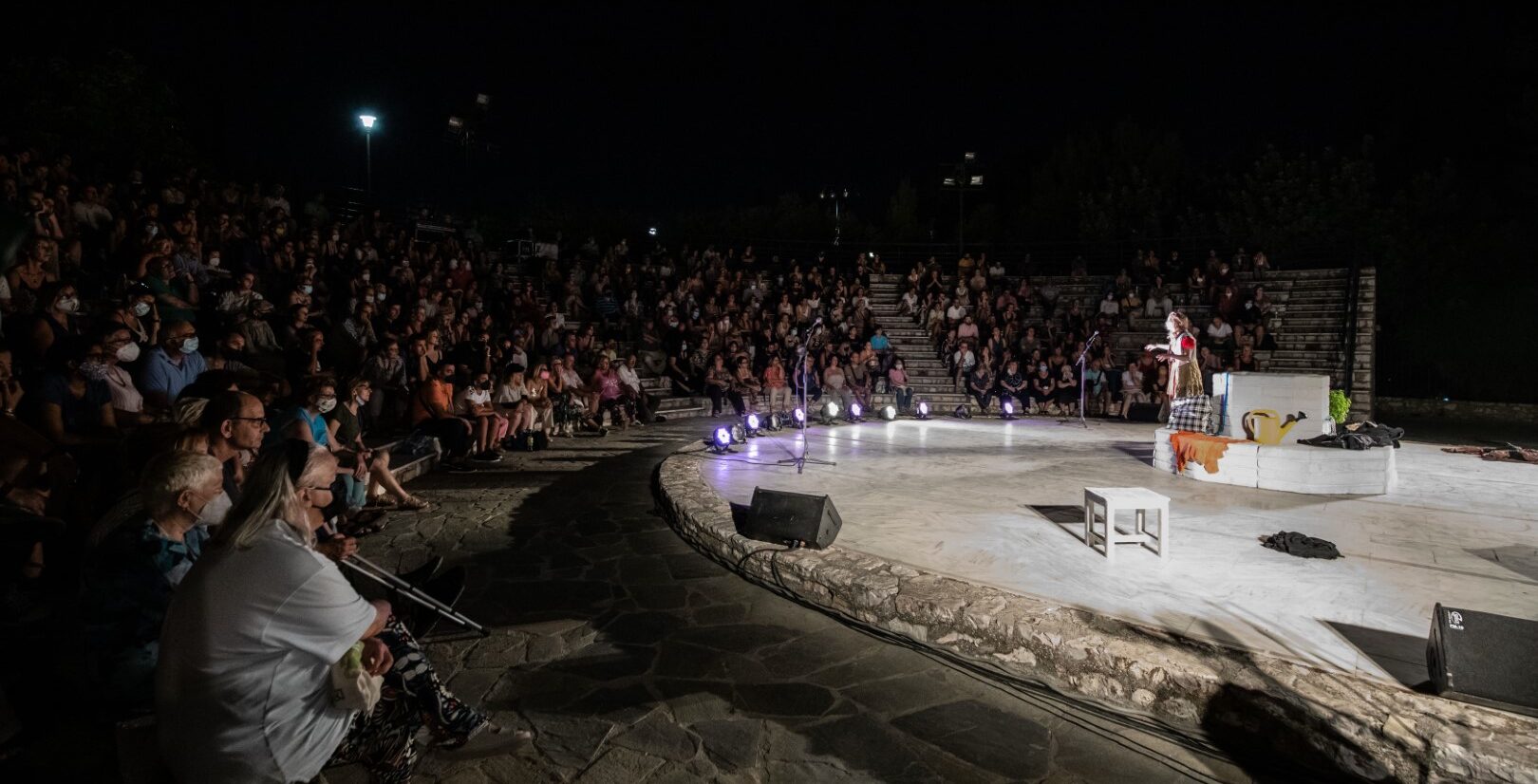 Concerts, theatrical and musical performances, dance parties and musical tributes set the tone for this summer's entertainment from one end of the city to the other. The Municipality of Athens, through the Culture, Sports and Youth Organization (OPANDA), is transforming Athens into a big stage from July 1 to August 4, inviting young and old to take part in the rich entertainment program that will unfold in the city center and neighborhoods, with free admission.
A total of 59 events will fill 30 neighbourhoods of Athens and the seven municipalities with rhythm, sounds and images. Theatres, squares, parks and courtyards become for more than a month the summer "home" of young and established artists participating in the event.
In a statement, the Mayor of Athens, Kostas Bakoyannis, said: "This year, the great outdoor festival is "spreading" across the city to offer Athenians summer nights full of quality entertainment. We are happy because once again great artists have responded to our invitation to participate in this special cultural event, which is planned with great interest and care by OPANDA. We invite young and old in every park, every square, every open space in Athens – where this year the heart of "All Athens One Stage" will be beating – to come and spend unforgettable summer moments in the city".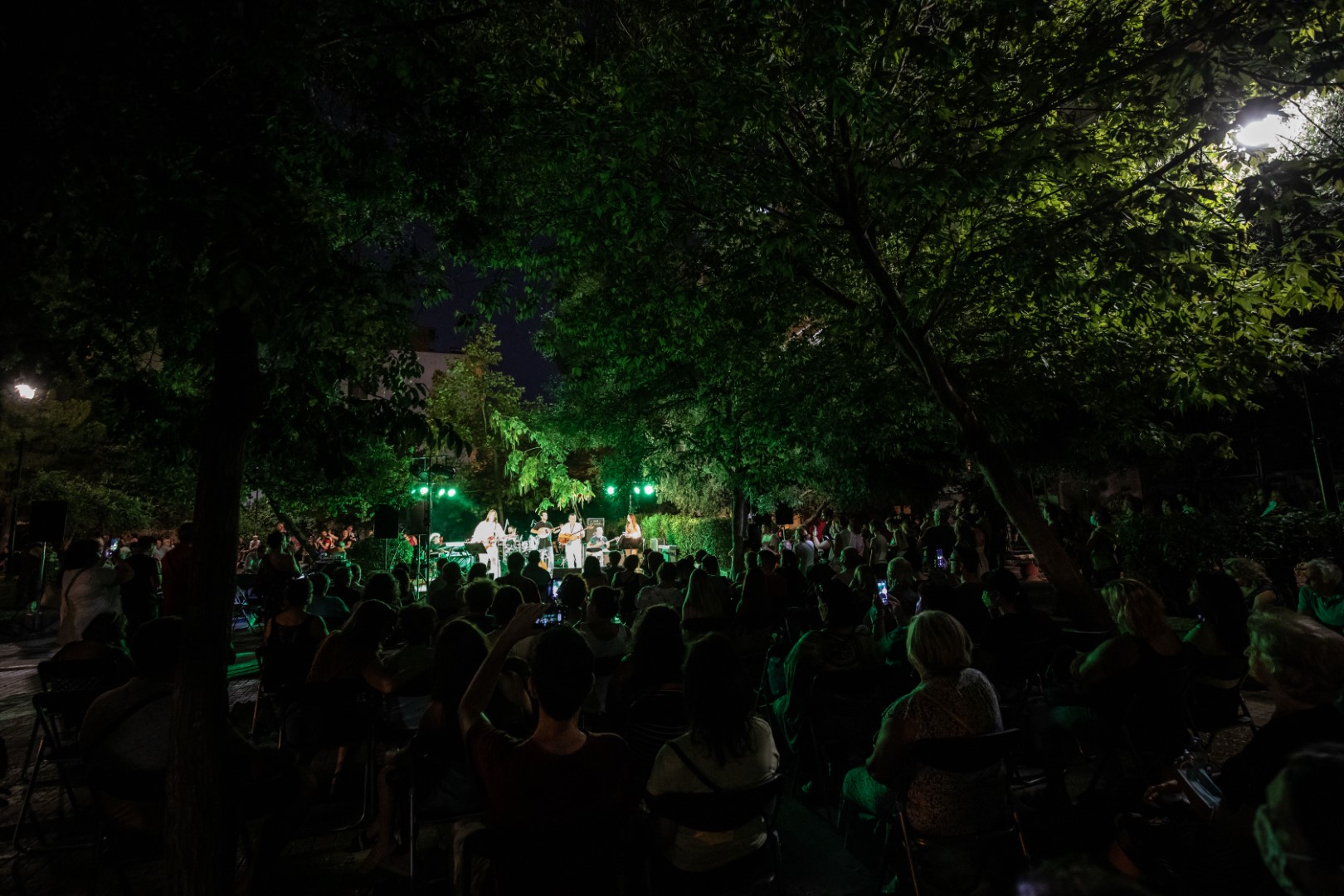 For her part, the President of OPANDA, Niki Arabatzi, said: "This summer, the "All Athens One Stage" programme offers everyone daily access to entertainment, with selected cultural events in every neighbourhood, with free admission. This year, the city's big stage grows even bigger. The cultural spots are multiplying, a fact that highlights our effort to integrate every neighborhood into the cultural fabric of Athens. We encourage the Athenian public to come and meet their favourite artists in every corner of the city for a "dip" in entertainment and culture."
"All of Athens one stage" is the continuation of last year's successful programme of the Municipality of Athens, which this year again issued an open invitation to artists to submit their proposals for the event. The programme is curated by the Culture, Sports, and Youth Organization of the Municipality of Athens (OPANDA), in the framework of Culture is Athens, bringing together the public and artists.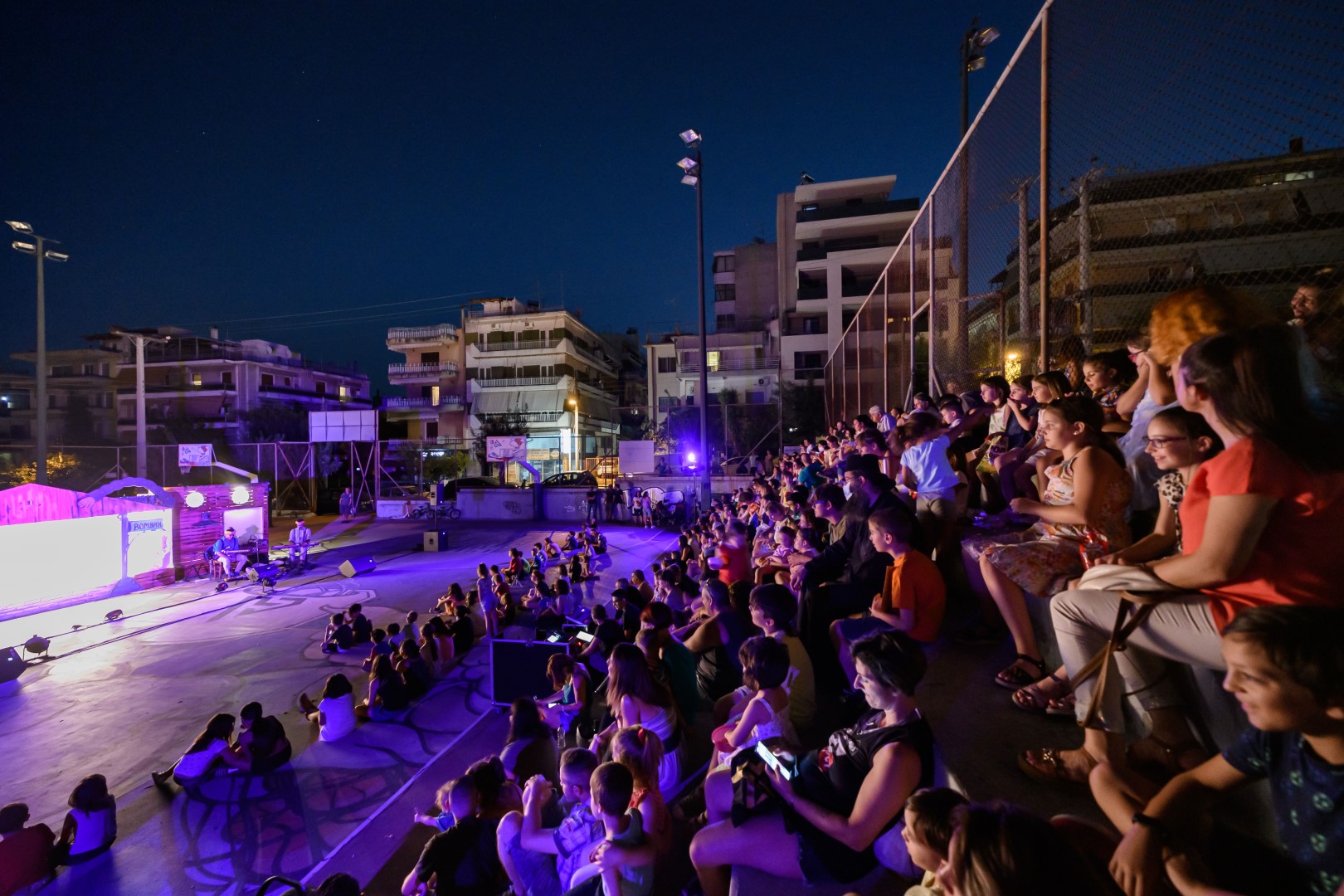 In which places is this year's event taking place?
As part of the programme "All Athens is a Stage 2023", the public and artists will meet at the following locations in the city:
Kolonou and Gravas Theatres, MikisTheodorakis and Longinou parks and Eleftherias (Koumoundourou), AgiosPavlos, Dexamenis, Santarosa, Plyta, Mesologgiou, Filopappou, Filopappou, Thymacchia, Nathaniel, Labrinis, Papadiamantis, Agios Georgios, Kalliga, Viktoria, Penelope Delta, Lakonia and Agios Dimitrios squares.
Also, in the courtyard of the Archaeological Museum and the Central Library at Larissa Station, Lambrakis Hill, the pedestrian area of FokionosNegri, the atrium of the Benaki Museum, as well as the Konistras stadiums in Petralona and Hellenoroson.
The cultural "journey" in the city's neighborhoods could not be missing the Musical Ensembles of the Municipality of Athens, which collaborate with excellent artists and promise special musical evenings.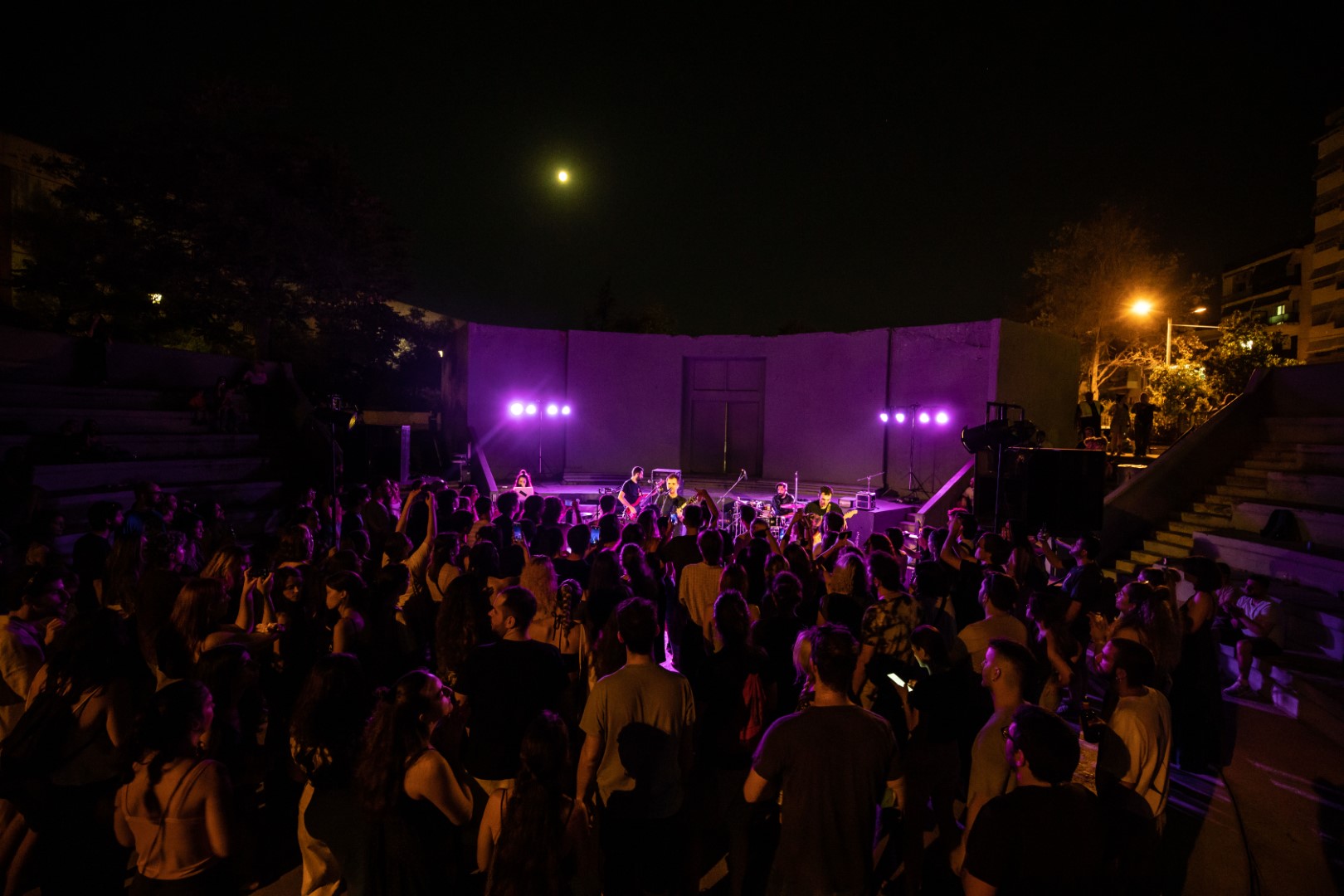 18 highlights of "All of Athens is one stage"
– Christos Papadopoulos and Giorgos Sarris at Nathaniel Square, 1/7
"Two friends from the old days" Christos Papadopoulos and George Sarris in a meeting with their songs that have marked whole generations from 1980 until today.
– Pavlin aVoulgaraki, VioletaIkari, Pantelis Kyramargios, ThanosMatzilis and Eleanna Varela at the Archaeological Museum, 4/7.
A special musical performance by the new "wave" of singers, who perform with the Orchestra "Rhythmos", in songs from their own discography, but also well-known timeless songs. They are accompanied by the Vocal Ensemble "Rhythmos".
– ManolisKontaros at Papadiamantis Square, 6/7
Concert with ManolisKontaros and his orchestra with folk and Cretan songs.
– The Wedding Singers at Dexamenis Square, 9/7
The Wedding Singers come to take us to a frenetic party full of rhythm, with favourite dance hits from the 90s.
– Symphony Orchestra of the Municipality of Athens at the Benaki Museum Terrace, 10/7
"A Night at the Opera" – Concert with the Athens Municipal Symphony Orchestra, with PhilipposModinos as soloist, under the musical direction of Byron Fidetzis.
– Kostas Bigalis and Paulina at Nathaniel Square, 13/7
An "80's-90's party" with Kostas Bigalis and Paulina, who will stir up the audience in an endless dance party.
– "The Tango of Life" with Zoe Tiganouria at Gravas Theatre, 14/7
Composer and accordion soloist Zoe Tiganoouria presents a musical travelogue of her 20-year artistic journey through her compositions, songs and arrangements. Performing: Anna Katsouli and Anna Bilili.
"Him & He" by Kostas Mourcelas at Kolonou Theatre, 16/7, 16/7
An "anarchic" and "trampy" comedy with George Konstantinou and Alexandros Rigas.
– The explosive 15-50 with Dimitris Starovas at Santarosa Square, 18/7
1550, known for their explosive live performances and the multi-talented Dimitris Starovas, in a unique evening in the city centre.
– Bessy Argyraki at Nathaniel Square, 19/7
A musical party with Bessy Argyraki. Tolis Papadimitriou with her.
– Kostas Livadas and AndrAndrianaBabali at FokionosNegri, 20/7
Kostas Livadas and AndrianaBampali come to Kypseli with their most beloved songs.
– Symphony Orchestra of the Municipality of Athens and quintetoTANGartO, Kolonou Theatre, 22/7
"TANGO on Kolono". The strings of the Symphony Orchestra join the quintetoTANGartO in a special Concerto grosso. They will be joined by soprano MyrsiniMargariti and danced by EftichiaTsiamoura, Michalis Souvleris, Katerina Skouteli and Ariel Perez. Musical direction: Konstantinos Terzakis.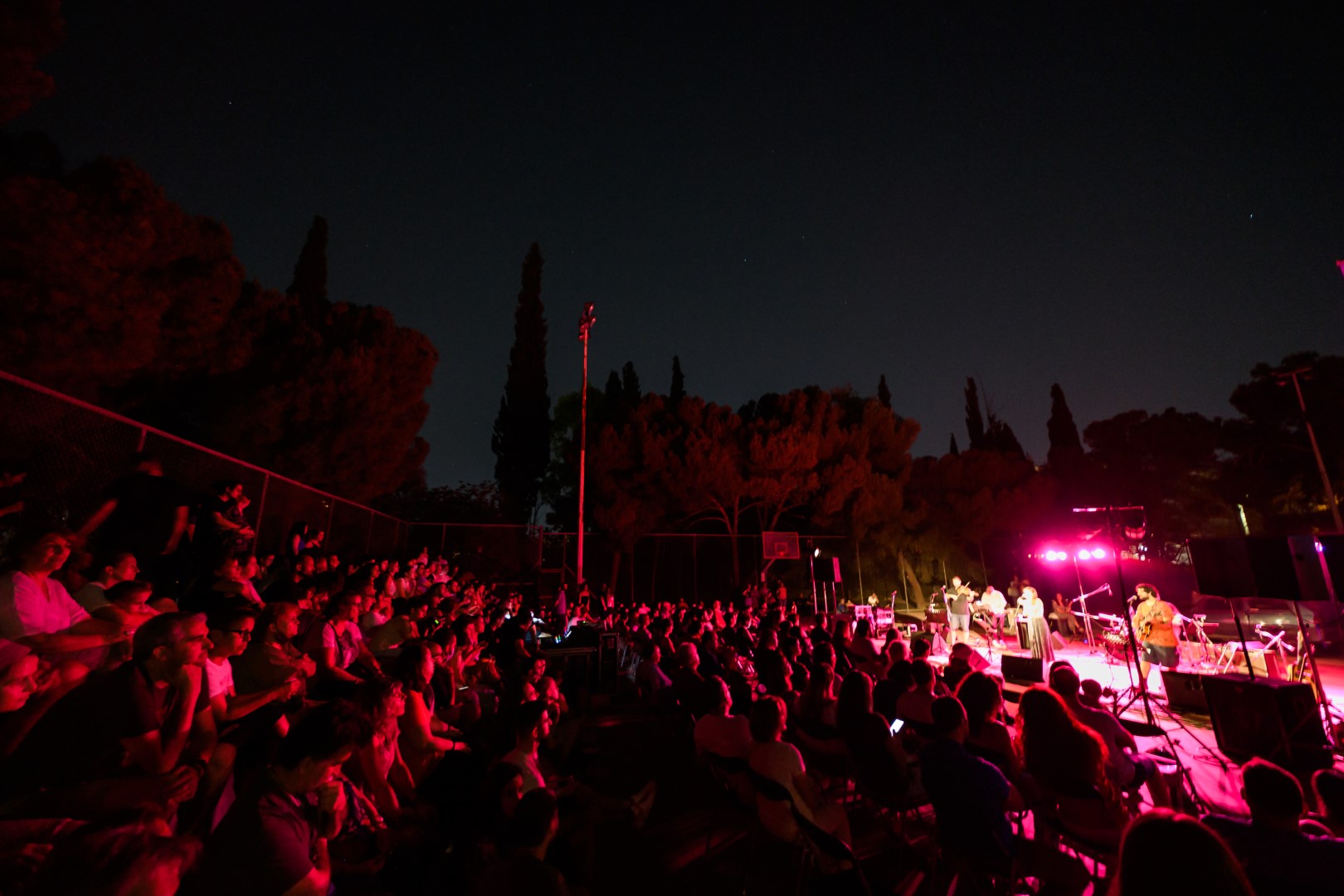 – George Christodoulou at Kalliga Square, 25/7
"Zoological Sound" is a musical performance by George Christodoulou for the whole family, with the most beautiful children's songs written about animals.
– Eleni Peta at Messolonghi Square, 26/7
Familiar songs from her personal discography, in a new "environment" are united and travel to destinations, full of diverse vocal and guitar sounds. She is accompanied by two great guitar soloists, GiorgosLimakis and Konstantinos Mitropoulos.
– Lakis Papadopoulos, YannisYokarinis, Nikos Ziogalas and YannisMiliokas, at the Hellenoroson Stadium, 27/7
The four legends of rock come to the Hellenoroson Stadium for all the action. Four chasers of the "dream" of rock music follow its sounds and stir up the crowds.
-NektariosSfyrakis at Lambrakis Hill, 29/7
"On The Road Again.  A journey through the international and domestic rock scene. With the band ROCK ALARM.
– "Noah's Ark travels with Karagiozis" with ThanasisViskadourakis at Gravas Theatre, 30/7
Theatrical interactive, musical performance for the whole family, starring ThanasisViskadourakis as Noah and Karagiozis of the Spyropoulos Family as the bard.
– "Tango Greco" at Victoria Square, 31/7 & at the "MikisTheodorakis" Park, 4/8
A music and dance performance that promises to take us to the intoxicating rhythms of tango, with the Municipal Athenian Choir and Mandolinata of Exarchia – Neapolis "DionysiosLavragas" and the Municipal Athenian Estudiantina. They perform: Anna Matsouka, Babis Tsertos, Konstantinos Gemos and Christos Amvrazis. Musical Direction: Apollo Kuskoumbekakis.