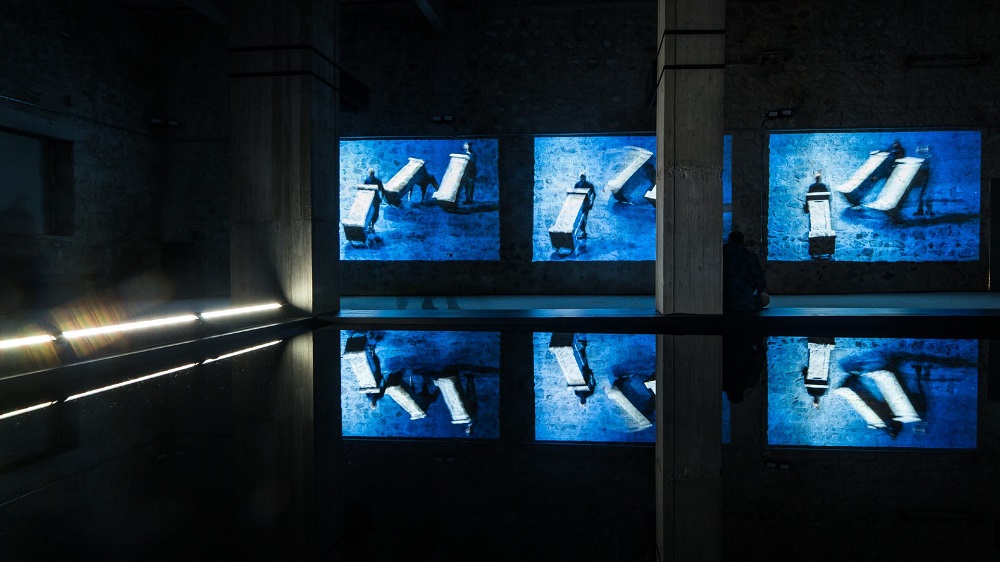 ΜYSTERY 49 SYMPOSIA #MANDRA | SATURDAY MARCH 18
For one day, the square of Mandra turns into an extended public banquet enriched by local folk music, focusing on food and the cultural exchange that accompanies it.
ΜYSTERY 100 THE SACRED SONGS | SUNDAY MARCH 19
Mystery 100 The Sacred Songs returns on March 19 with a musical performance, curated by Lambros Liavas, for the Spring Equinox and the Great Psychosabbath of Lent, with texts and folk songs about the divine and human passion.
MYSTERY 93 XYLIKI | TUESDAY MARCH 21
High School students of Elefsina, under the instructions and supervision of the poet and publisher Antonis Tsokos, recite poems anthologized from the Greek and international poetic production, about Time and its removal, Rapture and Absence.

THROUGHOUT MARCH…
2023 Eleusis European Capital of Culture has turned the city of Elefsina into a large art stage with 4 exhibitions with free admission: Mystery 44 Heiner Goebbels 7 Columns, Mystery 17 Melina, Mystery 177 Visions and Mystery 29 Elefsina – Raw Museum.
MYSTERY 60 METAMORPHOSEA 
Drawing inspiration from the coast of Elefsina and specifically the area of Vlycha, a series of three-month workshops and participative rehearsals are being implemented, under the guidance of the internationally recognized Dutchman Sjoerd Wagenaar, inviting the people of Elefsina to jointly envision a better future for the city's environment and coastal front. Applications until April 20, 2023.
As part of the same action, 2023 Eleusis seeks two young and emerging artists from Elefsina to participate in an artistic residency program. Applications until April 10.
MYSTERY 7 FREE UNIVERSITY OF ELEFSINA
APPLY UNTIL MARCH 15
Mystery 7 Free University of Elefsina – IN SITU begins on the themes of Environment & Health and Cultural Policy. The program is provided free of charge and aims to cultivate free thinking and offer scientific knowledge to a large and diverse – age-wise, socially and educationally – audience.
MYSTERY 68 STALKER
APPLY UNTIL MARCH 15
Are you from Elefsina? Take part in the workshops and design, under the guidance of cultural heritage managers, guides, expert scientists and artists, walking routes and games of discovery and exploration of your city.