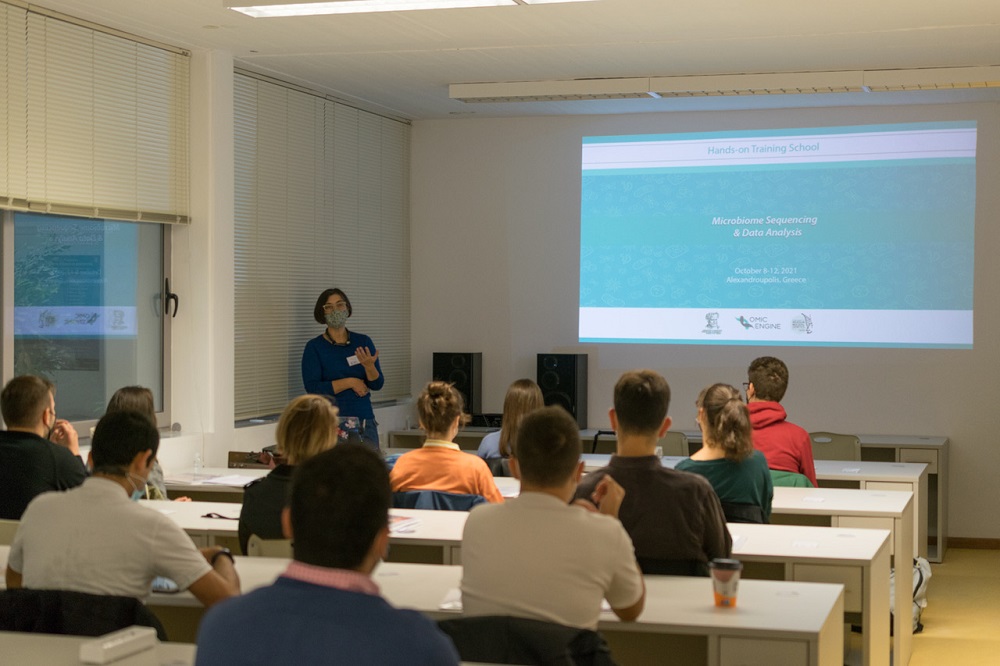 Title: MSc Didactics of Biosciences

Scientific Disciplines:
Pedagogy, Teaching Methodology,
Adult Education
Biosciences
University:
Democritus University of Thrace
Language:
Greek
Duration:
2 semesters & an additional summer session (13 months)
Description
The Department of Molecular Biology and Genetics (M.B.B.G.) of the Faculty of Health Sciences of the Democritus University of Thrace operates a Postgraduate Studies Programme entitled: "Didactics of Biosciences" based on the Government Gazette 1618, vol.
The aim of the Master's degree is to provide a high level of postgraduate education and deepening in the areas of Pedagogy, Teaching Methodology, Adult Education and specialized education in the modern fields of Biosciences.
It aims to prepare scientists for careers in biociences education and teaching, as well as to retrain bio-scientists who already have some experience in teaching, in order to maximise their potential in formal and non-formal education, while updating their knowledge in cutting-edge fields of bio-sciences.  This is achieved by attending postgraduate courses and implementing microteaching.
Duration
The MSc "Teaching of Life Sciences" lasts 13 months: two (2) semesters of study and an additional summer session. 
Application
The face-to-face teaching of the first and second semester courses is compulsory, takes place during weekends and at times that facilitate the arrival and departure of postgraduate students, especially those coming from far away. The participation of the students in the preparation and implementation of microteaching sessions is compulsory and is scheduled on dates within the summer session.
The teaching of the courses includes face-to-face teaching at the TMBG facilities in Alexandroupoli, and distance teaching through the implementation of tele-education systems in accordance with the legislation.  Full distance learning is foreseen if the legislation in force allows it and/or in case of extension of the Covid-19 dispersal restriction measures.
Graduates are awarded a certificate of Pedagogical and Teaching Competence (on the basis of Government Gazette 3033/26-7-19/v. B).
Number and fees of participants
25 candidates are admitted to the MSc.
The tuition fees amount to 2.000 €. There is the possibility of paying the fees in instalments, namely, the first instalment (50%) upon registration and the second instalment before the beginning of the second semester (50%).
Selection of candidates
The criteria for the selection of candidates include:
– The possession of an HEI/TEI degree, as defined in these Regulations. – Knowledge of English language at least at B1 level. – General degree/diploma level.
– Possession of a second degree.
– Knowledge of a second foreign language.
– Teaching and professional experience.
– Other relevant research, professional and/or teaching activity of the candidate, preferably related to the subject of the MSc – Publications and writing activity.
– Interview and/or Letter of Intention to participate in the Programme. – 2 letters of recommendation.
The ranking lists will be posted on the MSc website by 10 October 2022.
More information about the MSc, as well as the relevant forms are available on the MSc website https://didactics.mbg.duth.gr/ or by contacting the MSc Secretariat (Mr. D. Asimakopoulos, email: [email protected], tel. 25510 30610).
Applications for the MSc are accepted from 01/06/2022 until 26/09/2022
2 Interested candidates are invited to submit -by post or in person- an application file to the Secretariat of the Department of Molecular Biology & Genetics at the following address: Department of Molecular Biology and Genetics, Building 10, Campus, Dragana area, Alexandroupolis – 68100) (for the MSc: "Teaching of Life Sciences", for the attention of Mr. Asimakopoulos)