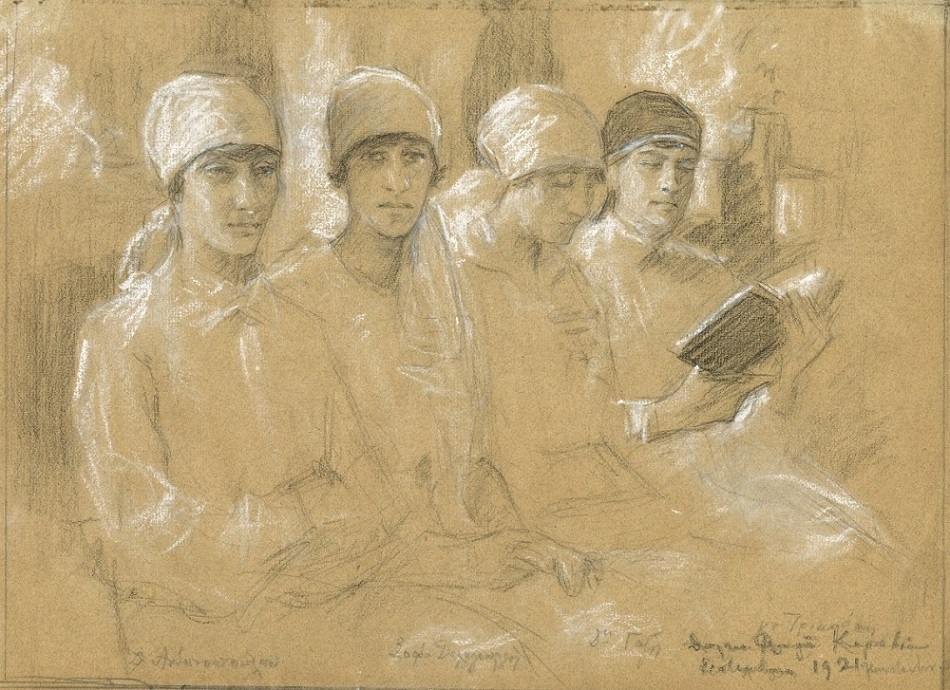 The National History Museum presents the exhibition "Thalia Flora-Karavia. Asia Minor 1921" in the Conference Hall of the Old Parliament, where the whole political drama of the Asia Minor Campaign took place. Thalia Flora-Karavia's artwork, entrusted by the Flora family to the National Historical Museum, is presented in this first exhibition of the EIM's anniversary programme for the 100th anniversary of the Asia Minor Campaign. The works, accompanied by selected historical relics from the EIM, bring the crucial year 1921 to life.
The pioneering painter Thalia Flora-Karavia, for the second time in a decade, travelled to the theatre of war in the summer of 1921 as a correspondent. The Balkan Wars of 1912-13 had preceded it, but now she was going to Asia Minor, alongside the 'Strategist' of the Balkan Wars, King Constantine I, who, as head of the new military command after Venizelos' electoral defeat, was being recruited to raise the morale of the troops.
Flora plans and sends fiery as well as deeply literary reports from Athens, Smyrna, Prusa and Moudania. The material is published in the Greek "Journal" of Alexandria, edited by her husband Nikos Karavia. It focuses on the health struggle that unfolds at the most critical phase of the war, a miraculous struggle to save the life, not only of the wounded soldier, but of the entire population under Greek command. He draws with pencil, charcoal and pastels nurses, wounded and hospital visitors, famous and unknown to us alike.
Indirectly and in her own way, the painter participates in the struggle to highlight the contribution of women in what were until then considered "men's affairs". She participates in this sequence of women sacrificing family order and comfort to help as much as they can and as much as they are allowed to in the national struggle. Her works, as much as her very presence, are a hymn to women in an age when successive wars inevitably make the rules of the male-dominated world creak.
Flora's original works, as well as some excerpts of her correspondence that accompany them, are presented along with characteristic samples of military experiences, through the – published and unpublished – military diaries of Sergeant Ioannis Giannopoulos and Private Dimitris Gergaris. These reflect the blood and violence, the real horrors of war, which Flora encounters secondarily in the hospitals. Today it is important that the study of an era takes into account the experiences of those who did not fit into the 'official' narrative of history.
Part of the exhibited works is published in an in folio folder, designed by the Historical and Ethnological Society of Greece in collaboration with Kapon Publications.
Duration of the exhibition.
Opening hours: Tuesday – Sunday, 10:00 – 16:00.