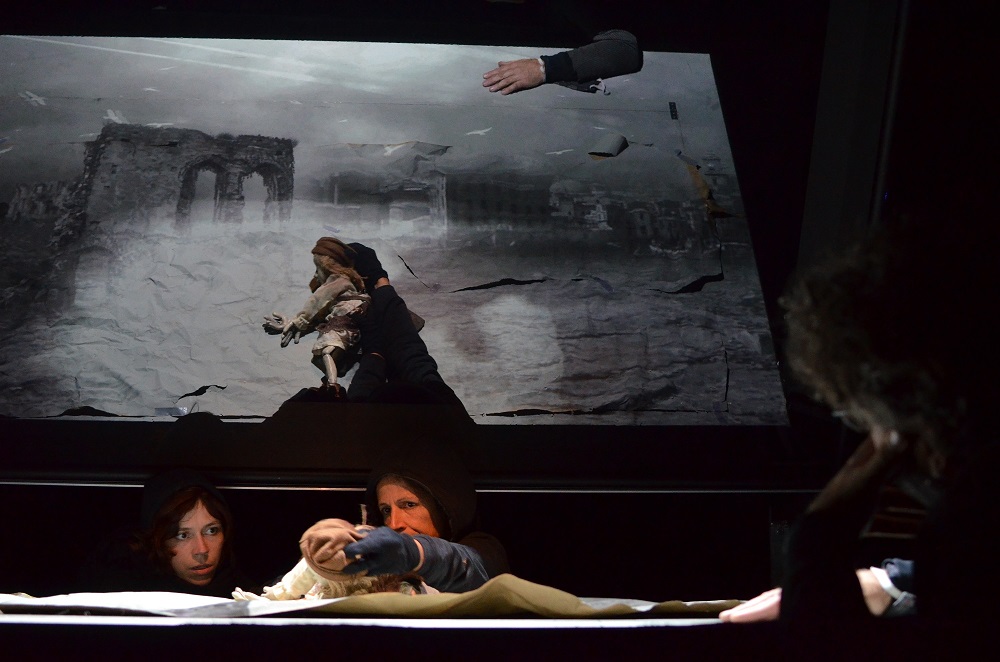 As part of the Tribute to the 100th anniversary of the Asia Minor Catastrophe, the 2023 European Capital of Culture Elefsis presents Mystery_82 REBETIKO, on Saturday 22 October at the X – Bowling Art Center, in Elefsina. An atmospheric performance – an ode to the history of Asia Minor through the art of puppetry and the use of multimedia, such as puppets, images and music, by the French group Anima Theatre, directed by George Karakantzas. The proceeds of the symbolic price of the performance will be donated to the Association of Asia Minor of Elefsina. Pre-sale here
Mystery_82 REBETIKO is a fiction performance, where the past and the present intersect. A journey full of images, puppets and rebetiko music, which accompanied the Asia Minor refugees, wherever they came from. With a survivor of the Asia Minor catastrophe as its central character, REBETIKO "tells" the story of forced uprooting and fruitless survival, captured in the form of an Odyssey. A wandering shift in space and time, which draws its material from earlier and contemporary refugee narratives, as well as from the particular musical paths of their tradition.
A few words about the Anima Theatre group:
George Karakantzas and Claire Latarget set up the Anima Theatre in Marseille in 2004 to house their artistic journeys. Since then, the Soul Theatre has hosted more than 15 performances using the art of puppetry. Their best known works are Ikare, Le Rêve de la Joconde, Mijaurées, Gojira, Entrelacs, Mécanique. Anima Theatre is a resident structure of La Friche La Belle de Mai in Marseille. Member of several professional groups and artistic movements (THEMAA, Scènes d' Enfance et d' Ailleurs, PoleM), the group aims to develop the network of puppeteers, artists and audiences interested in this art of theatre. Anima Theatre also tends to familiarise people with the art of puppetry, holding workshops, performances, events and meetings. In 2013, Anima Theatre is organizing Le Marché noir des Petites Utopies, offering the public the opportunity to discover an art that never stops innovating while keeping this tradition alive.
Directed by: George Karantzas
Author: Panagiotis Evaggelidis
Composer & Musician: Nicolo Terrasi
Puppeteers: Irene Lentini & Magali Jacquot 
Lighting Design: Jean-Louis Floro 
Laeterna Construction: Panos Ioannidis 
Recorded Music: Katerina Douka (Voice), Christos Karypidis (Uti), Tasos Tsitsivakos (Bouzouki)
Costumes: Stephanie Mestre
Video Design: Shemie Reut
Assistant: Mara Kyriakidou 
Photos: Hugues Cristianini, Mara Kyriakidou
Production organisation and execution: TooFarEast
A production of the 2023 Elefsis European Capital of Culture
Toureyeville 2023 Europe 2020: Saturday 22 October
Performance times: 19.00 & 22.00
Venue: X – Bowling Art Center (12 Harilaou Street, Elefsina)
Duration: 60 minutes