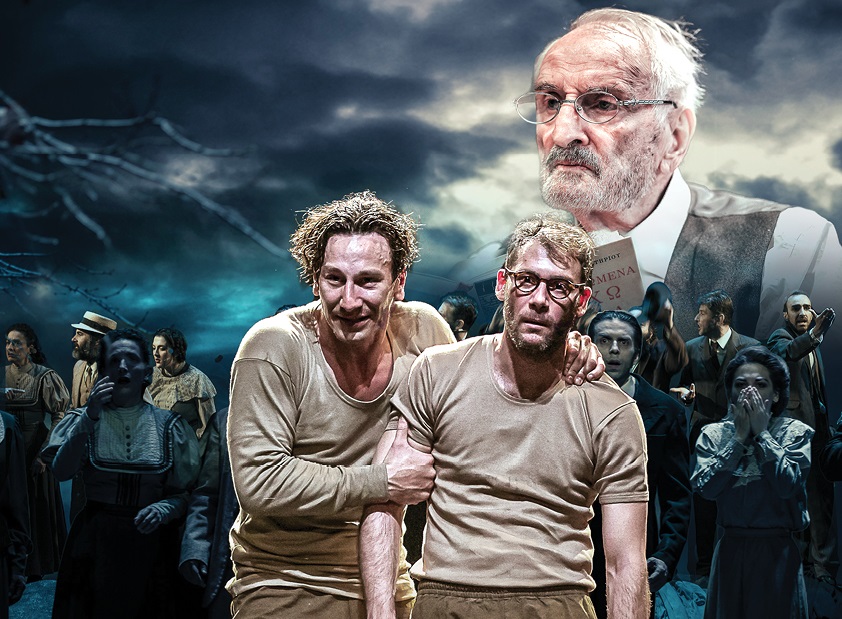 TUESDAY 26 JULY AT THE INTERNATIONAL FESTIVAL OF PATRAS
                     Starring
             Nikitas Tsakiroglou, Michalis Sarantis, Antinous Albanis
One hundred years since the Asia Minor Catastrophe and one hundred and thirteen years since the birth of Dido Sotiriou, the International Festival of Patras hosts the theatrical performance "Bloody Bodies".
An emblematic work of modern Greek literature, loved by generations of Greeks, is brought to the stage with Nikitas Tsakiroglou, Michalis Sarantis and Antinous Albanis in the direction of Giorgos Paloumpis.
They are accompanied by a company of excellent actors, which includes Thanos Alexiou, Stelios Dimopoulos, Maria Nefeli Douca, Jenny Colla, Fotis Lazarou, Daphne Lianaki, Efthymis Panagiota Papadimitriou, Antonis Tsiotsiopoulos, Kostas Fytilis and Antonis Christou.
The performance transports on stage the life of Manolis Axiotis, a man from Asia Minor, who recounts his ordeals in the "Bloody Soils". With a strong element of memory, and through a sequence of narratives and scenes, the viewer follows the hero's life from the peaceful rural life in the village of Kirkinze, to the inhuman labour battalions of Amele Tabourou, the harsh front of Afion Karahisar and the refugee journey to Greece. "Man is a beast", the hero monologues, to describe not only how much he can endure, but also how much he can do terrible things…
DIDO SOTIRIOU
Dido Sotiriou was born in Aidini, Asia Minor, on 18 February 1909, grew up in Smyrna and experienced the persecution herself. A refugee herself, she arrived in Greece where she later became a leading figure of the Resistance. She was a passionate journalist and an award-winning writer. With her novels (The Dead are Waiting, The Demolition, The Commandment) as well as her studies, essays and books for teenagers, Dido Sotiriou left a strong mark on the life of our country. Bloody Bodies was published in 1962 and is one of the most widely read Greek novels, with 423,000 copies and 107 reprints. Excerpts from it have been included in elementary and high school anthologies.